Tina Fey Drops By Felicity Jones' 'SNL' Monologue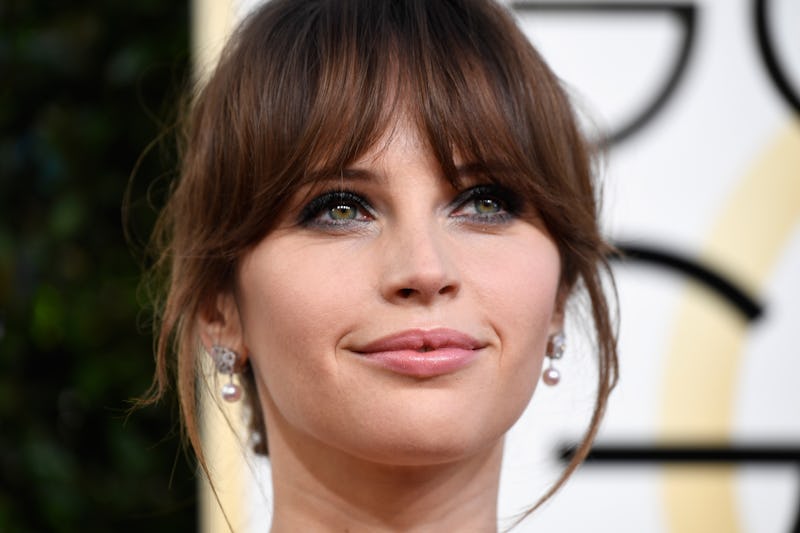 Frazer Harrison/Getty Images Entertainment/Getty Images
On Saturday, Felicity Jones took to the stage to host Saturday Night Live for the first time in her accomplished career as an actor. In Felicity Jones' SNL monologue, the Rogue One star talked about her role in the Star Wars film and even sought advice from an SNL veteran: Tina Fey, who was dressed as Princess Leia in a hologram. It was a welcome return for the former SNL writer and former and an even cooler tribute to the late Carrie Fisher, the actor famous for playing Princess Leia in the Star Wars films.
"It was great to be a lead in a film, especially as a woman," Jones tells the audience, referring to her role as Jyn Erso in Rogue. "I didn't get to use a light saber, but i got to transfer a really big file ... My action figure comes with a Dropbox account." Soon, Fey appears in a hologram wearing what she describes as an Eileen Fisher-headscarf that looks reminiscent of Princess Leia's usual wear. "Why are you in a hologram? Are you like Tupac?" Jones asks Fey. "Yes, in many ways," Fey hilariously replies. Jones went on to confide to Fey about how nervous she is to host the show for the first time.
But Fey reassures Jones: "If Steven Segal can do it, so can you." Mentions of reviews rattled Jones a little bit, but Fey lets her know that no matter what happens, President-elect Donald Trump will say the show is "sad" and "overrated." Then, Fey schools Jones on how things go on SNL: how to know if you're not funny one, why Leslie Jones ends many of the sketches by being her wacky self, and why castmember Kenan Thompson has been on the show for so long. "If you take out Kenan Thompson, the show will explode," Fey jokingly says. "That and he has a family," Thompson clarifies.
It was a fun way to open the first SNL episode of 2017 and a cute way to salute the late Fisher.