Tina Fey Fits Right In On Broadway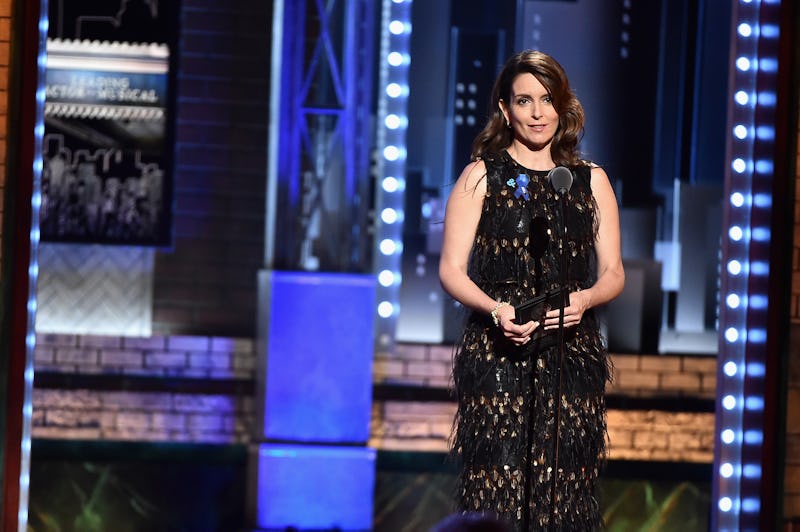 Theo Wargo/Getty Images Entertainment/Getty Images
Ahead of Mean Girls The Musical's Broadway debut, Tina Fey presented at the Tony awards and joked about the nominees in a simple, perfect way. Her sense of humor is always on point at awards shows. But despite working with some Broadway greats, this is a relatively new venue for her. I can't wait to see more at the Tonys next year when, hopefully, Mean Girls will be nominated.
"Straight men playing gay, gay men playing straight, anxiety disorders, existential crises, accordions, and fat suits," she said, describing the nominated performances as she prepared to present the award for Best Actor In A Musical. "These are just a few of my college dating experiences."
In case you're keeping score, those last four descriptors are for the protagonists of Dear Evan Hansen, Groundhog Day, and two for Natasha, Pierre, & The Great Comet of 1812 – played by Ben Platt, Andy Karl, and Josh Groban respectively. Also nominated in the category were Christian Borle (not Borelle) for Falsettos and David Hyde Pierce for Hello, Dolly!
"And oh, how awkwardly I would have tried to make out with each of these gentlemen," she said about the nominated actors. Same, girl. Same. It's an easy joke to make, but that's the beauty of Tina Fey. She can pull that off.
The award ultimately went to Pitch Perfect star Platt, who tearfully accepted. Fey previously appeared on the CBS broadcast in 2014, introducing Jennifer Hudson. Here's to more theater jokes from her in the future, and a smashing opening for the Mean Girls musical!