A 'Kimmy Schmidt' Star Takes On The Show's Critics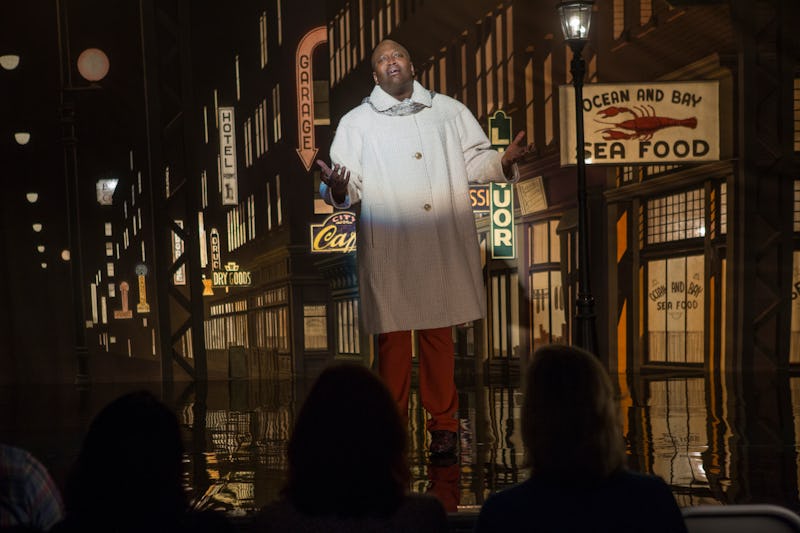 Eric Liebowitz/Netflix
In its base concept, Unbreakable Kimmy Schmidt is already a provocative show. The series, the third season of which debuts on Netflix on May 19, turns an abuse survivor narrative into life-affirming comedy. For the most part, that lighthearted take on a dark subject seems to fly with viewers. However, the series has courted critics with another bold inclusion — its racially-charged humor. From Jacqueline's reclamation of her Native American heritage to the stereotypical characteristics of Kimmy's sometime love interest Dong, Unbreakable Kimmy Schmidt's playfulness about race has resulted in some negative attention. But star Tituss Burgess tells Bustle that the criticism of the Tina Fey and Robert Carlock show stems from cherry-picking jokes instead of waiting for the full story to unfold.
"So I dare say, I think these are lazy critics," Burgess says. "And uninformed, who are not paying attention to the right things."
Burgess is strolling around a room at the Roxy Hotel in New York City while we talk. (The cast is in town for the show's Season 3 red carpet premiere at the Tribeca Film Festival.) The actor's energy is much more serene than his character's, who'd probably be downstairs in the lobby bar singing disco covers for tips by now. But he's adamant that the show's racial jokes have been misunderstood and misinterpreted. If critics perceive that humor as flippant or mean-spirited, they're missing the point, according to the actor.
"That's so unfortunate," Burgess says. "It just is not so. It's as if people don't watch the entire episode of whatever it is that they're talking about."
After Season 1, Buzzfeed posted a roundtable discussion titled "Unbreakable Kimmy Schmidt Has A Major Race Problem," in which staffers weighed in on elements that bothered them, including the attempts at drawing a parallel between Jaqueline embracing her culture — one that's severely underrepresented in media — and Kimmy reintegrating herself into public life ("It's just like comparing AN APPLE THAT EXISTS and A FRUIT WE MADE UP," writes Alex Alvarez.), and even that catchy theme song, where the man who's giving comment to the news cameras appears to parody Antoine Dodson of the famous "Hide Your Kids, Hide Your Wife" video. ("It's one of those weird cultural things where black people doing something funny becomes humorous to a large group of white people," writes Ira Madison III.)
There's also the matter of Jacqueline being played by the white Jane Krakowski, and the fact that both showrunners are white as well. "I think satire is an extremely important tool in discussing race and the status quo," Buzzfeed's Alvarez writes in the same piece, "but I think the person PROVIDING that commentary is an important factor for the success of that satire." (Emphasis Alvarez's.)
In Season 2, Unbreakable Kimmy Schmidt appeared to be deliberately responding to the accusations about Season 1, not by demurring from that kind of humor but by ramping it up. The obvious example there is the episode in which Titus deals with the internet backlash of casting himself as a geisha in his one-man show. An angry mob of "Social Justice Warriors" just looking for reasons to be offended seems to be a stand-in for those who think Unbreakable Kimmy Schmidt could stand to be more sensitive, even if they enjoy it overall. Claire Fallon writes in The Huffington Post, "Fey's comedy usually tries to find the humanity in the outsiders, but here the minority activists are flattened, reduced to one-dimensional caricatures who literally have nothing to say or any reason to exist save for manufactured outrage."
What seems to bother Burgess the most is what he sees as knee-jerk outrage. To the actor, the co-creators of the show aren't tossing off inflammatory jokes for the sake of it. And there are larger missions at work, like Jacqueline's vendetta against the Washington Redskins, a mascot who she believes demeans her people, and the continued development of Titus as a complex, black, gay character.
"Tina and Robert don't write sentence fragments," Burgess says. "They complete them. They complete their thoughts. And sometimes their social commentary might be subversive, or brought about in a roundabout way. But it's meant to be thought-provoking. And I don't think people are thinking it through. I think maybe they're taking the isolated thing and maybe starting up some hullabaloo without looking at the larger picture here, and where it lies in the context of the theme with that particular episode."
So it certainly seems as though Unbreakable Kimmy Schmidt Season 3 is unlikely to shy away from talking about race. And Burgess clearly feels that Fey and Carlock have more to say — and a right to say it.