Prepare To Melt From This Video Of 'To All The Boys' Star Noah Centineo Reciting Pick-Up Lines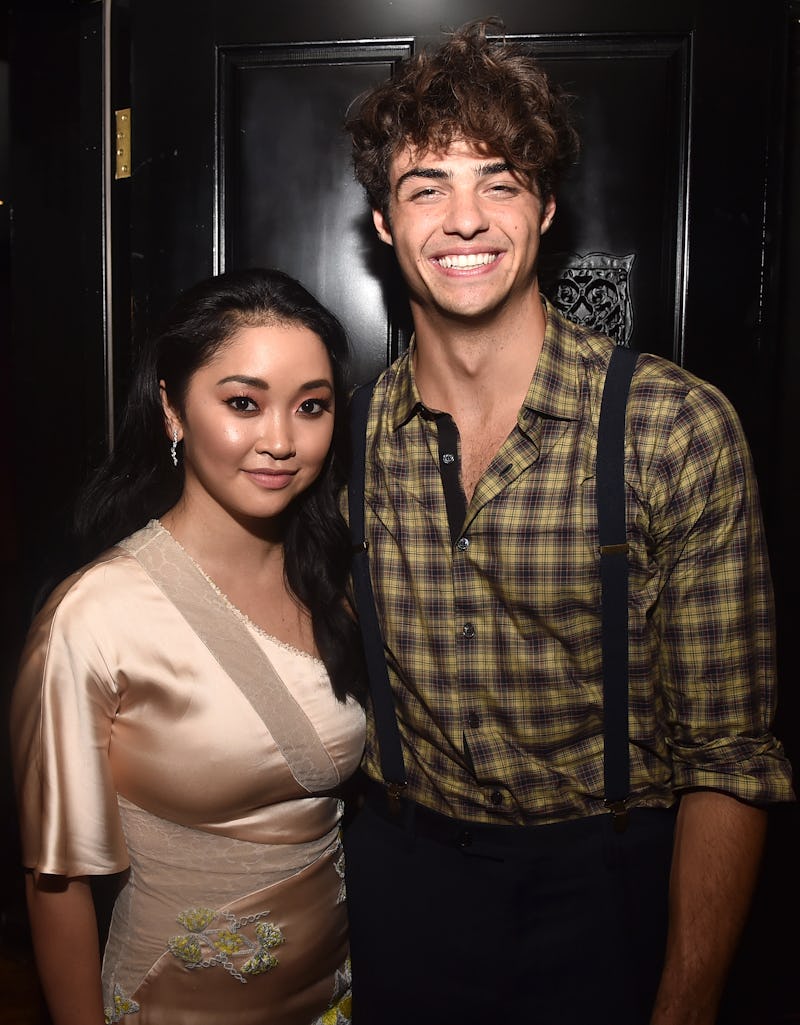 Alberto E. Rodriguez/Getty Images Entertainment/Getty Images
There's good news for fans who can't get enough of the To All the Boys I've Loved Before cast. Netflix recently dropped a video with the actors who starred in the movie competing in a charm battle. The whole clip is pretty funny, but To All The Boys I've Loved Before's Noah Centineo and Lana Condor's chemistry in the short video will make fans swoon all over again. The clip pits Noah Centineo and Israel Broussard against each other as they compete in a charm-off, of which Condor is the judge. The two actors give their best cheesy pick up lines and compliments, and then are awarded points based on nothing other than how pure their charm is. Of course, Centineo got off to the stronger start, and ultimately won the showdown.
It's no secret that Condor and Centineo were perfect together on screen, but their off-screen friendship is adorable as well. In the video, Centineo strikes a pose and asks: "Can I take a picture of you so that Santa knows what I want for Christmas?". Condor awarded the actor 100 points, and then Broussard took a less successful first shot with, "Convince me if I'm wrong, but dinosaurs still exist right?" The other two actors were pretty confused by the pick up line, and it put Centineo in the lead. Much like their movie counterparts, it seems that Centineo and Condor are simply a better match.
Broussard did his best to redeem himself, and Condor did enjoy a couple of his jokes. After falling behind in the first two rounds, Condor gave him points for asking "Is your name WiFi? Because I'm really feeling a connection." He also was given the line: "Hey, tie your shoes, I don't want you falling for anybody else." For a bit, it seemed like choosing a winner would be too close to call. Condor pointed out that while Centineo started out in the lead, his performance went a bit downhill. On the other hand, Broussard's delivery flopped at first, but he got the hang of it by the end of the video. By the end of the game, however, Centineo was still deemed the winner.
In To All the Boy's I've Ever Loved, Condor plays Lara Jean Covey, a teen who writes secret love letters to her crushes that, unbeknownst to her, are sent out. In order to prevent her sister's ex-boyfriend from finding out she had a crush on hime, she begins a fake relationship with lacrosse star and "Cafeteria King" Peter Kavinsky, played by Centineo. Of course, the two teen's fall in love for real, and the movie's main couple captured the internet's heart.
Peter Kavinsky and Lara Jean Covey are so perfect for each other in the movie, but the actor's behind the characters seem to be such good friends. At the end of the Charm Battle clip, Condor admits that Centineo was the clear winner. "I felt most comfortable listening to it from Noah," she said. The two actors seem to work well together on and off screen, and Centineo won the charm-off fair and square, despite its dubious point system.
It's not the first time these two actors have made fans swoon. They are both active on social media, and posted cute pictures with each other from the To All the Boys I've Ever Loved premiere on Instagram. Centineo also shared a funny post workout video with Condor, which he captioned with a reference to the movie, writing: "Lara Jean and I️ decided that we should add 'working out together' to the contract."
Centineo and Condor are a joy to watch in the movie and during interviews, and fans hoping for more might be in luck. There are rumors of a sequel, which would be based off the next books in the series by Jenny Han. A next chapter has yet to be confirmed, but luckily there are adorable short videos like the Charm Battle will hold you over until the announcement.