The Story Behind Lara Jean & Pete Lockscreen In 'To All Boys I Loved Before' Will Charm You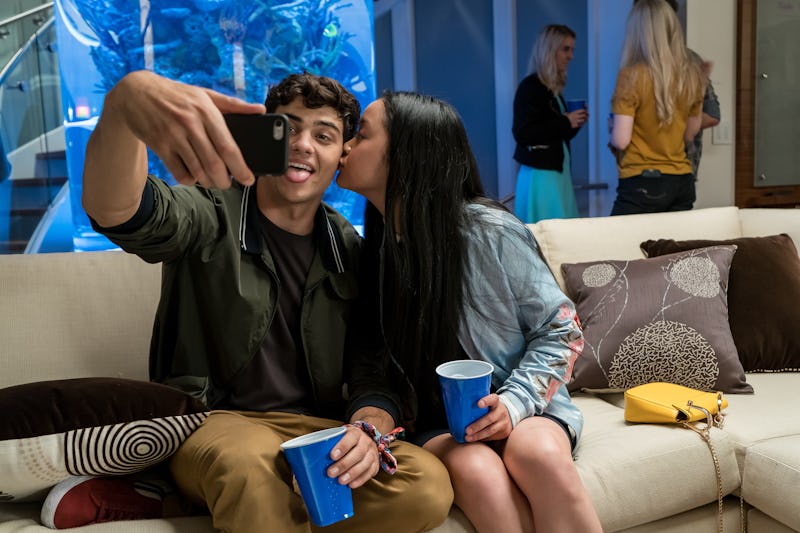 Netflix
Just when you thought Peter and Lara Jean's love story couldn't get any cuter, the To All The Boys I've Loved Before director shared some behind-the-scenes details about the movie. If you've been wondering where Lara Jean's lock screen photo of Peter and her sleeping came from, the answer probably isn't what you'd expect.
Susan Johnson, who directed the Netflix movie, explained to Entertainment Tonight that the photo wasn't staged for the movie. Fans who saw the picture might have been wondering who took it, since it's not a selfie of the two characters. But it turns out, that's a photo of the two actors in between takes, and it was so sweet that it made its way into the film. Johnson told ET,
"That was actually one of our crew members who took that photo. The two of them were in the green room on set at the high school location, in the area where we put the actors. They actually were sleeping on the couch in that room like that, so we just stood over them and took that picture and it's so friggin' cute. So yeah, we just borrowed it from our crew member... I could make something up but I actually think it's cute that they hang out like that."
If you're looking for the lock screen photo in question (pictured below), it's visible on Lara Jean's phone when there are about 20 minutes left in the movie. Lara Jean glances at the photo when Margot hands her back her phone, after contacting Instagram to get the video of Lara Jean and Peter in the hot tub taken down. (The mystery of who leaked the video is still unsolved.)
Of course, this isn't the first photo of Peter that Lara Jean uses as her lock screen. When Lara Jean goes to the party with Peter earlier in the movie, he takes a photo of her for his own phone background screen (after taking her scrunchie). Peter proceeds to take a selfie on Lara Jean's phone, telling her to use the photo as her screen background. The scene also includes a fan-favorite Peter Kavinsky quote. Lara Jean asks Peter what his background photo is, and he replies, "Girl, come on, you know I already got it."
In the interview with ET, Johnson also shared that there were other scenes inspired by Jenny Han's novel that didn't make it into the movie's final version. She shared that there was originally a Halloween scene, where Peter dresses up as Spider-Man, though that wasn't in the film in the end. Still, even though the scene sounds pretty cute, there were plenty of other great romantic moments between Peter and Lara Jean.
And for fans who can't get enough of Peter and Lara Jean, there's some good news on the way. Noah Centineo, who plays Peter, will appear in another upcoming Netflix movie, Sierra Burgess Is a Loser. There's no word yet on whether his character will be as endearing as Peter Kavinsky, but it's nice to see that he'll be back on the screen. And according to her IMDB page, Lana Condor, who plays Lara Jean, has two upcoming movies, too. The Netflix movie has launched these two into the spotlight, and it's safe to say they won't be going away anytime soon.