This Super Popular YA Rom-Com Is Coming To Netflix & You NEED To See The Trailer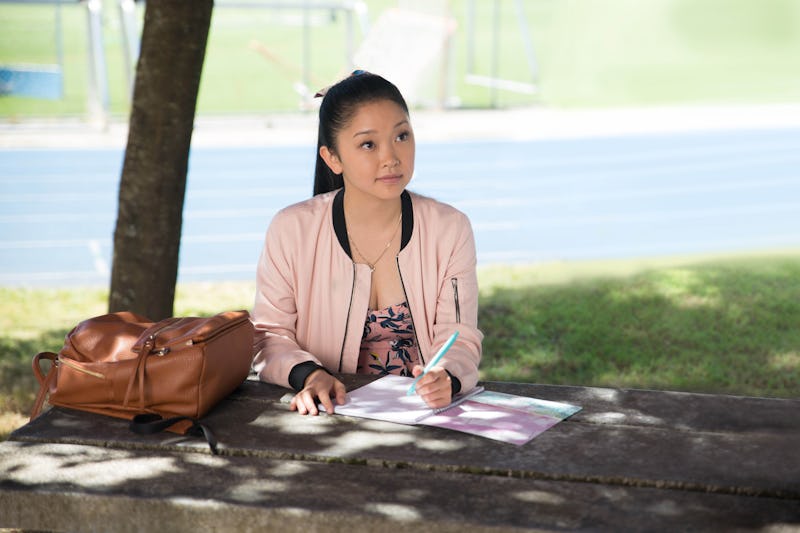 Masha Weisberg/Awesomeness Films/Netflix
If you've ever had an all-consuming crush in high school, you'll remember that sometimes the scariest part of it all was the crush actually finding out how you felt. But that's exactly what happens to Lara Jean Song, the heroine of Jenny Han's beloved YA novel To All The Boys I've Loved Before. And thanks to Netflix you can see it all play out on the small screen on Aug. 17, when the film version of Han's story debuts on the streaming site. Fans have been on the edge of their floral-print seats ever since the film was announced — and if the newly released trailer is any indication, this is definitely going to be the rom-com of summer 2018.
For those unaware, here's the main gist of the plot: 16-year-old Lara Jean Song writes letters to her crushes and hides them in a hat box in her closet. She's more concerned with baking delicious treats and hanging out with her dad and two sisters than snagging a guy, but when her old letters are mysteriously mailed to the boys she wrote them for, her life begins to change in ways she could have never expected. And when she teams up with Peter K., one of her letter recipients, to deal with the aftermath of the letter-sending disaster, her love life goes from totally nox-existent to completely out of control.
Check out the trailer for the film below:
News of the film first hit the internet in 2017, with photos of the stellar cast — including Lana Condor as Lara Jean and The Fosters actor Noah Centineo as Peter Kavinsky, Pretty Little Liars' Janel Parrish as Lara's elder sister and Sex and the City's John Corbett as Lara's dad — hitting social media. But although fans of the book were thrilled to see that filming was underway, especially with a cast that was celebrating and championing Asian American representation in film, there were actually very few details about when and where the film would be released. It wasn't until March 22, 2018 that Netflix announced its plans to host the film, much to the excitement of rom-coms fans everywhere.
To All The Boys I've Loved Before by Jenny Han, $9.67, Amazon
Although we still have a couple of months to wait to swoon over To All The Boys I've Loved Before, that gives you ample time to gather your favorite gals together, bake some Lara Jean-approved sweet treats, and maybe re-read the book just one more time.