These I Am Muslim, Too Rally Photos Are Beautiful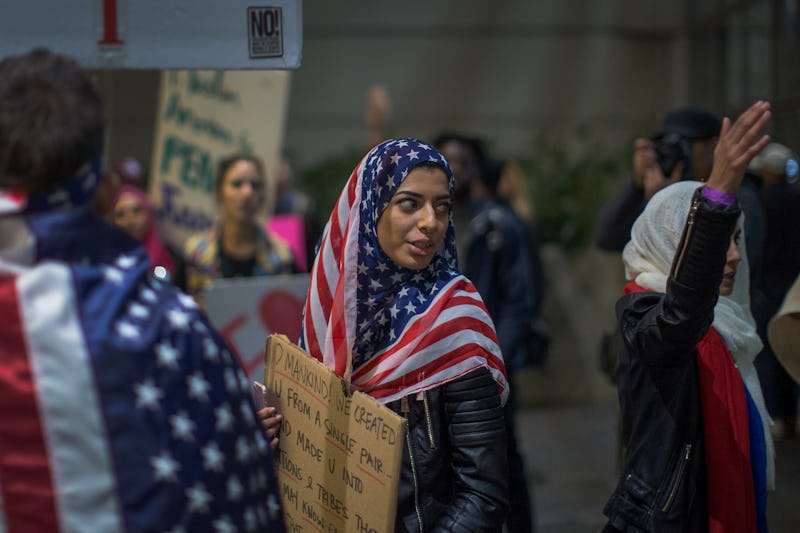 David McNew/Getty Images News/Getty Images
Thousands of people gathered in New York City's Times Square Feb. 19 for a rally organized by Def Jam Recordings co-founder Russell Simmons to support those affected by President Trump's Muslim travel ban. The Today I am Muslim, Too rally united people in solidarity against Trump's executive order barring travelers from seven Muslim-majority nations from entering the United States. Though the order has been blocked by a federal appeals court, Trump reportedly has a revised travel ban order in the works.
Simmons has a long history of activism involving everything from animal rights to marriage equality to honoring victims of the transatlantic slave trade. In 2015 Simmons penned an open letter to his former friend, Trump, after the then Republican presidential candidate hopeful called for a ban on Muslims entering the U.S. while on the campaign trail.
In the letter to Trump, Simmons wrote: "My friends, both Muslims and Jews, are saying there are so many comparisons between your rap and Hitler's, and I cannot disagree with them, Donald. You can't possibly want your kids or your wife Melania (all of whom I know and respect) to live with that. You are a born leader, who is set to possibly win the nomination of your party, but don't compromise what I know is in your heart to do it. You are a generous, kind man who has built a career on negotiating deals where everybody wins. Now, you seem like a one-man wrecking ball willing to destroy our nation's foundation of freedom."
Simmons' Today, I Am A Muslim Too rally brought people together to protest Islamophobia, and the hashtag I Am A Muslim Too began trending on Twitter.
Today, I Am A Muslim Too
"Believing that people are the same takes you a long way," Simmons told NBC News. "I love doing this work. It's purposeful. It makes me happy."
Additionally, NPR reported that today is the anniversary of the day President Franklin D. Roosevelt signed an executive order forced all Japanese-Americans on the West Coast from their homes and businesses during World War II, and placed them in internment camps. In the spirit of "never again," thousands turned out to demonstrate their support of Muslims in America.
Along with Simmons, Rabbi Marc Schneier, president of the Foundation for Ethnic Understanding, and Imam Shamsi Ali of the Jamaica Muslim Center helped organize the event. "One of the blessings in disguise of Donald Trump is that many, many Americans are coming to us and saying we are with you," Imam Ali said in an interview with NBC News.
Other marches in support of immigrants' rights took place in Los Angeles, Minneapolis, Dallas, and other cities across the country this weekend.