Toll House's "Lumps Of Coal" Cookie Dough Will Make You Hope You're On The Naughty List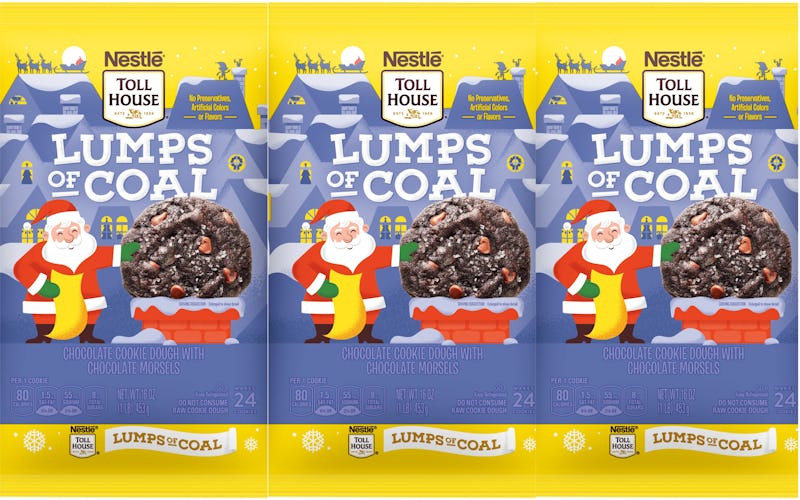 Toll House
It's almost holiday season, which means it's time for festive cookies and baking! Besides, what's not to love about yummy treats? I think we can all agree that holiday cookies are absolutely the best. This year, there's a new cookie fave in town, per Delish. Nestle Toll House has decided to bless us with their Lumps of Coal cookie dough and it sounds absolutely heavenly.
Bake it for your friends, your neighbors, your coworkers, your significant other, and even your enemies, too (because who else would you give lumps of coal to?). The cookie dough is perfect for chocoholics like myself, and features a rich chocolate cookie dough sprinkled with chocolate morsels dyed red (to make it look like glowing embers — how cute!). I've never been more excited to get coal for the holidays.
According to its product description on Walmart, "This 1 lb. pack includes enough mix to prepare two dozen cookies, so you can easily cater dessert at your next holiday dinner party or Christmas day festivities or stock your cookie jar to facilitate after school snacks."
The best part? The cookie dough sells for just $2.50, so for under 300 pennies you can get yourself 24 delicious treats to savor (or devour, your choice).
The dough is currently sold out on Walmart, but will hopefully be back in stock soon. In the meantime, however, check out these four other equally-as-delicious holiday treats!