Halo Top's Gingerbread House Flavor Is BACK — Here's When You Can Get It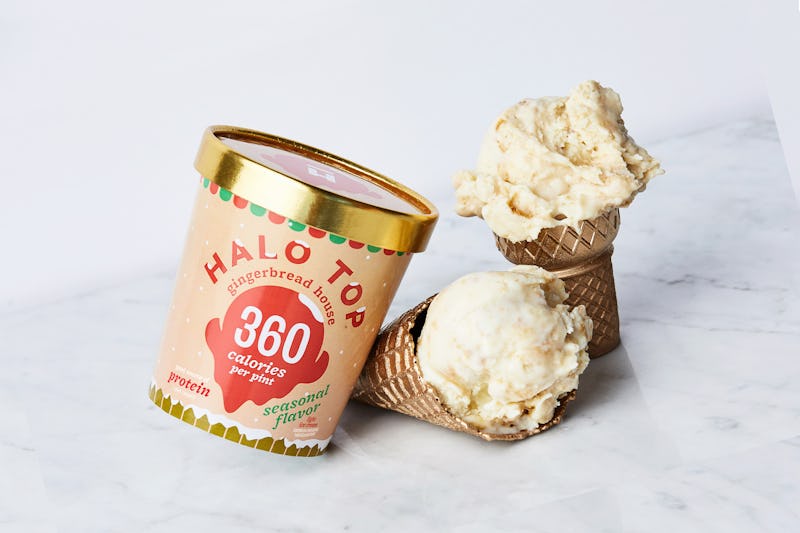 Halo Top
As excited as we've all been about the near obscene plethora of adult advent calendars this year, hopefully you still have some money left in your bank account — because it's all about to go into the frozen aisle. While there are plenty of seasonal ice cream flavors competing for your attention this year, this one, at least, you already know you love: Halo Top's Gingerbread House flavor is back for 2018, and it's just as delicious as it was when it hit shelves for the first time last year.
If you're unfamiliar with the Gingerbread House flavor, it is, per Halo Top, "loaded with ginger cookie bites and rich swirls of icing." And it very much delivers on that description — the ginger cookie bites, though small, really pack a flavorful punch, without being too overwhelming. If you're a person who is turned off by a little too much cinnamon or nutmeg in a gingerbread product, then rest assured this strikes that delicate balance of subtle spice without being too sharp. Plus, they don't skimp on those cookie bits — they're thoroughly dotted throughout the whole pint.
Also, it comes in ridiculously festive packaging, which means you can take a pint of it to the face while watching all the new Netflix holiday movies in style.
Bustle had the opportunity to try this year's batch, and can confirm that it holds up to last year's. Can also confirm that, while this is delicious on its own, it would also pair perfectly with any kind of chocolate, be it in sauce, cake, or Kit Kat form. Another pro-tip from my heart to your mouth is that this also pairs deliciously with any kind of creamy liqueur like Baileys or Godiva, if you're looking to shake up your holiday drinks this year.
Halo Top's Gingerbread House flavor isn't the only limited edition flavor to make a triumphant return this year; in September, Halo Top's Pumpkin Pie flavor also returned to shelves. If you're lucky, you may still be able to snag a pint of it on shelves in November, but with pumpkin season coming to a close you'd better start stocking up fast.
This year also saw the launch of Halo Top's Peanut Butter and Jelly flavor, a "Gold Edition" flavor that hit shelves in July and is arguably one of the best in Halo Top's arsenal (but seeing as I change my favorite flavor every week, I'm probably not the most reliable judge to go by). Since Halo Top's Gold Edition flavors go by "flash" sales — sold until they've run out, and then gone — there's no saying whether or not it will make another seasonal appearance, but you know how the old adage goes: better to have taken a pint of Halo Top to the face and lost than to never have taken it to the face at all.
In the meantime, the Gingerbread House flavor should more than fill the holes in your heart that the other rotating flavors leave behind — just make sure you stay on your toes. Though it will be available in retailers nationwide, it will only sell through the end of December — then just like 2018, it'll be gone.