Tom & Abby From 'Queer Eye' Just Shared Their Really Sweet Engagement Story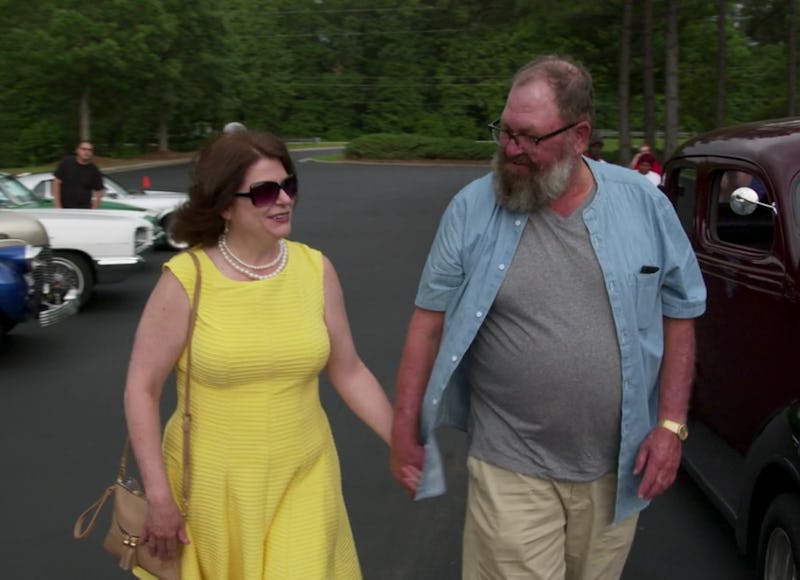 Netflix
If you ever needed a reason to believe in love, here it is. Queer Eye's Tom Jackson and his ex, Abby, shared details of their engagement, and it sounds like their proposal couldn't have been more perfect. On the first episode of the Netflix reboot, the Fab Five introduced us to Tom, who learned how to take care of his beard, skin, and wardrobe from the guys (and how to say goodbye to his old, semi-disgusting recliner in the process). It didn't take long to figure out that his ex-wife, Abby, was still an important person in his life, and seeing them on a date at his car show was all the proof necessary to see that they truly belong together.
Since the show, Tom has been sharing updates on their relationship on Twitter, and last week, there was a big one: Tom and Abby are engaged and on their way to living happily ever after all over again. And now, in an interview with Us Weekly, the couple told the story of Tom's proposal, and it will make you just a little bummed that the whole thing wasn't caught on camera. And even though the proposal did not take place over a bowl of Antoni's guacamole, but it sounds like it was so special for them both.
Abby told the magazine:
"We just went out for a quiet dinner, just the two of us, at one of our favorite restaurants. He really wanted me to have a choice in my ring and to check out something I was absolutely crazy about. So we did that in the afternoon and went ring shopping … decided on the ring and then went out to a nice dinner."
How sweet is that? Plenty of people like to be surprised by their engagement ring, but for Tom and Abby, it sounds like it was the perfect choice to go out and choose the ring together. Considering how long they've been in each other's lives, it makes sense that Tom knows Abby well enough that he assumed she'd want to pick out her own ring, so it seems this chapter of their lives together is off to a great start. And as Abby tells it, even their breakups haven't gotten in the way of how they feel about each other.
"Thomas and I, we have never really been apart, apart," Abby told Us Weekly. "We have been best friends for 12 years and we have known each other for 12 years. We have always loved each other, that never stopped, whether we were together or not."
It sounds like the Queer Eye guys weren't wasting their time with Tom — and that they managed to pass along lessons that he's still sticking to today. For the record, he said that he's still using the beard oil that Jonathan Van Ness taught him about, although he did not mention whether or not that green stick is still in use. "I have my beard trimmed every two weeks and I use the beard conditioner and Jonathan told me two squirts of oil to keep my beard soft," Tom said. "I love the Fab Five!"
No word on Tom and Abby's wedding plans — just that they want to tie the knot in the spring — but he did admit that he'd like Bobby to be his best man, which sounds like an amazing opportunity for a future Queer Eye episode. They've made over houses, apartments, and even a fire station, but we have yet to see these guys tackle a wedding. Might not be a bad idea. Netflix, are you listening?
Since it was impossible not to fall in love with Tom from the moment he introduced the guys to redneck margaritas, it's that much sweeter to find out he's living happily ever after with Abby. Fingers crossed that he shares plenty of updates as they plan their wedding.