Tom Hardy Is At The Royal Wedding & His Friendship With Prince Harry Actually Goes WAY Back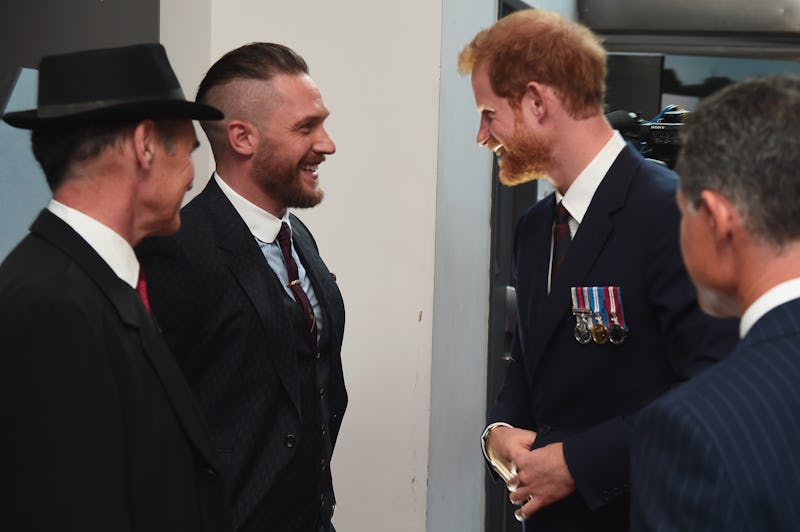 Eamonn M. McCormack/Getty Images Entertainment/Getty Images
Plenty of celebrities have lined the walk up to St. George's Chapel on Saturday morning for Prince Harry and Meghan Markle's wedding, among them London-born actor Tom Hardy. Hardy, currently sporting a bald head that is sending Twitter into a frenzy, arrived at the wedding along with his wife, Charlotte Riley. Why is Tom Hardy at the royal wedding, though? Well, according to Town and Country, the acclaimed actor has actually known the prince for quite some time. Hardy even shared a cameo with both Harry and William in The Last Jedi, in a scene that was unfortunately cut from the 2017 Star Wars film.
According to Entertainment Weekly, Harry and Hardy were spotted chatting at the Audi Polo Challenge charity event two years ago, where both Harry and William were playing on the Audi Team Ultra to raise money for four different royal charities. The Audi Polo Challenge happened on May 28, 2016, but while this might have been the first public sighting of Hardy chatting with Harry and his brother, the actor and the princes had already met long before that.
According to The Daily Mail, Harry, William and Hardy had all joined the set of The Last Jedi, just one month prior (the princes are both big fans of the franchise). The Daily Mail speculates that all three of them actually appeared together in a scene in an elevator with John Boyega (Finn), which you can now catch in the DVD special features. Harry and William make unusually tall stormtroopers, as they both stand over six feet tall. PopSugar also notes that, randomly, Harry and Hardy share a birthday. Both dapper Londoners came into the world on September 15: Hardy in 1977, and Harry seven years later in 1984.
The prince and the actor have a deeper connection that was formed in 2010 when Hardy became an ambassador for The Prince's Trust, Prince Charles' personal charity. According to its official website, the charity concentrates on helping disadvantaged young people between the ages of 11 and 30, including those suffering from drug and alcohol addiction. This is a cause particularly close to Hardy, as he himself battled with drug and alcohol addiction in his youth. In a statement to The Prince's Trust as he accepted his official position, Hardy said, "I became an Ambassador for The Prince's Trust to show my support for its work with tens of thousands of disadvantaged young people every year. It's so important to me that they get the life-changing second chance that I had."
Since he first became an ambassador, Hardy hasn't shied away from charitable work, staying actively involved in The Prince's Trust. In 2017, Hardy co-sponsored a campaign called Youth Can Do It, designed to help boost young people's self esteem. In an interview with The Mirror, he explained,
"The Prince's Trust is a charity that has always been close to my heart. I feel I have much in common with many of the young people I have met passing through its doors; all of whom have left me humbled, and continually remind me about what is important in life. Which is to pass on the message that every individual has value and worth, that the impossible is possible, and that all is not over when the chips are down and times are extremely hard."
It isn't known if Hardy has had the opportunity to meet Meghan Markle officially, yet, but since he and her new husband are basically twins — both Virgos, both from London, both philanthropists — it's likely that they're going to become fast friends, too. Hopefully Hardy and Markle get the chance to catch up at one of the big day's two receptions, or at another glamorous charity event in the near future.