Tom Hiddleston Apologizes For His Globes Speech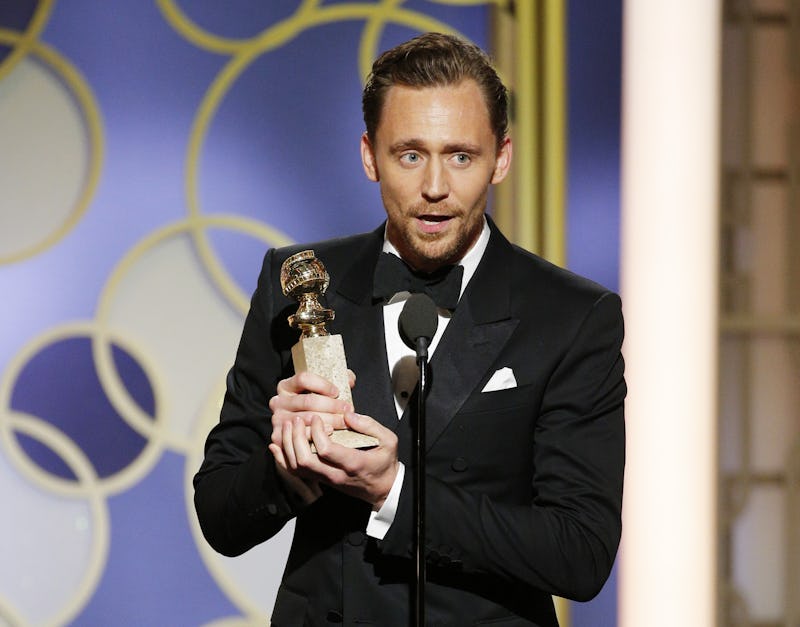 Handout/Getty Images Entertainment/Getty Images
The 2017 Golden Globes didn't go without controversy and that included Tom Hiddleston's acceptance speech after he won the award for Best Performance by an Actor in a Limited Series or Motion Picture Made for Television for his role in The Night Manager. He gave a lengthy speech about South Sudan, which didn't sit well with many, but now Tom Hiddleston has apologized for his Golden Globes speech.
The actor took to Facebook Monday, where he issued a lengthy statement citing that his nerves got the best of him. Bustle reached out to Hiddleston's rep on Monday regarding the criticism, but did not receive an immediate response.
His full response reads as follows:
I just wanted to say… I completely agree that my speech at the Golden Globes last night was inelegantly expressed. In truth, I was very nervous, and my words just came out wrong. Sincerely, my only intention was to salute the incredible bravery and courage of the men and women who work so tirelessly for UNICEF UK, Doctors Without Borders/ Médecins Sans Frontières (MSF), and World Food Programme, and the children of South Sudan, who continue to find hope and joy in the most difficult conditions. I apologise [sic] that my nerves got the better of me.
Despite the backlash he has faced, at least Hiddleston is still able to find a way to promote the amazing work of those in South Sudan who are helping people in need. The fact that individuals are taking the time to provide aid is truly important and Hiddleston seems to want to shine a light on just that.
After his win was announced Sunday, the Thor: Ragnarok star took the stage and told a story of meeting a group of young men and women one night while he was in South Sudan with the United Nations Children's Fund. "They were a group of Médecins Sans Frontières doctors and nurses," he explained about the individuals. "And they wanted to say hello because during the shelling the previous month, they had binge-watched The Night Manager."
Right after, he connected the arms dealing matter in South Sudan to the arms dealing story line in The Night Manager and said,
"And the idea that I could provide — or that we could provide — some relief and entertainment for the people who worked for UNICEF and Médecins Sans Frontières and the World Food Program, who are fixing the world in the places where it is broken, made me immensely proud. So I dedicate this to those out there who are doing their best."
The criticism wasn't far behind Hiddleston after he left the stage. Many deemed The Avengers actor as a "white savior," whereas others thought the 35-year-old Golden Globe winner was only telling the story as a way to compliment himself and his award-winning series. His speech certainly didn't go unnoticed.
Before commenting on Facebook, TMZ approached the actor on Sunday night and asked him his thoughts on everyone's opinions. Hiddleston said he was unaware of any criticism, but if he had to respond to it he would say, "I'd say we all just have to do the best we can to help each other out is what I would say."
Based on his apology, that seems to be exactly what he's trying to do by mentioning the work of worthy organizations.