Tom Hiddleston's Globes Speech Is Being Criticized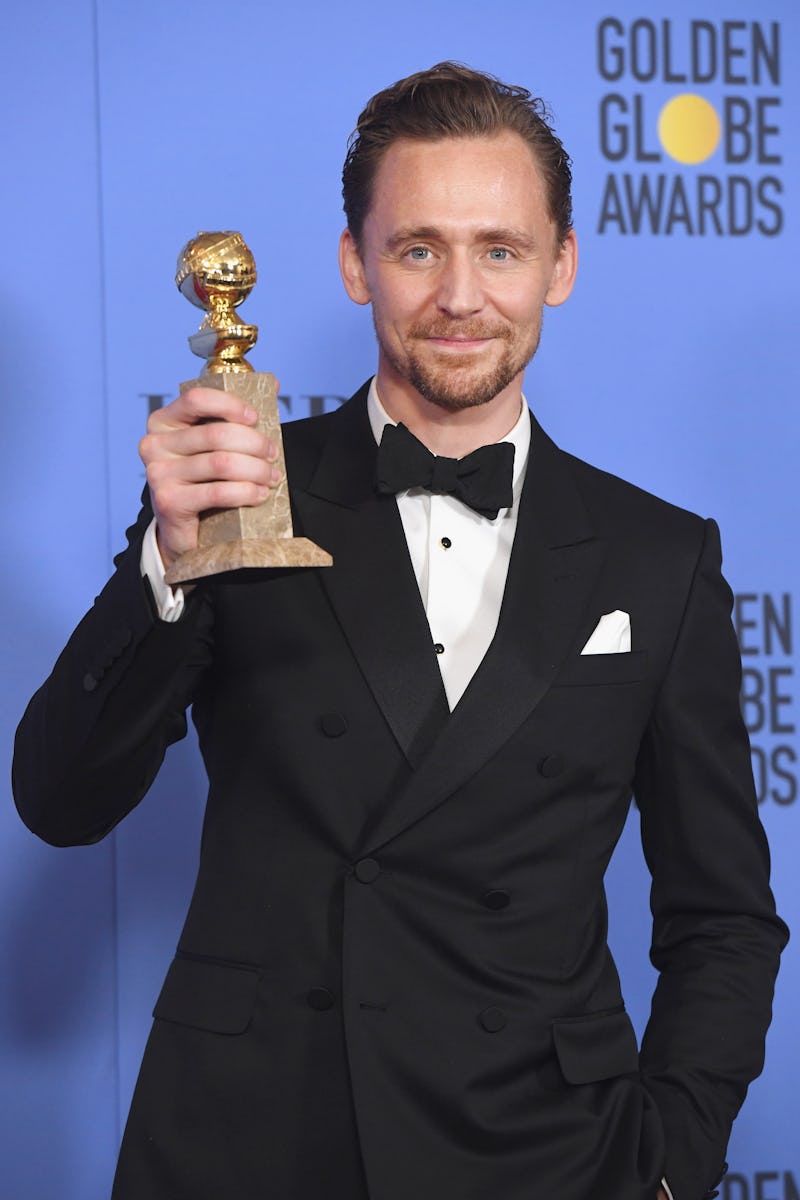 Kevin Winter/Getty Images Entertainment/Getty Images
An awards show never goes by without some harsh opinions coming out, which was certainly the case with Sunday's 2017 Golden Globes. Whenever anyone takes the stage to accept their award, there's always a chance they may end up saying something that will rub viewers the wrong way. For example, Tom Hiddleston's Golden Globes speech is receiving criticism. And by criticism, I mean loads of judgment and negativity. Update: On Monday, Hiddleston officially responded on Facebook. You can read his full statement here.
Hiddleston won Best Performance by an Actor in a Limited Series or Motion Picture Made for Television for his role in The Night Manager, and the actor decided this was the best time to tell a story about a trip he made to South Sudan with the United Nations Children's Fund. What at first seemed like a well-intended speech quickly turned into a longwinded one that didn't sit well with many.
He began his anecdote by saying how one night a group of young men and women came over to him. "They were a group of Médecins Sans Frontières doctors and nurses," he explained. "And they wanted to say hello because during the shelling the previous month, they had binge-watched The Night Manager."
Then, where Hiddleston's speech started to go downhill for many is when he related the arms dealing situation happening in South Sudan to the arms dealing story line in The Night Manager. He said,
"And the idea that I could provide — or that we could provide — some relief and entertainment for the people who worked for UNICEF and Médecins Sans Frontières and the World Food Program, who are fixing the world in the places where it is broken, made me immensely proud. So I dedicate this to those out there who are doing their best."
Hiddleston may have thought he was expressing gratitude to those in South Sudan dedicating their lives in hopes of helping others, but that's not how many on social media felt. A lot of Twitter users even accused the Golden Globe winner for displaying himself as the "white savior" in his speech.
Then, there were others who just made fun of him and couldn't help but comment on how the audience in the ballroom were reacting to his words. If you recall, the camera panned to Christian Slater at the perfect time, where he appeared to look confused at what Hiddleston was trying to say. Viewers also got a glimpse of Moonlight's Naomie Harris' facial expression.
There were many who also thought Hiddleston's speech was a way for him to use Sudan as a way to compliment himself and prove to everyone how great The Night Manager is.
The Thor: Ragnarok actor has yet to directly respond to the lack of love over his speech, but TMZ did approach him after the awards Sunday and asked him his thoughts on the criticism. Hiddleston made it clear that he had not seen or heard anything bad about his speech yet. Though, after TMZ asked him how he would respond to it, Hiddleston said, "I'd say we all just have to do the best we can to help each other out is what I would say."
At this point in time, Hiddleston hasn't commented on his speech turing into an issue in a more direct way (Bustle has reached out to his rep, but did not receive an immediate response), but it seems like all he wants is for everyone to support each other rather than take to criticism. Unfortunately, that's always easier said than done, which is certainly shown through the comments above.