Tom & Katie Schwartz Won't Let 'Pump Rules' Affect Their Marriage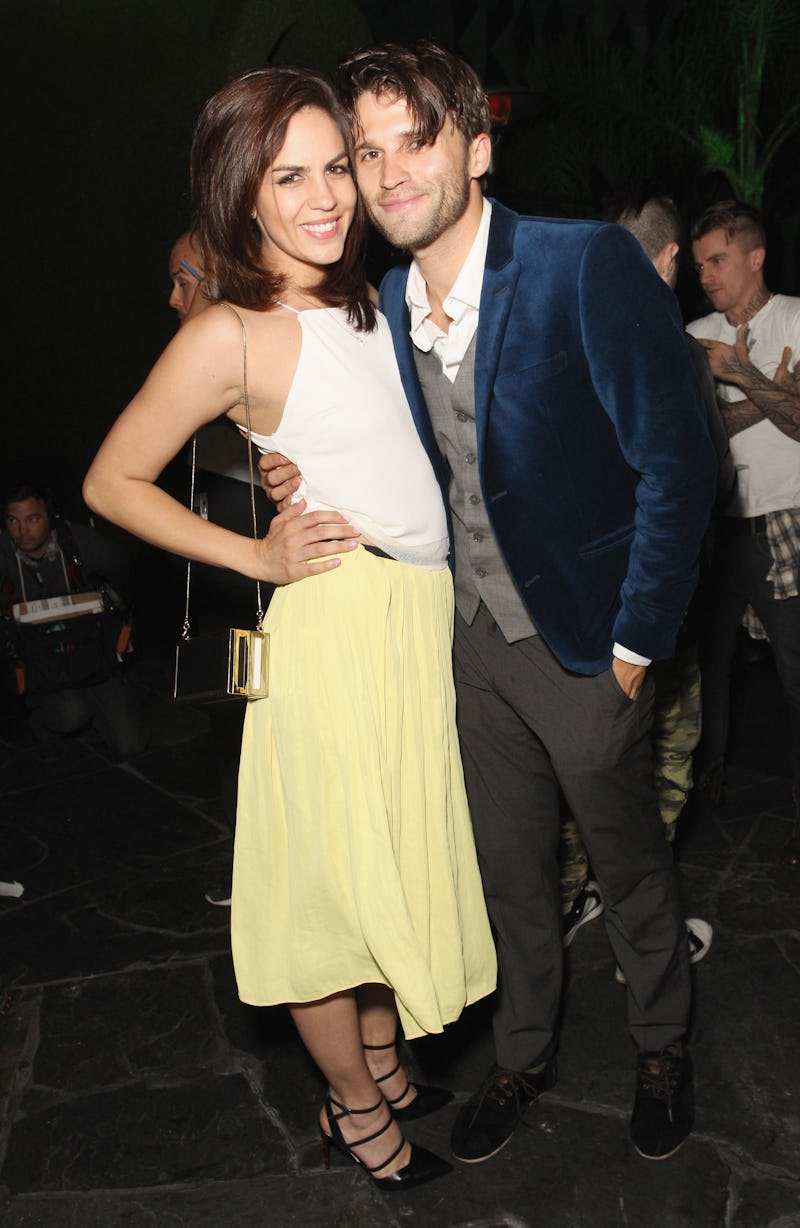 Rachel Murray/Getty Images Entertainment/Getty Images
When it comes to love, it seems reality TV stars are usually more unlucky than not. But Tom and Katie Schwartz swear Vanderpump Rules won't get between them or affect their marriage. The upcoming sixth season of the Bravo show will be the first since the two tied the knot in Aug. 2016 (their wedding aired in the Season 5 finale last March). Even though their documented newlywed life has yet to be revealed on the series, the two already can't catch a break. In June, both Tom and Katie Schwartz shut down divorce rumors and the Season 6 trailer teased some tension between them. But according to the Schwartzs, the drama is no sweat off their backs.
"I don't think we think that much about it, not to make us sound like idiots," Tom says at NBC's LA press junket in Nov. "It just kind of happens organically. We don't really self-produce." Katie says the couple refuses to allow the show to change their marriage or their marriage to change their experience on the show. "We haven't put forth any different kind of effort," she says. Her husband adds, "We've pledged to bring the realness and it will be brought. We have no filters. We didn't have filters before the show and we won't now."
Although the two seem dedicated to being as real as possible in the often over-contrived nature of reality TV, Katie admits she's had her doubts before. "Before we even started and before the show began, I had concerns," Katie says. But after being on the show since its first season four years ago, they learned how to navigate as individuals and a couple. "But [now], no. I think ultimately, we know our relationship and each other," Katie says. "We know what's real."
In the Season 6 trailer, a little trouble in paradise is teased when the two have a confrontation over something a seemingly drunken Tom has "no recollection" of. They don't deny what happened or the friction to come. "When things go wrong, we only have ourselves to blame," Tom says. "And that's a testament to how organic the show is and the evolution... some shows are a little more manipulated, they don't do that with ours." He says that if they tried to tailor their behavior to the show, the creators would "have [their] heads." Tom adds, "It's dangerous."
Because by now, they're almost too used to the cameras. "Sometimes you forget it even happened," Tom says while gesturing throwing back some drinks. "We're just living our lives and they're there," Katie adds. "You watch it after and you're like, that's embarrassing. But it doesn't affect our relationship."
Katie says the two often discuss their behavior, but those conversations extend to life off camera and "aren't just about filming." Soon though, these conversations may look very different seeing as how they may have a possible baby in the mix. "Should we change that if to a when?" Tom asks when presented with the idea of if they'd extend their family soon.
Surprisingly, the show isn't a factor in that choice. "The show wouldn't be a major deterrent in the decision whether or not to have kids," Tom says. Katie further explains why they don't take the show into consideration when it comes to family life. "It has more to do with where we are in our lives," she says. "It's just not the right time right now."
They're taking baby steps (no pun intended), which is why they haven't really considered whether or not they'd remain on the show after having a baby. "I guess you do need to take that into consideration," Tom says. "I mean obviously we wouldn't be getting wasted," Katie adds. "[We would be different], not just on the show, but in life."
Overall, the two are flattered by fans' fascination with their personal lives, but they also don't get the hype. "There's a disproportionate amount of glory," Tom said. "We still get shoutouts on the street, like, 'Dude, congrats on being married!' And it was like a year ago. It's just a unique experience." Anyone else sensing a pregnancy announcement episode on the way? TBD but possible.