Don't Give Up On 'Pump Rules' Stars Schwartz & Katie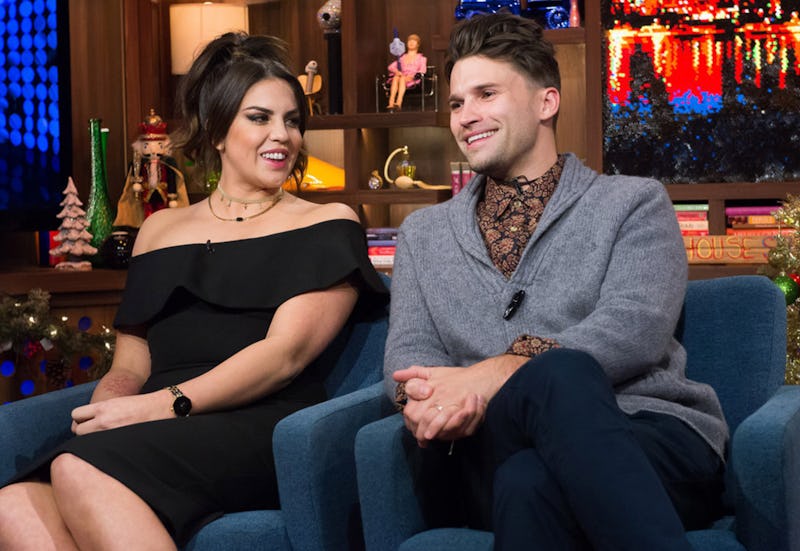 Charles Sykes/Bravo
Thanks to some tweets by Jax Taylor, some screengrabs of ringless hands, and some Instagram accounts that appear to be experiencing a couple-y photo drought, Vanderpump Rules' Tom Schwartz and Katie Maloney are up to their eyeballs in divorce gossip. Yes, again. Pump Rules Season 6 filming began just last month, and there's already been some e-chatter about whether or not the newly married reality stars will break up on the show. And I'm not here for it.
Look, Schwartz and Maloney have been through some pretty gnarly stuff on Pump Rules, but I, for one, am not about to cast doubt on their relationship. I believe all is relatively well in Bubbaland. I really, really do. Call me a softy. Nay, a SUR-fty.
Here are some reasons why I think all is well with Maloney and Schwartz.
1. The Tweets
Some fans apparently took Taylor and Maloney's poker player/circus performer/monk tweets at face value, but uh, I'm 99.999% certain they're jokes. Like, come on. For starters, what would Schwartz possibly do in the circus? Dude's a charismatic, lovely guy and all, but I can't see him walking a tightrope or juggling bowling pins while stumbling around on stilts. He's too nervous a guy for that.
Anyway, if a divorce was actually happening, it'd be weird if Schwartz's wife and Schwartz's best friend were casually kidding around about what Schwartz was up to. Probably not the best time to be cracking wise, you know?
I would love to see Schwartz's anxious poker face, though.
If Schwartz and Maloney were really going through something, I can't imagine Taylor and Maloney being so flippant about the situa— *thinks about everything that has ever happened on Pump Rules.* OK, Tequila Katie and Number One Guy Jax might kid around about a split, but I'm going to give this scenario the benefit of the doubt. This show and this cast have given me so much, and the least I can do is give them the benefit of the doubt.
2. The Tagged Photos
With the exception of the picture Maloney shared on Monday (don't worry, I'll get to that masterpiece in a second), the two haven't posted pictures of each other in months. However, that doesn't mean they aren't spending time together. I am pleased to report that the Bubbas have been tagged in a handful of recent Instagram photos (see: here, pic number three here, here, and here). Schwartz and Maloney have been out and about together, but they haven't been documenting any of it on social media. Hey, it happens. Now, if they were overgramming, that'd be a different story.
3. Maloney Posted This Boxer Brief-rrific Picture Of Schwartz
Some fans may say the timing of this photo is suspect. Some fans may say it's worth noting that she just so happened to post this photo days after fans called attention to the lack of couple-y photos on Schwartz and Maloney's accounts. I am not one of those fans. Rather, I believe in my heart of hearts that Schwartz is truly Maloney's MCM. Like I said, I'm a SUR-fty.
4. Maloney Called The Divorce Rumors Fake News
I will take her word for it.
5. Maloney's Mom Said Everything Is A-OK
When RadarOnline asked Teri Maloney about her daughter's marriage, she replied, "No, they're not divorcing. Everything is wonderful." I will take her word for it.
I mean, could something be up? Hey, anything's possible; my tune may change when Season 6 airs. But for now, I'm going to set up my tent in the "I think they're fine" camp. Forever a SUR-fty.