Tom Petty's Final Words To His Fans Say It all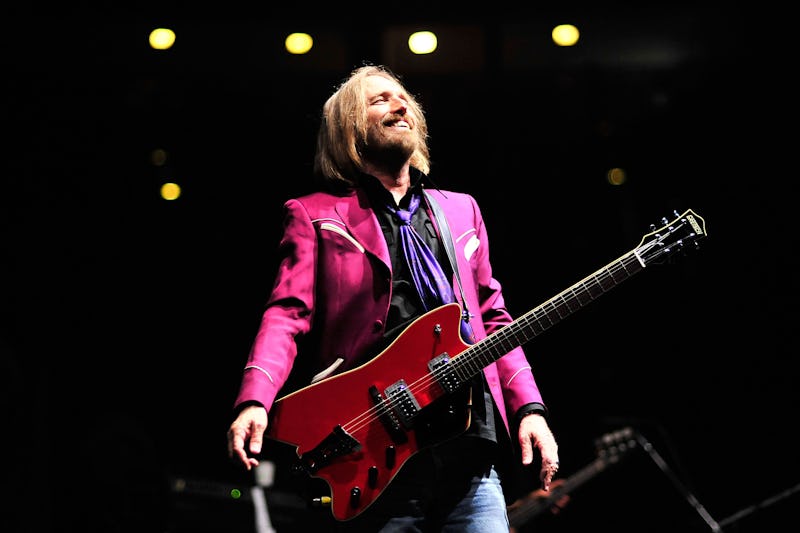 Jerod Harris/Getty Images Entertainment/Getty Images
It's a dark day in the music world: Tom Petty has died at age 66 following a heart attack, his manager confirmed. And though he's gone, his impact on music will live on for years to come. Surely you might be wondering what Petty's last words to his fans were — and they couldn't be more fitting for such a talented, humble artist.
Just a week prior to his tragic death, Petty performed at the Hollywood Bowl to cap off Tom Petty and the Heartbreakers' 40th anniversary tour, according to Slate. And the frontman took the mic near the end, telling the crowd, "I want to thank you all for coming out tonight." Then, massive cheers erupted before he could continue. Petty said,
"We love you dearly. I want to thank you for 40 years of a really great time. We're almost out of time, we got time for this right here."
They then began playing "American Girl." After the song ended, the whole band took bows, thanked the audience, and waved goodbye. Petty added, "Thank you sooo much. God bless you. Goodnight." He then stopped to sign a few autographs for fans, showing the love between him and the crowd was mutual.
You can see the heartwarming moment, as well as the final performances, in the fan-recorded video by YouTube user Kim Roberts below. Given his passing, it definitely becomes much more bittersweet.
On the bands' official website, that message of gratitude is reiterated. In a recap of the Los Angeles show posted on Oct. 2, accompanied by the set list and photos, the site states on Tom Petty and the Heartbreakers' behalf:
"Fifty-three shows. Twenty-four states. Twelve lighting crew. Eleven truck drivers. Nine in Production. Seven sound guys. Six backline crew. Six months. Five opening acts. Three countries. Three riggers. One legendary band and over one million legendary fans. Thank you to all!"
Those stats alone are beyond impressive, and it just further proves how grateful Petty and his group were for their fans' endless support. Though losing him is undeniably tough to stomach, these final words can hopefully give his followers a bit of joy to cling to.
At that same show, Petty and his band performed "Free Fallin'", arguably their most famous track and one frequently covered by other artists. As seen in another video uploaded to YouTube by Roberts, Petty told the crowd, "This has been one of those big outdoor concert singalongs, ya know? You want to do a big singalong? I love those." Of course, the answer was yes.
Not only did Petty create memorable music, but he bonded with his fans in the process. He also expressed his appreciation for their support in 2002 when being inducted into the Rock and Roll Hall of Fame with Tom Petty and the Heartbreakers. He explained on stage,
"The music overcame me at a very early age and has consumed my life. I love everything about it, all the people I've met, the great times I've had."
Amidst a list thanking his children, wife, God, and rock 'n' roll music itself, he added, "And I thank the fans for such a wonderful life."
Being inducted into the Rock and Roll Hall of Fame isn't the only recognition the musician received. Petty earned three Grammys in his lifetime, as well as being the 2017 Grammys MusiCares Person of the Year. Per a press release back in February, Neil Portnow, President/CEO of The Recording Academy and MusiCares, stated,
"Tom burst into our musical consciousness and never let go. His brand of rock and roll benefits from a celebratory rebelliousness, infectious rhythms and unforgettable lyrics that are incised in our imaginations. His artistic talents coupled with his quiet philanthropy make him a great MusiCares Person of the Year honoree."
The first part of that quote couldn't be a better way to describe him — Petty will forever be part of the music world. And his humbleness and appreciation for his fans only helped cement that.