What The Toms On 'Vanderpump Rules' Really Think Of All That Tom-Tom Fan Fic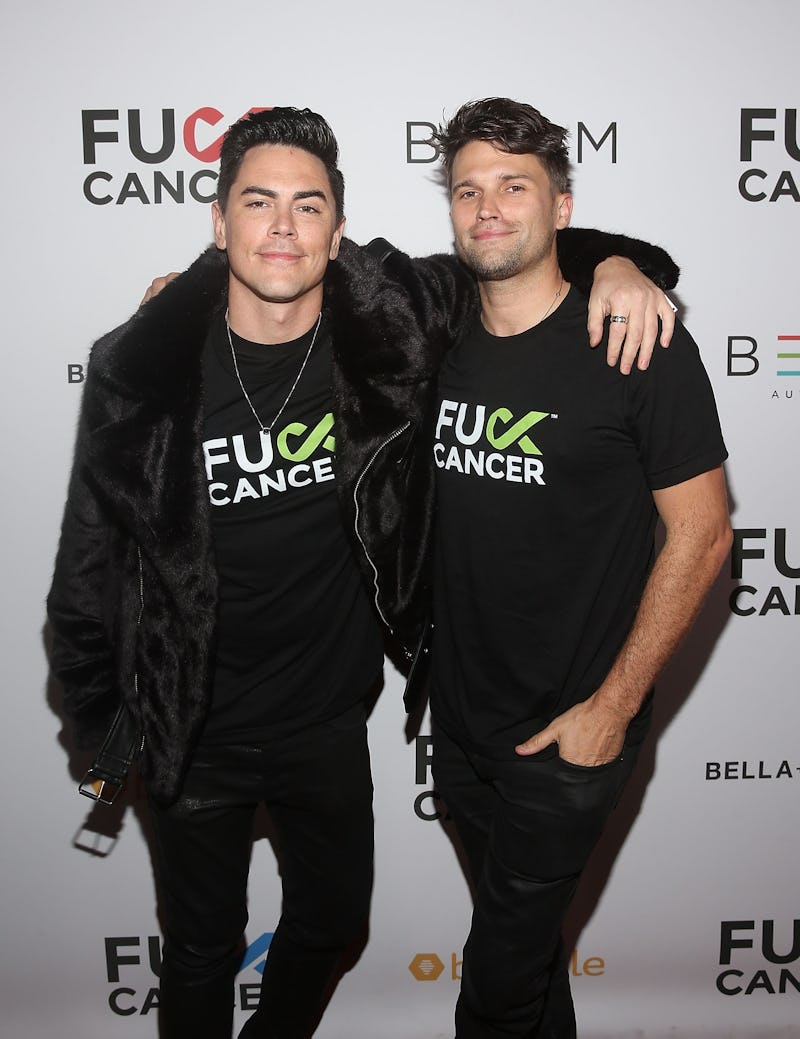 Jesse Grant/Getty Images Entertainment/Getty Images
This year is shaping up to be a be a big one for Tom Sandoval and Tom Schwartz of Vanderpump Rules — their restaurant collaboration with Lisa Vanderpump, Tom Tom, tentatively opens in June. But in the meantime, Schwartz and Sandoval are hanging out with their friends and prepping for the conclusion of Season 6 of Vanderpump Rules, and surprisingly, they say the reunion was less fraught than it usually is. "The reunion was different," Sandoval tells Bustle. "Obviously, there's always going to be some pettiness, but it was a lot less petty than we've seen in the past. I feel like people really talked through their issues more so than fought."
Schwartz agreed, though he added that "there were some rough moments where I wanted to click my heels and disappear." Still, this is impressive, considering that Season 6 of Vanderpump Rules was rife with tension, mostly between the men and women of the show. When Brittany found out Jax cheated on her, everyone clearly took sides, and it's this divide that has determined many of the alliances of the season. But, according to Sandoval, this boys-versus-girls vibe shouldn't haven't even gotten that far.
"This whole guy/girl divide thing really started a lot with Lala… it was kind of annoying that me and Schwartz would get grouped in with Jax when that wasn't the case, when we're not [always] sticking up for Jax," Sandoval says. "At that housewarming party, the whole thing that I had an issue with was the fact that when everyone's nine drinks deep, it's probably not the best time to play a recording of what is probably the most catastrophic thing that anyone on our show has had to go through." Sandoval is referring to a recording of Jax saying that he never wanted to marry Brittany, which was played at a party at Jax and Brittany's apartment. To say the decision to play it was ill-advised is an understatement, and the evening ended with everyone screaming at each other.
"I constantly get sh*t on for defending Jax, and I get called a groupie, and maybe sometimes I am way too easy on the guy, but I try to see the root of the problem," Schwartz says. "I try to dig a little deeper, try to figure out why he's acting this way. Maybe sometimes I'm an enabler, but I mean well… We're looking for solutions. We're not here to judge." Wrapping up the point, Sandoval says, "It seems like the girls savor their anger toward Jax, and they try to put this divide between the genders, which is ridiculous."
The Toms defend their friend Jax vehemently, and they form a tight crew. They're the three musketeers, and when Jax shared with the group that he may be moving to Florida, the Toms were emotional, to say the least. It was a refreshing look at a male friendship, because we so seldom see men on television cry over other male friends. But the Toms aren't afraid to show their love. "I think deep down in any legitimate male relationship when a friend moves away or whatever, you're always going to get an emotional response," Sandoval says. "Maybe not if it's Dawson's Creek or something. But in real life, if your friends move away, it's sad. One of my best friends moved to Canada and I bawled my eyes out. It sucked."
Schwartz agreed, saying, "We can be stoic. I have stoic moments. But we wear our emotions on our sleeves a lot, and I love that. I love having a good cry with Sandoval or Jax. It feels good. I was really bummed out because Jax has been such a big part of my life since I moved to L.A., mostly for better, sometimes for worse. But I love the guy and I was really bummed out at the prospect of not having him as a neighbor, knocking on my door."
With or without Jax, the Toms can survive as a self-contained unit. The two have denied gay rumors before, but Schwartz denied knowing anything about fan fiction that other reviewers and fans may be writing about him and Sandoval. "I think we are arguably the best couple on Vanderpump Rules," Sandoval says. "We're not all that physically compatible, but emotionally… yeah! I didn't know about this! I've seen some pretty bizarre fan fiction, but nothing with us being a couple," Schwartz says. "I will say Tom is a great spooner, a great cuddler… he loves being little spoon. We both fight for the spot of little spoon."
Joking aside, Schwartz and Sandoval are ready for their big opening and for whatever comes next. With Tom Tom about to open and six seasons of Vanderpump Rules under their belts, it seems that the sky is the limit.