The 'Vanderpump' Toms Just Spilled SO MANY Details About Tom Tom's Menu & Opening Date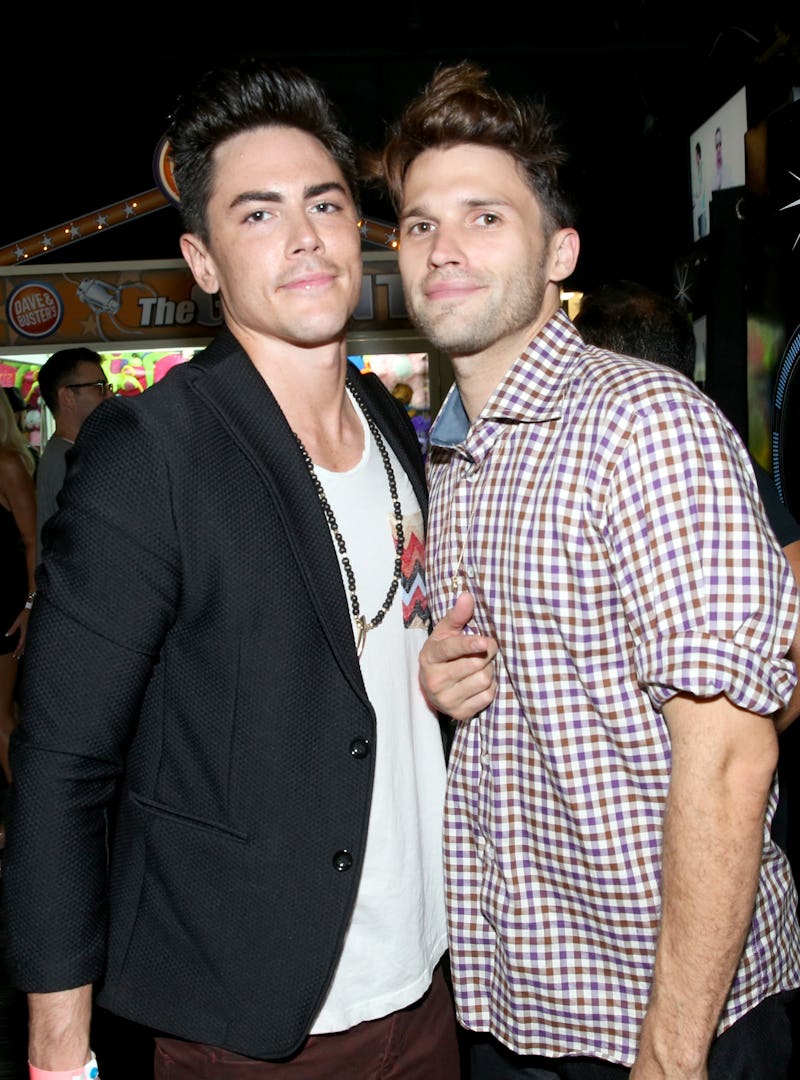 Mark Davis/Getty Images Entertainment/Getty Images
Lisa Vanderpump's newest venture, Tom Tom, is coming to West Hollywood, and she's been working with Toms Sandoval and Schwartz to bring their combined vision to life. The project has been long in scale, but at last, we have an idea of Tom Tom's cocktail menu and opening date. Vanderpump Rules stars Schwartz and Sandoval told Bustle that opening day is projected for the beginning of June 2018.
"Ballpark. It may fluctuate a little, but that's what we're projecting, roughly," Schwartz says. "The excitement's mounting day by day. We're downright giddy right now. It's still two months to go, but there's so much to be done." Sandoval is also feeling the pinch. "I was like, having dreams about it last night," he says. "It's been constantly on my mind."
Lisa first approached the Toms about doing a restaurant with her and her husband Ken at Schwartz's wedding, which is a pretty good present to get. Schwartz, being Schwartz, immediately said that he wasn't sure, but Sandoval set him straight, and the two are now officially business partners with Ken and Lisa. It's this partnership, according to Sandoval, that's made Tom Tom so different than Lisa and Ken's other properties.
"[During the process,] I'm on the phone with Ken, and we're brainstorming… it's been great. My biggest thing is, a lot of times in the past, I feel like Lisa's place has been more about the décor and less about the function, and this place, it has both," Sandoval says. "It's been great to be with them as it's being built and sort of work together to make sure the place not only looks beautiful, but functions beautifully. It's been a really exciting part of it."
While Lisa and Ken are involved in the business, as of now, the Toms are tentative about any further members of the Vanderpump Rules cast joining the new team at Tom Tom. "We've been flirting with the idea of having Jax as a go-go dancer, but nothing's official as of now. I don't want to get people's hopes up," jokes Schwartz. "We might bring Billie in to help manage, since she's had her own places before," he adds.
Sandoval's biggest hiring prerequisite is experience — Vanderpump Rules involvement or not. "To me, it's about hiring people who know what they're doing, who can take responsibility… what's going to be different about this place is that it's going to be less about your headshot and what movie or modeling campaigns you've done," he says. "It's going to be about your experience in the restaurant and bar industry."
While former SURver Kristen Doute had previously expressed interest in bringing the vegetarian fare from her blog Vegiholic to Tom Tom, the Toms say there are no current plans to put her on the payroll. But there's apparently no bad blood. "We had an informal sit-down with her, and she was introducing us to some dishes she loved because she's a vegetarian and she's really passionate about it," says Schwartz. "We loved it…. We don't have any formal partnership, nothing like that, but we learned a lot from her. We love Doute."
And as for what to expect from Tom Tom upon opening, well, the Toms assure me that it'll be like nothing you've ever seen before. "We're finding inspiration everywhere, we're like sponges soaking up everything we can," says Schwartz. "It's industrial chic, with like, a little mechanical elegance, but it's not going to feel pretentious. It will be comfy and fun, and it's going to have awesome artisanal cocktails, with fresh ingredients."
Speaking of cocktails, Sandoval is particularly excited about the new technology he's brought into Tom Tom. "I have machines that I can do my own infusions that would normally take 30 days in 30 minutes," he says. "I have more than one machine that I'm looking at using that freezes alcohol… to where you can take shots off of wooden spoons. This is gonna be alcohol consumption on a whole other level."
The drinks will look beautiful, too. "We've been experimenting with a lot of new garnishes," says Schwartz. "At my wedding, we created [a cocktail], and Tom [Sandoval] met this contact, and he introduced us to some really unique garnishes." That was where the restaurant teasing ended because, as Sandoval says, "We don't want to give everything away. We want you to be surprised."
Surprised we all will be if the restaurant actually opens on time (these things never do), but one thing is for sure — Vanderpump Rules fans and hungry Los Angeles locals are eager for the opening of the Toms' passion project. There will be drinks, and there will be drama, and you know it will all be on Vanderpump Rules.