Tomi Lahren Managed To Bring Up Hillary Clinton's Emails On Her First Day At Fox News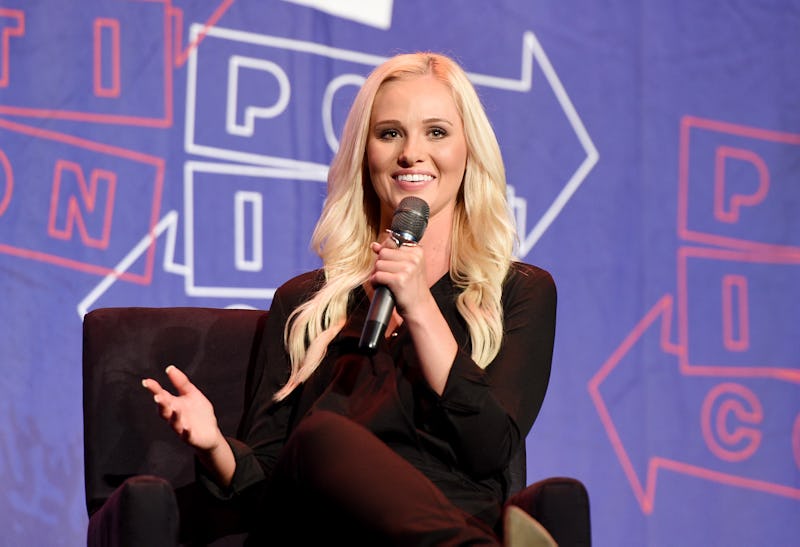 Joshua Blanchard/Getty Images Entertainment/Getty Images
Tomi Lahren started her new gig at Fox News on Wednesday night, and she obviously couldn't miss a chance to talk about the network's absolute favorite subject. So, of course, Tomi Lahren's first day at Fox News included talk about Hillary Clinton's emails. Because what else would she spend her on-screen time discussing?
Fox announced that Lahren would join as a contributor on Wednesday, saying that she would play a role on their digital programming and then also join other shows, particularly Hannity, to offer her signature spirited commentary. She opened with a segment on Hannity on Thursday — and, actually, Sean Hannity let her open the show, which she did in her usual style: by arguing that no, no one is sick about hearing about Clinton's emails, and that they're still relevant to the national discourse.
"How about we make a deal?" Lahren said, addressing the non-Fox media. "When the mainstream media stops covering Russia day in and day out, maybe we can drop the Hillary email scandal." Nylon points out that this is essentially Lahren admitting that her new employer is a source of fake news, if they're going to equate the emails with the Trump-Russia story that they're always calling fake. But no matter, Lahren had to open with a bang, so she went straight to what Fox's viewers most want to hear about.
For a commentator who made her name with explosive, controversial statements (comparing Black Lives Matter to the KKK, for example), though, this was a tame beginning. Fox viewers have decided that there's something hugely damaging in Clinton's emails, whereas the rest of the country, more than satisfied with Clinton's hours of testimony on Benghazi, is content to let the subject rest.
Maybe she's just warming things up in her new position, though. Rock legends never start their concerts with a new jam — it's always an old favorite in the opening position. Why should Lahren push the envelope when the Fox News audience is so addicted to this one tune? After all, she lost her job at Glenn Beck's network TheBlaze after admitting that she is pro-choice.
In her Facebook post announcing her new position, Lahren made it clear who she would be speaking for: "America-loving patriots." And in the world that Fox News inhabits, you evidently can't be both an American patriot and a person who thinks that Russia interfering with our election was a bad thing. You can, however, be a patriot and a person who thinks that the best thing to spend your time discussing is the long-lost emails of the secretary of state who stepped down four years ago. Haven't there been any other Democratic scandals since then? Maybe liberals should take it as a compliment — Tomi Lahren has so little to get frustrated about on the Left that she has to open her career at Fox News by going back to Clinton's emails.