Toni Collette Made Television History With Her New Show — By Having An Orgasm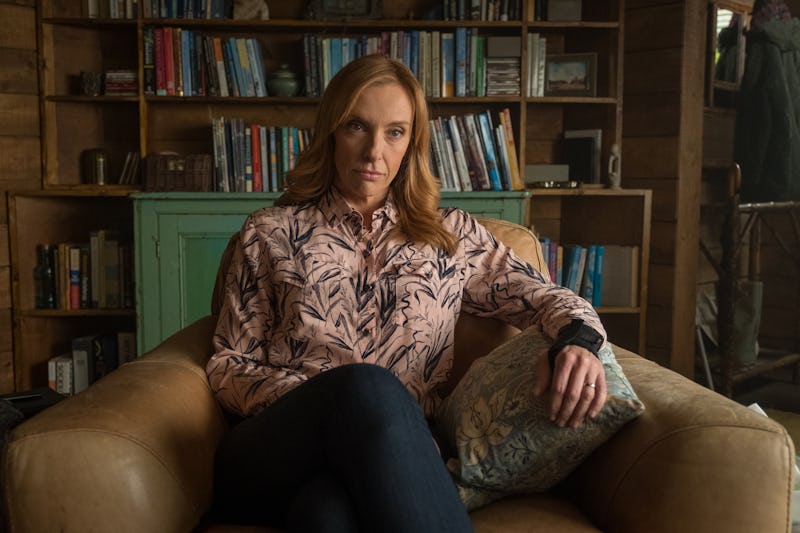 Matt Squire/Netflix
Wanderlust, traditionally, means an urge to explore the world in a casual manner. Wanderlust, the new Netflix series that originally aired on BBC One in September, features characters wandering through new phases in their lives, but mainly their sex lives. Joy Richards, Toni Collette's Character in Wanderlust, doesn't have much joy in her life when the series opens, but by the end of the first episode she and her husband Alan (Steven Mackintosh) decide to try something new — sleeping with other people. This exploration of love and lust is quietly revolutionary, as when the show originally aired on BBC One, Joy was the first female character to have a female orgasm on the channel according to the Radio Times.
Collette told the Radio Times that she was "happy to take the accolade," but that's not the only reason that Wanderlust sticks out among the many shows that have come to television in 2018. As Collette explains, "A middle-aged woman's sense of self-esteem, of sexuality, is not often talked about." The dry British comedy features an entire community of people exploring how sexual tastes change over time, and explores how people in middle-age can rediscover themselves.
The idea that traditional monogomy isn't for everyone is hardly a new concept, but that doesn't stop Joy and Alan from being shocked that they're even discussing the prospect of having an open marriage. The topic only comes up when the two both admit that they've cheated on each other and express that they don't enjoy having sex with each other. And so, with that admission, they decide to continue their affairs, but as openly communicated relationships instead of affairs. Collette told Bradford Zone that part of what attracted her to the role was her "very much [enjoying] the idea of people waking up and living the life they really want to life," and that's exactly what happens at the conclusion of the series' first episode.
While Collette may be able to proudly claim the title of first female orgasm on the BBC, she's nowhere near the frontrunner for the same title on Netflix. With shows like Orange Is The New Black and Easy that focus heavily on sexuality, among other things, Wanderlust fits in perfectly with the streaming service's growing roster of shows that are exploring the ways that ones sexuality changes over time. The show has frequent displays of sexual content, but the show's first few hours aren't explicit for the sake of being sexually explicit, and although there are plenty of funny moments, the character's sexual exploration is not treated as an easy target for mockery.
Wanderlust approaches questions surrounding monogamy and sexuality in a nuanced fashion, asking questions that may be uncomfortable for some viewers to wrestle with. With more than a few moments of classically British cringe-comedy interspersed throughout the series to keep the show's tone light. Wanderlust may not be easy for some to watch, but those interested in a show wrestling with ideas about emotional and physical love will likely be entertained and intrigued by Joy Richards' journey.