Bad News 'Wanderlust' Fans — It's Time To Savour Your Last Crumbs Of Toni Collette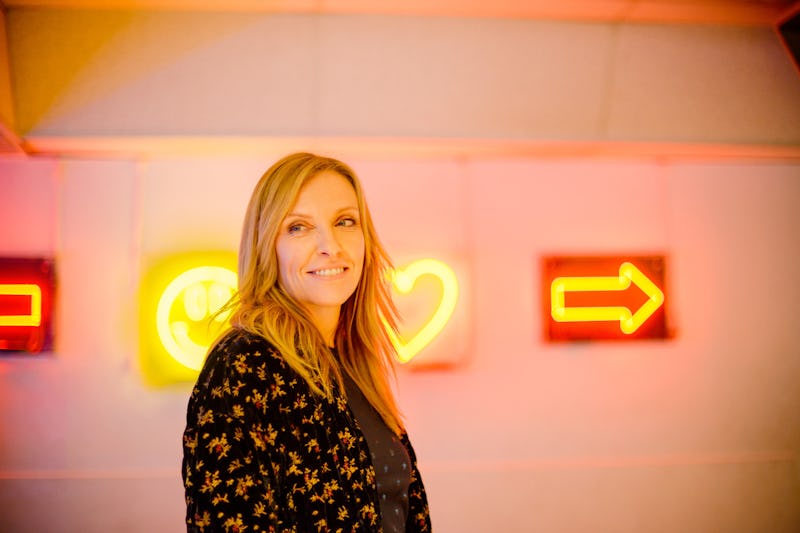 BBC / Drama Republic
The finale of BBC One's relationship drama Wanderlust airs on Oct. 9 at 9 p.m. Over the last six weeks, Toni Collette and Steven Mackintosh's characters, Joy and Alan, have posed the question "is monogamy outdated?", exploring alternative options for saving their dwindling sex life and marriage. What started as a simple arrangement conjured up by therapist, Joy, has turned more complicated as the episodes have progressed. So, with that in mind, will Wanderlust return for Season 2?
Praised for how well the show has dealt with topics like monogamy, resolution of intimacy issues, and how open relationships work in families, it feels like Wanderlust has left no intimate stone unturned. I contacted a representative for Wanderlust at the BBC. They told me that there is currently no news about a second season. So, the finale may see Collette's character make the final decision about whether she can continue in an open marriage, once and for all.
Speaking about her role and the show in a press release, Collette said, "Wanderlust is so honest and funny in how it looks at some aspects of living that are not often talked about. It's going to excite people and start conversations." And it has certainly done that.
From Joy being caught by her daughter in a club with her new boyfriend to watching Alan negotiate sex for the first time with his long term work crush, Claire (played by the great Zawe Ashton),Wanderlust has been far from easy watching. But in all of the moments that as a viewer you completely cringe with the character, there have also been so many moments of raw human emotion. You actually want it to work out for them.
The sub plots surrounding their family and their children's love lives have also added to the drama. Will Tom end up with best friend Michelle? What is going to happen between Naomi and Rita? These all seem like very big questions to answer in one final hour.
The show contains some pretty intense sex scenes, but writer Nick Payne told the Radio Times that he felt the show was being unfairly reduced. "If you want — at least I hope, I can only say what we attempted to make — a character-driven thing that isn't going to compromise the integrity of the characters for the sake of the plot, that's warm and funny and has this beautiful ensemble of performers, and they are only going to blossom as the show goes on, yeah please watch."
Episode 5 left off with Collette's character, Joy sitting with her own therapist, Angela (played by Sophie Okonedo) to discuss past trauma. In flashbacks viewers saw how she first fell for Alan and what may have lead her to this point. Angela's final verdict was that Joy needs to "stop trying to place yourself at the centre of your own misfortune." Is this a hint that Alan and Joy's open marriage arrangement may come crashing down in the final episode?
Whilst there is no news of a Season 2 just yet, the final episode has a lot to resolve.