'Tonight Show' Showrunner Katie Hockmeyer's Story Will Give You Hope For Women In Late Night Comedy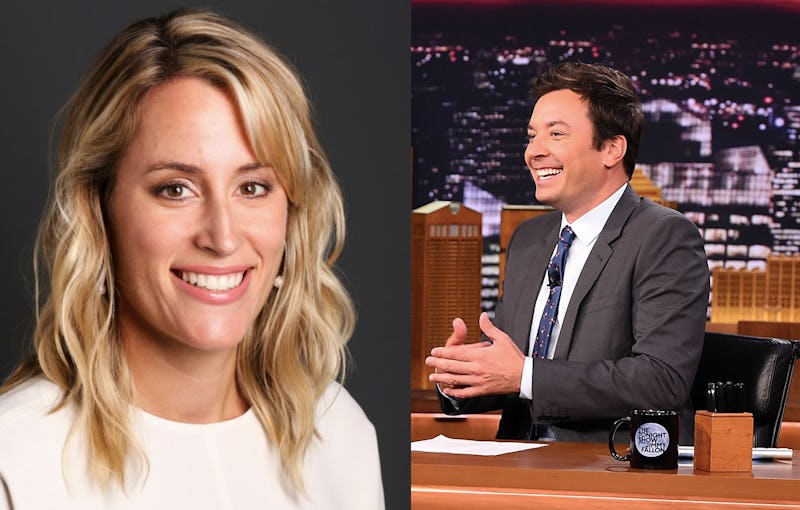 Andrew Lipovsky/NBC; Theo Wargo/Getty Images Entertainment/Getty Images
Katie Hockmeyer knew where she wanted to work from the time she toured NBC Studios in the seventh grade. Now one of three showrunners of The Tonight Show Starring Jimmy Fallon, Hockmeyer has spent her entire career with NBC. And despite the recent flood of allegations in the entertainment industry brought on by the Me Too movement, she says her ascent up the late-night comedy ladder has been defined by something much warmer: a sense of support.
"I have never experienced, luckily, what other people have. I've had nothing but positive experiences," Hockmeyer tells Bustle over the phone in early June. She praises Fallon and Executive Producer Lorne Michaels for supporting her career from the start. "They are very pro-women, and have put me in this position and nurtured me to make sure I was successful. I feel super blessed, I kind of pinch myself every day."
Hockmeyer also credits a workplace filled with women in key roles for setting the right tone. "We have a female head writer, the head of the talent department is female," she says. "There are a ton of female writers. It's just a very diverse staff." One woman she had to look up to as she plotted her career path was Hockmeyer's mother, who worked in NBC's famed page program in the 1970's before moving on to Today and eventually the news department. Hockmeyer also got her start in the page program.
It was there, working as a page at the Saturday Night Live desk, where she first crossed paths with Fallon, then a cast member making a name for himself as one half of the sketch show's "Weekend Update." After the page program, Hockmeyer landed a gig as an assistant in Michaels' office. She later moved over to the corporate side of the network to work in the office of Jeff Zucker, then CEO of NBC, where she frequently took calls from Debbie Vickers, then the executive producer of The Tonight Show With Jay Leno. "I remember thinking, 'Oh my god, if I could be Debbie Vickers one day, that's the coolest ultimate job to have,'" recalls Hockmeyer.
Now in Vickers' shoes, Hockmeyer says her aim is to end viewers' days on a positive note. "I think our main goal [at the Tonight Show] is for people to, at the end of the day, laugh and go to bed feeling happy. I mean, Jimmy is the definition of a true entertainer. He can sing, he can dance, he's naturally funny on his feet," she says. "He has this amazing magnetic energy to be around. It's contagious. If you're around him you can't help but be in a good mood and be happy and just walk away feeling positive. So that's really what I hope comes across to the audience at home."
Positivity is the thread connecting all of Hockmeyer's professional experiences, starting from her earliest days with NBC. "I literally knew everybody in the building, being the page, because you have to figure out ways to get to catering, and security, and housekeeping. Knowing all these people in the building I think opened doors in different ways to jobs at the company," she says. "A lot of the people are still in the company. I think it was a domino effect — it all kind of fell into place. And I maintained all those relationships. I think that was key — treating everyone with respect because your paths will ultimately cross again."
That's the takeaway Hockmeyer passes on to anyone who wants to follow her path: Being pleasant and building connections is the best route to success. "[My advice is] just to be kind and respectful, because your paths will cross again," she says. "It might not be in one year or two years, but it might be five years down the line. Karma is a boomerang, and if you're good to people then good things come back to you."