How Women In Hollywood Are Banding Together To Fight Harassment Across Industries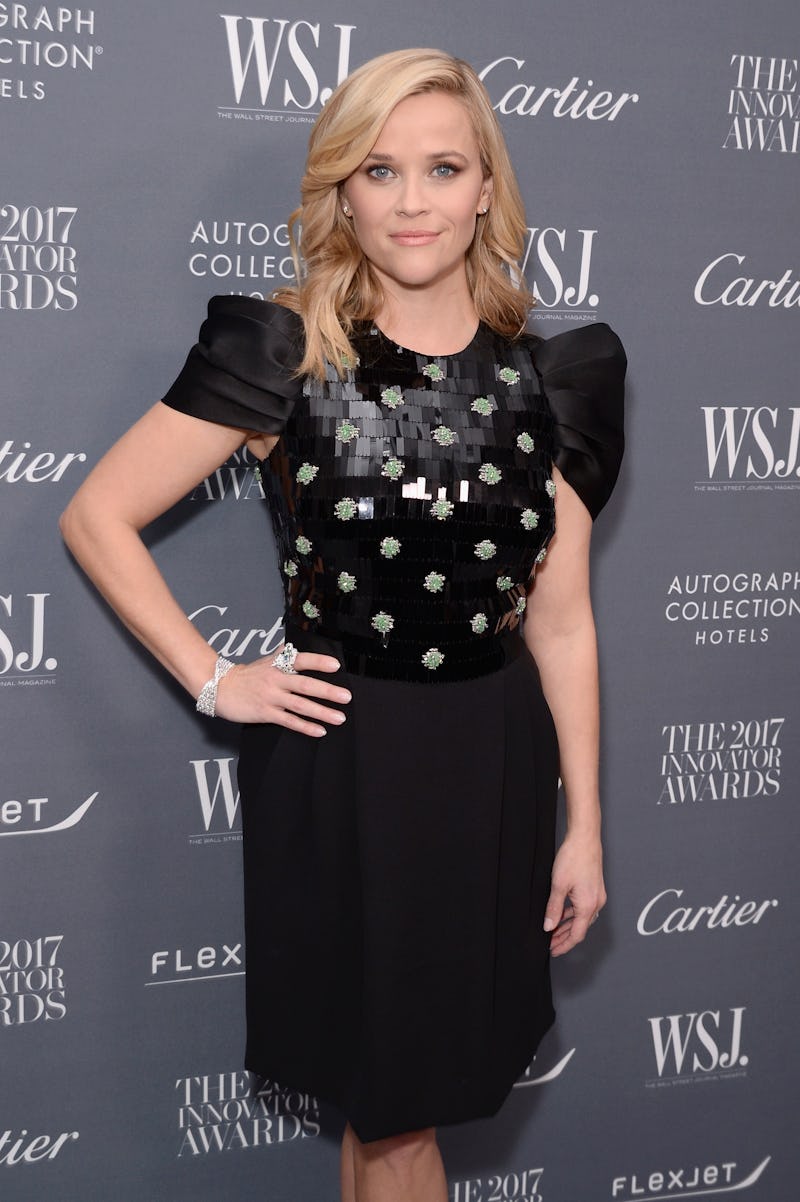 Andrew Toth/Getty Images Entertainment/Getty Images
Last fall, dozens of sexual harassment and assault allegations toppled several Hollywood titans. With the rise of the Me Too movement, 300 women in the entertainment industry have made it their New Year's resolution to change workplaces everywhere with Time's Up, an anti-harassment initiative. The organization — which is backed by the likes of Reese Witherspoon, Shonda Rhimes, and Amber Tamblyn — includes a legal defense fund to help women and men in various industries who have been the victims of harassment, assault and inequality.
The new initiative was announced on January 1, 2018. The mission statement on the Time's Up website calls on people working in entertainment to use their privilege, platform, and resources to help women seek justice. It reads:
"Now, unlike ever before, our access to the media and to important decision makers has the potential of leading to real accountably and consequences. We want all survivors of sexual harassment, everywhere, to be heard, to be believed, and to know that accountability is possible."
According to Time's Up, shortly after women in Hollywood came forward with their stories of sexual harassment, the Alianza Nacional de Compesinas (The National Farmworker Women's Alliance) sent a letter of solidarity to the women who were allegedly harassed or assaulted by Harvey Weinstein and other Hollywood big shots. Now, Time's Up wishes to particularly help women who work in agriculture and other low-wage fields.
In order to battle this inequality, Time's Up calls on workplaces to install more women leaders. Citing the lack of gender parity, the organization argues that with more women in positions of power — especially women from under represented and marginalized communities like women of color, immigrant women, trans women, and queer women — workplaces might become safer and more welcoming spaces for other women. Time's Up states,
"The struggle for women to break in, to rise up the ranks, and to simple be heard and acknowledges in male-dominated workplaces must end; time's up on this impenetrable monopoly."
In order to fight the problem head-on, Time's Up has created a legal defense fund. Time's Up argues, "Harassment too often persists because perpetrators and employers never face any consequences." By financially supporting legal battles brought by victims against their employers, the initiative hopes to stop wrongdoers from committing misconduct again and to change workplace culture.
So far the fund has collected $13 million and is currently seeking more tax deductible donations.
Beyond donating, The New York Times reports that Time's Up is also calling for legislation that would penalize companies where workplace harassment has persisted. It also wants laws that would discourage the use of nondisclosure agreements — a step that many states are also interested in taking to better protect victims who want to speak out.
It also encourages women who walking the red carpet at the Golden Globes to wear black as a show of solidarity.
"Time's up on silence. Time's up on waiting. Time's up on tolerating discrimination, harassment and abuse," showrunner Shonda Rhimes and other celebrities tweeted on Monday.
Dozens of influential women, including filmmakers, actors, and activists, announced their support for Time's Up on their social media accounts. Many wrote that they were standing with women across "every industry" and invited their followers to donate to the cause.
The debut of Time's Up comes at a time when the entertainment industry has been making strides to look inward to root out sexual harassment and assault. Dozens of women came forward in exposés in the New Yorker and New York Times to accuse Harvey Weinstein of sexual misconduct (allegations which the movie mogul denies). Following the bombshell reports, women also accused Louis C.K., Russell Simmons, Brett Ratner and others. In December several top film executives announced that Anita Hill would be chairing Hollywood's Commission of Sexual Harassment and Advancing Equality in the Workplace.