See The Cover For Traci Chee's 'The Reader' Sequel!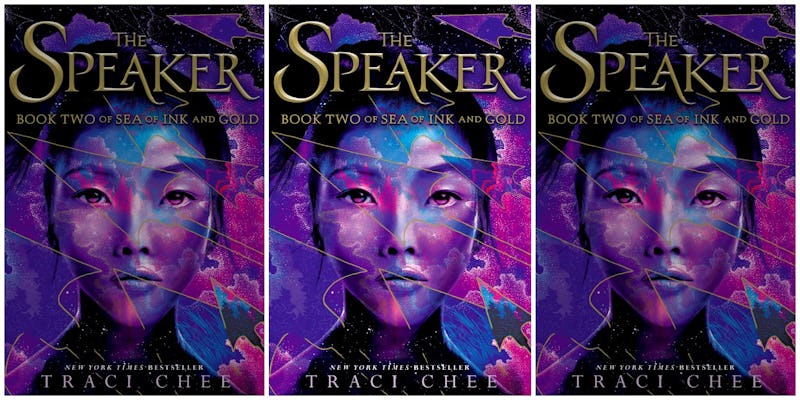 When Traci Chee's The Reader hit shelves with a bang in September 2016. not only were fans blown away by the gorgeous cover, they were beyond excited about the prospect of a diverse read that combined the love of books with pirate adventure.
For those who need a recap, the story follows Sefia, who lives her life on the run. After her father is viciously murdered, she flees to the forest with her aunt Nin, the only person left she can trust. They survive in the wilderness together, hunting and stealing what they need, forever looking over their shoulders for new threats. But when Nin is kidnapped, Sefia is suddenly on her own, with no way to know who's taken Nin or where she is. Her only clue is a strange rectangular object that once belonged to her father, something she comes to realize is a book.
Though reading is unheard of in Sefia's world, she slowly learns, unearthing the book's closely guarded secrets, which may be the key to Nin's disappearance and discovering what really happened the day her father was killed. With no time to lose, and the unexpected help of swashbuckling pirates and an enigmatic stranger, Sefia sets out on a dangerous journey to rescue her aunt, using the book as her guide.
And now Chee is back with the second book in her Sea of Ink and Gold series, and we've got the next insanely beautiful cover below.
The Speaker by Traci Chee, $14, Amazon
The Speaker continues Sefia's adventure, where she is back on the run, now with Archer. Haunted by painful memories, he struggles to overcome the trauma of his past. But when Sefia and Archer happen upon a crew of impressors in the wilderness, Archer finally finds a way to combat his nightmares: by hunting impressors and freeing the boys they hold captive. With Sefia's help, Archer travels across the kingdom of Deliene rescuing boys while she continues to investigate the mysterious Book and secrets it contains.
But the more battles they fight, the more fights Archer craves, until his thirst for violence threatens to transform him from the gentle boy Sefia knows to a grim warrior with a cruel destiny. As Sefia begins to unravel the threads that connect Archer's fate to her parents' betrayal of the Guard so long ago, she and Archer must figure out a way to subvert the Guard's plans before they are ensnared in a war that will pit kingdom against kingdom, leaving their future and the safety of the entire world hanging in the balance.
It seems like this series is only getting more intense and obsession-worthy as it continues and, not surprisingly, we are totally on board with that. You'll have to wait until November 7, 2017 to get your hands on it, but that gives you more than enough time for a re-read of the first book... and to stare at those covers.