Tracy Morgan's Stand-Up Special Is About Survival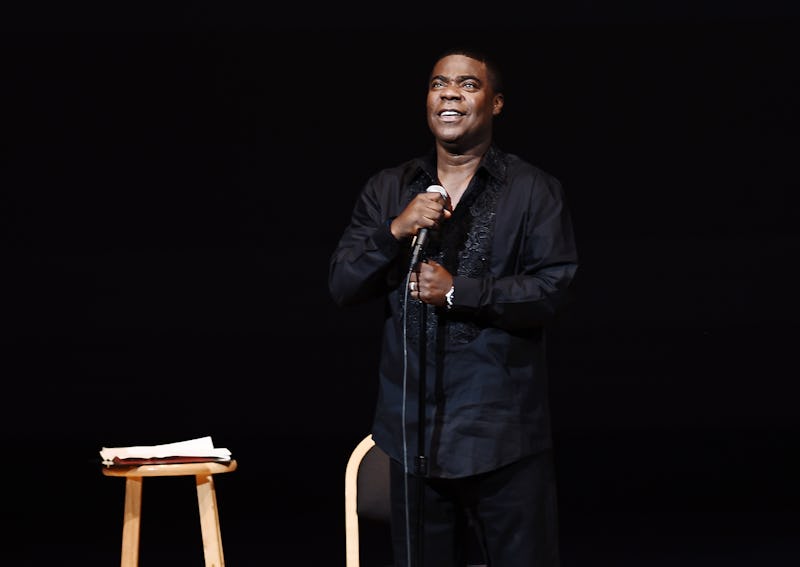 Nicholas Hunt/Getty Images Entertainment/Getty Images
I like to take any opportunity that comes my way to laugh, learn, and feel things in my little heart, so you better believe my ears are perked up for Tracy Morgan's upcoming stand-up special Staying Alive. Yes, it's a comedy special, and Morgan will be telling jokes and making us laugh as always, but there will also be a deeper message to the project, which will be released on Netflix on May 16, according to Vulture. That message is highlighted within the title — Staying Alive — which refers to the journey Morgan has been on ever since that horrific car accident nearly took his life in June 2014. The grisly incident did claim the life of his friend, fellow comedian James McNair, and gravely injured seven others, including Morgan, who was left comatose and in critical condition.
Facing a steep recovery, it was a year before Morgan even did his first post-accident interview — working with a physical therapist, coping with a traumatic brain injury, and re-learning how to walk in the meantime, which are all topics that will be covered in Staying Alive. These events might not sound all that funny — and hey, they aren't — but Morgan lived through them, and he's been battling his way back for the past almost three years so that he can stand in front of us and share his experiences.
Still firmly in the midst of Morgan's recovery in 2015, he told The Today Show,
"I love comedy. I'll never stop loving her. I love comedy and I can't wait to get back to her, but right now my goal is just to heal and get better. I'm not 100 percent yet. I'm not. And when I'm there, you'll know it. I'll get back to making you laugh. I promise you."
In a very real sense, this is what Morgan survived for and why he never gave up. As a comedian, he literally lives to make people laugh, so the fact that he'll be opening up and sharing his most terrifying and empowering experiences in an effort to do just that is an opportunity I can't pass up. I'll see you in May, and make sure you bring along a notebook, too, to jot stuff down — you just might learn something.