Trader Joe's Has Gelato Now & The 2 Flavors Are Total Game Changers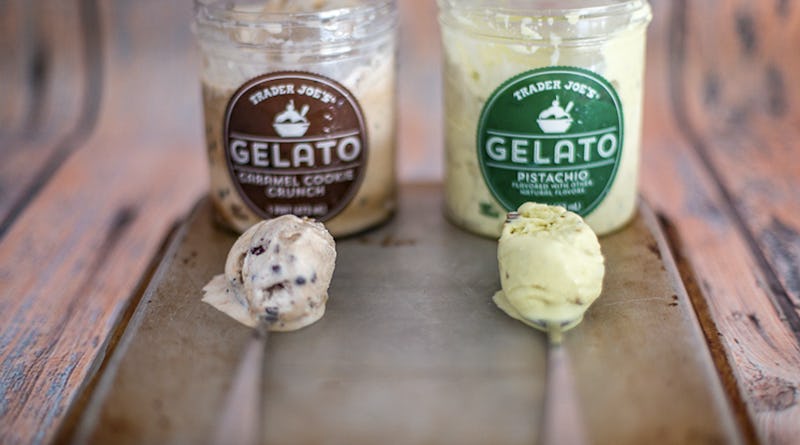 Trader Joe's
Trader Joe's, the hip grocery chain with an unprecedented cult following, is known for one thing during the fall season: pumpkin. For years, Halloweenies of all kinds have flocked to stores to find anything and everything pumpkin-flavored to celebrate the season. But just because it's fall doesn't mean TJ's repertoire is restricted. It's quite the opposite, actually. While much of the country is chiller this time of year, true dessert connoisseurs know anytime is a good time for a frozen treat. Enter Trader Joe's two flavors of gelato, which are so decadent you're going to want to get your spoons ready.
Gelato is the Italian word for ice cream, but since there is already a word for ice cream in the English language, gelato typically only refers to the creamy, lighter Italian style of ice cream. As Trader Joe's explained in its product description, "Gelato is... churned at a slower speed than regular ice cream. This means less air in the dessert, yielding a denser result."
Trader Joe's new gelato is the real deal. According to TJ's, it's made using imported Italian gelato machines by the first manufacturer of authentic gelato in the country. It is basically the next best thing when you can't afford to pop over to Milan.
Right now, two different flavors are being carries in stores: Pistachio and Caramel Cookie Crunch. The Pistachio has a characteristic subtle green hue. But you won't find any unnatural colorants here. Instead, the tinge is naturally derived from spirulina, a kind of verdant algae.
Trader Joe's describes the texture as rich and creamy, and balanced by tiny morsels of roasted pistachios. Pair it with some hot fudge and maraschino cherries to replicate spumoni, an Italian ice cream dessert.
The Caramel Cookie Crunch Gelato is a more inventive take on the classic dessert. Swirls of caramel and chunks of chocolate cookies are immersed in a creamy vanilla base. Like the Pistachio, the texture is similarly rich and velvety, with the cookie bits adding some crunch to the smooth, creamy gelato. It's a delicious snack straight from the container, or served immersed in espresso for an indulgent take on affogato.
A few summers ago, gelato had a real viral moment thanks to a Budapest-based ice cream artisan. Gelato scoopers at Gelarto Rosa used flat paddles to craft cones that look like roses, with the petals made from the sweet stuff. People all over the world became so entranced by the edible art, the scoop shot even earned its own hashtag, so gelato fans all over world could see the wonder that is a gelato rose.
Luckily, Amorino, another gelato chain, caught on to the trend and began crafting the roses. With locations in many cities across the United States, Amorino might be a little more accessible than Gelarto Rosa.
Now that you can easily grab some gelato at Trader Joe's, now is the perfect time to try your own hand at making a floral gelato dessert. If you're up to the challenge, pints of pistachio and caramel cookie crunch gelato can be purchased at Trader Joe's locations nationwide.