You Can Buy A Build-Your-Own Haunted Cookie House At Trader Joe's Now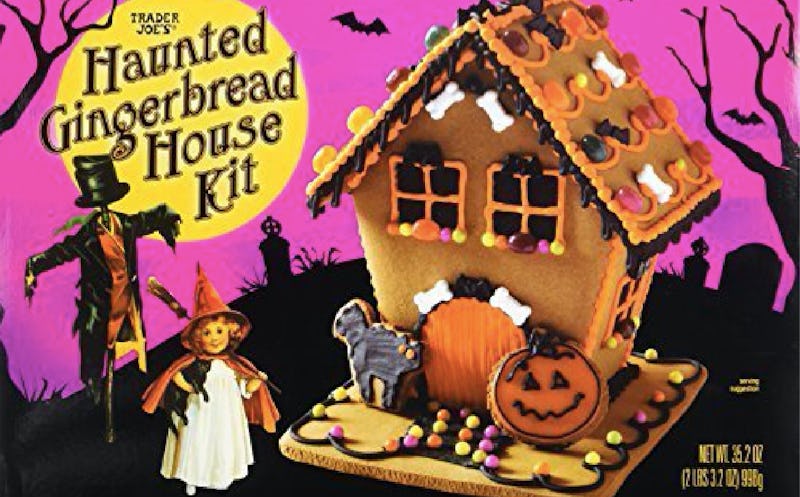 Trader Joe's
Y'all. It's almost October. That means that, even though I started brewing pumpkin spice coffee in August this year, we are now well past the point where it becomes socially acceptable to start getting into the Halloween spirit and headed straight for peak Halloween season. There are obviously many ways to celebrate this fact — but might I suggest one in particular? Trader Joe's has haunted cookie house kits for Halloween this year, so… well, obviously I will be running out to my nearest TJ's as soon as possible to snap one up. (Their official name is the Trader Joe's Haunted Chocolate Cookie House Kit, by the way. Just, y'know, in case that matters to you.) I will then spend all weekend either building, admiring, or eating my haunted creation, and it will be glorious. Who wants to join me?
Although the phrase "haunted gingerbread house" rolls off the tongue a little better than "haunted cookie house," the edible houses produced by this kit technically aren't haunted gingerbread houses; the cookies included in the kits are chocolate (and, of course, you can't really have a gingerbread house without gingerbread). However, as the TJ's website notes, these kits are very much "siblings" of the gingerbread house kits the grocery store chain puts out during the winter months: The Haunted House Chocolate Cookie Kit is painted as the "All-Hallow's-Eve-meets-Brothers-Grimm-inspired version" of the traditional Trade Joe's Gingerbread House Kit. Also, it's only $7.99, because this is Trader Joe's we're talking about here. Bless you and your affordable deliciousness, TJ's. Bless your little edible soul.
According to the Trader Joe's website, the kits come with chocolate cookie pieces already cut into the right shapes and sizes for cookie house construction purposes, as well as ready-to-use icing in two colors: Black (or maybe dark brown — my guess is that it's chocolate-flavored, in any event) and orange. Once you're done building your house, though, you'll need to decorate it — and happily, the kit has you covered on that front, too. Candy bones, bats, and mini-beads, along with jelly beans tinted with juices from fruits and vegetables like black currants, carrots, pumpkins, radishes, and hibiscus flowers, are also included; there's even a ghost-shaped cookie, because, I mean, if you're going to make a haunted cookie house, you're going to need a cookie ghost to act in the capacity of resident spook.
This isn't the first year TJ's has offered the haunted cookie house kits, by the way; there's plenty of evidence of their existence scattered across social media dating back at least to 2017…
…And, indeed, some that even hail from 2016.
They may well have hit shelves before even then, though; the wording in the "Fearless Flyer" entry about the 2017 edition of the kits on Trader Joe's website suggests a much longer history: "In years past, we've encountered folks buying multiples," reads the entry. "One for each kit in their households; enough for play dates; and cases for parties." Given the use of "years past" — plural — we can probably reasonably assume that they'd been around for at least two years at that point.
But I digress.
For what it's worth, the kits do seem to be a little hit-or-miss; while some folks have had quite a lot of success with their edible haunted houses…
…Others… did not.
Oh well. You win some, you lose some. For what it's worth, I've always felt like the point of building a cookie house from a kit isn't even necessarily about the finished house, anyway; it's about the process. The experience. The sometimes frustrating, sometimes rewarding, but never boring act of just trying to build the dang thing in the first place. You know?
Then again, maybe that's just me.
In any event, the Trader Joe's Haunted House Chocolate Cookie Kit can be found at TJ's locations across the country; to find your nearest store, head here. You might want to act fast, though — as Trader Joe's puts it, they "only ordered enough for Haunting Season," so supplies ae somewhat limited.
Happy haunting!