Trader Joe's Dropped Its Pumpkin Products & The Instagrams Will Make You Drool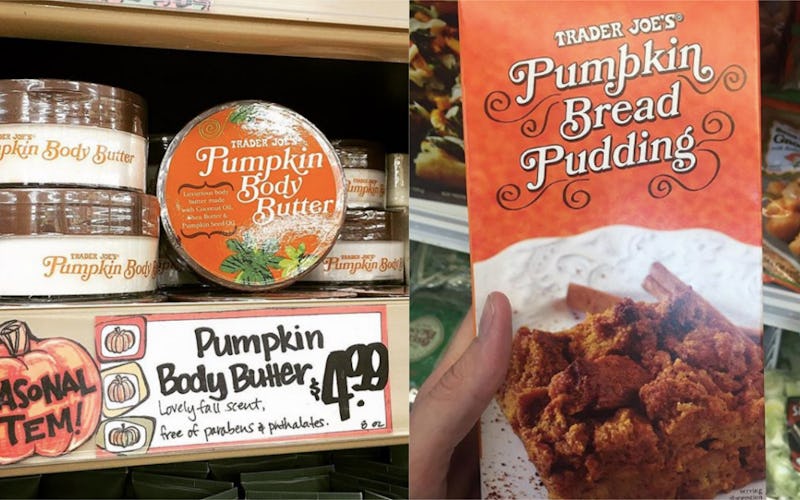 thespookyvegan/Instagram; traderjoesjunkie/Instagram
As the self-professed soulmate of that dancing pumpkin GIF that takes over the internet every fall, I am happy to announce that not only has pumpkin spice arrived at Trader Joe's, but that people are snapping some delicious Instagrams of it as evidence.
If you're a true TJ's stan, you'll know that the company is remarkably tight-lipped about its offerings; it will feature a new product every week or so on the blog, but will quietly release new goodies to the masses on a regular basis — meaning if you want to keep up to date with what's new at the iconic chain, you have to either sleuth through Insta, or hope one of your neighbors gives you a head's up.
Pumpkin spice season, in that regard, is no joke. One customer posted an image from a Trader Joe's location claiming the pumpkin products were dropping on Sept. 12 that spread through social media like delicious wildfire this week — and it seems that the message on the sign has come to fruition, in a delicious, autumnal way. While TJ's likely has a lot more new and returning pumpkin items than the ones in this post, here are the emerging pumpkin spice products at TJ's starting to generate buzz on social media this week — just remember, walk, do not run, to the pumpkin spice shelves.
Pumpkin Spice Bagels
This TJ's shopper went the extra mile and paired it with the Brown Sugar & Cinnamon Butter Spread, and no, I'm not crying, I just have the majesty of autumn stuck in my eye!!
Pumpkin Spice Bread Pudding
Be still my seasonally obsessed heart — this frozen bread pudding, spotted by @traderjoesjunkie, looks too delicious to be real. I just tried to imagine this wafting through my apartment and I am already faint, y'all.
Pumpkin Butter
Another find from @traderjoesjunkie, and arguably the most versatile pumpkin product of all time. Slather it on a graham cracker, a scone, a cookie, some toast, your laptop, someone else's dog. Pumpkin Butter + Anything = Joy.
Pumpkin Chai Spice Loaf
This year at TJ's, pumpkin spice dreams you didn't even know you HAD are coming true. This blessed combo of flavors, spotted by @catiecooks12, sounds like it would be perfect with a cup of tea (Trader Joe's pumpkin tea, anyone??) or paired with vanilla ice cream.
Pumpkin Sweet Cream Cheese Muffins
Spotted by blogger @BecomeBetty, these sound like a DREAM for anything with a proper sweet tooth (or, in my case, a pumpkin tooth). Nothing beats a cream cheese x pumpkin combo in the fall.
Pumpkin Recipe Dog Biscuits
EQUAL OPPORTUNITY SPICENING! Your pupper deserves some pumpkin in their life, too. Now you guys can bask in the autumn glow together as you get your seasonal snack on.
Pumpkin Spice Body Butter
Good news, friends! Thanks to this find by @thespookyvegan, you can now smell like a walking PSL, the way the universe and Trader Joe himself intended.
Anyway, this list is FAR from exhaustive, so if you really want to know what your local TJ's has to offer, you'd better go check it out for yourself. Tell all the pumpkin-flavored things I said hello.