Trader Joe's Just Launched Its Own Instant Ramen With Broth That Will Make Your Mouth Water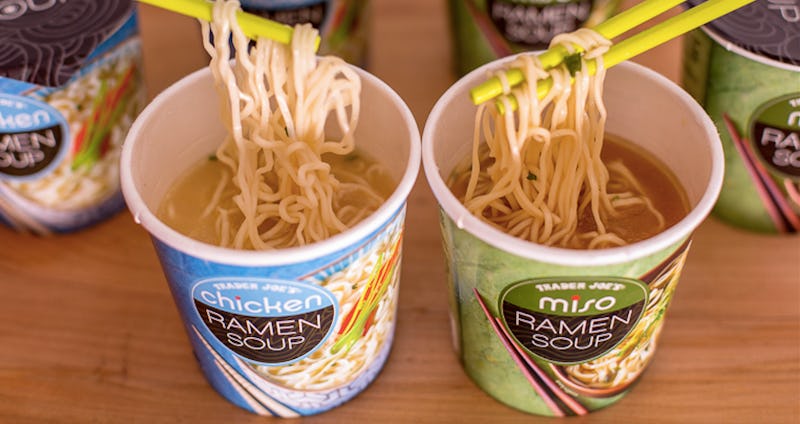 Trader Joe's
From delectable sweets, savory snacks, cheap wine, and hearty meals, there is literally nothing NOT to love about Trader Joe's (especially the frozen section, because convenience is key). My favorite part about Trader Joe's is, without a doubt, the easy-to-prepare items and meals they offer —  from frozen gnocchi to delicious chicken. But now, Trader Joe's is changing the game forever with their newest product: Trader Joe's instant ramen.
As of now, the ramen soups are available in Chicken and Miso — but perhaps other flavors could soon be making their way into our grocery carts, if these end up being a hit. According to Trader Joe's website, the one component that sets these ramen soups apart from others is the packet of blended sesame and sunflower oil. "By adding both the packet of seasonings and the packet of oil to your cup of dry noodles before preparation, you ensure not only a delightfully savory broth, but a silky-smooth texture for your noodles — the days of dry-textured instant noodles are over," the Trader Joe's website wrote.
But perhaps the best part of these brand-new soups is that they cost $1.29, which means that, just like in college, you can use ramen as a band-aid to keep your bank account from weeping.
The ramen soups aren't the only new and convenient product available at TJ's. For those of us who are on-the-go, lazy, and/or hate spending time cooking and preparing food, you're in luck. Here are some other items you can grab at TJ's for on-the-go munching (and sipping) without sacrificing deliciousness or quality.