Trader Joe's Just Launched A Limited Edition Pumpkin Spice Cream Liqueur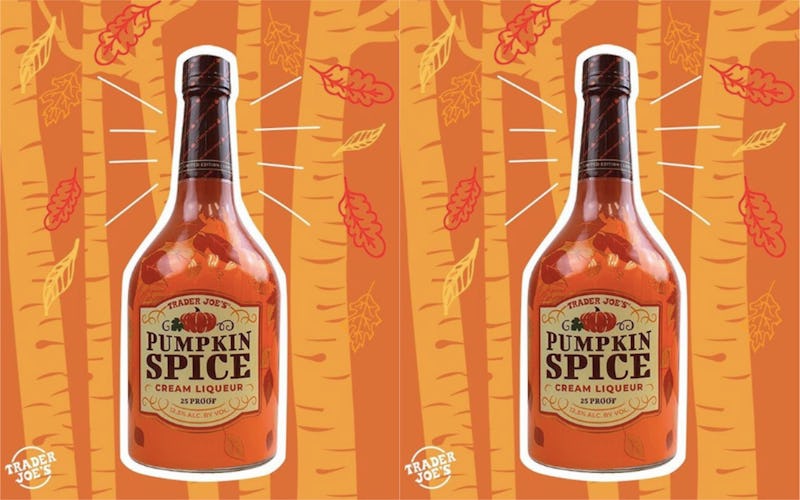 Trader Joe's/Instagram
When it comes to pumpkin products, Trader Joe's does not mess around. Each fall, the chain's stores are filled with anything that could possibly become pumpkin-flavored (or, pumpkin pie spice-flavored), and now there's a new item in town. Trader Joe's has debuted Pumpkin Spice Cream Liqueur, which means pumpkin spice lovers need to start figuring out all the things they can add it to. Eggnog? Coffee? A martini? Some sort of topping for pumpkin waffles, which Trader Joe's also conveniently sells?
Trader Joe's shared the news on Instagram, writing,
You are cordially invited to sip this limited Cream #Liqueur.* It presents with warm vanilla on the nose, followed by the flavors of smooth #pumpkin & rich caramel — with a host of seasonal spices on the finish. NOTE: sipping may induce flannel wearing, leaf raking, and/or a sudden urge to bake something with #traderjoes Pumpkin Bread & Muffin Mix.
*Available at TJ's where spirits are sold — while supplies last
If your Trader Joe's doesn't sell alcohol, it's possible you could find it in the Trader Joe's Wine Store. (And if you also don't have a Trader Joe's Wine Store, looks like you'll have to miss out on this one. Thankfully, there are A LOT more pumpkin products you can try.) The liqueur is 12.5% ABV and, like all the other pumpkin products, is only around for a limited time. TJ's does not note in their description just how long that will be.
The Trader Joe's fan website What's Good At Trader Joe's reviewed the cream liqueur on October 19, and it received an 8/10. The site describes it as "thick and smooth — similar to Bailey's or any other cream liqueur ... It's nearly the same consistency as non-alcoholic dairy cream — although, in this case, it's like the cream you'd get from an alcoholic cow that eats a lot of pumpkin spice."
Depending on your feelings on milk and pumpkin spice — two very divisive subjects — you may be experiencing a pretty strong reaction to that description, either one way or the other. What's Good At Trader Joe's goes on to note that the liqueur could be good as part of an adult milkshake along with some vanilla ice cream.
If you can't get you hands on the Pumpkin Spice Cream Liqueur (or just don't want to), but do want to try out some unique pumpkin products, Trader Joe's has a ton, and they've been posting about a bunch of them on Instagram.
There's Spiced Pumpkin Madeleines:
And Pumpkin Cream Cheese Spread:
And Pumpkin Ice Cream:
There's even Autumnal Harvest Alfredo Sauce, which, yes, really does have pumpkin in it:
No matter what a pumpkin spice devotee is looking for, Trader Joe's probably has it. That said, these items are only ever around in the fall, so you need to act fast if you want to pick up some Pumpkin Body Butter or Pumpkin Recipe Dog Treats. Because, yep, they have those too.