I Took A Photo Of Every Pumpkin Thing At Trader Joe's That Hit Shelves This Week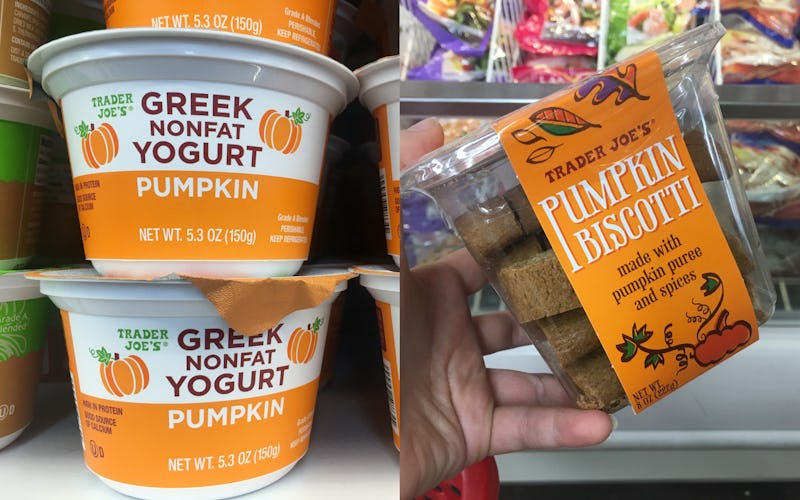 Emma Lord
Fellow pumpkin spice stans, I love you. Do you know how much I love you? I love you enough that I took my grownass, apparently shameless self to Trader Joe's at 8 o'clock on a Wednesday morning, the precise moment said Trader Joe's opened, and then proceeded to wander down the aisles with my iPhone taking pictures of every single pumpkin spice product on Trader Joe's shelves. And while I admit there were some selfish motives in this mission — motives that are now happily digesting in my stomach right now — I want you to know, dear pumpkin people, that I did this for you. Because not all heroes wear capes, but they sure as heck drink PSLs.
The Trader Joe's I ventured to is one in New York, so I will be the first to warn you that this list is not exhaustive of the Trader Joe's options — not because NYC won't get all the pumpkin stuff, but because NYC Trader Joe's are genuinely a terrifying place to be, and between my cart-dodging and the impressive way people in this city tend to empty a shelf within the hour, some pumpkin things may have missed my radar (most notably, I could not seem to find the iconic Pumpkin Soup Crackers or Pumpkin Tea anywhere, which gives me great cause for autumnal concern).
That being said, I fought the good fight for y'all, and still managed to get to work on time, with Pumpkin Sweet Cream Cheese Muffins and Pumpkin Yogurt in hand. So here, for the love of all things pumpkin spice, is a list of the things I encountered on my journey.
1. Pumpkin Biscotti
Spotted in the freezer aisle among its cookie brethren.
2. Pumpkin Spiced Pumpkin Seeds
This basically just puts pumpkin on BLAST. It does not get anymore pumpkin than this.
3. Pumpkin Joe-Joe's
An autumnal twist on a long time TJ's fave.
4. Pumpkin Toaster Pastries
Toaster, meet your new best friend.
5. Pumpkin O's
Content as I am with my Pumpkin Spice Cheerios, this alternative looks well worth the try.
6. Pecan Pumpkin Instant Oatmeal
Perfect for a rainy autumn morning.
7. Pumpkin Bagels
The combo possibilities for these (BROWN SUGAR! MAPLE! LITERALLY ANY KIND OF CREAM CHEESE, especially if you're Cynthia Nixon!) is making my pumpkin head spin.
8. Pumpkin Chai Spice Loaf
Perhaps the MOST buzzed about treat on Insta (and only $4.99, at least at the TJ's I went to this morning).
9. Spiced Pumpkin Madeleines
These were a little harder to spot, tucked in with the rest of the Madeleines in the bakery section with very little fanfare.
10. Pumpkin Pancake & Waffle Mix
How much of this do I have to buy to last 365 days? Asking for a friend.
11. Pumpkin Bread & Muffin Mix
Literally anything you want to bake, TJ's has your back.
12. Pumpkin Greek Yogurt
PSA: I just ate one of these with my breakfast and it is freaking decadent. So smooth and creamy and pumpkin-y that I'm not even sure it's allowed to be called yogurt. It tastes like a pumpkin cloud.
13. Fall Harvest Salsa
Technically not ~full~ pumpkin, but I'm counting it.
14. Gluten-Free Pumpkin Pancake Mix
Pumpkin stans with dietary restrictions, REJOICE!
15. Pumpkin Butter
TBH, what won't I be putting this on this fall?
16. Pumpkin Spice Coffee
Y'all, it comes in KEURIG cups. I'm kind of kicking myself for not buying these, but I was looking for Pumpkin Tea (when will it return home from war??) and got distracted. Truly my bad.
17. Pumpkin Waffles
For those of us on Team Toaster who don't want to bother with a mix.
And, BONUS:
Candy Corn Popcorn
Not pumpkin, but DEF worth getting hyped about. Only $1.99 at my Trader Joe's, and so, SO cute.
It's worth noting that other pumpkin things that have been floating around the internet are NOT on my list here — namely, Pumpkin Body Butter, Pumpkin Recipe Dog Treats, and Pumpkin Spice Bread Pudding — but the selection is so vast that odds are there are even more than that available for purchase. Anyway, all of these are only around for a limited time, so get ye to the veritable pumpkin patch that is Trader Joe's and live your pumpkin dreams.