What Sessions Said About Russia During His Hearing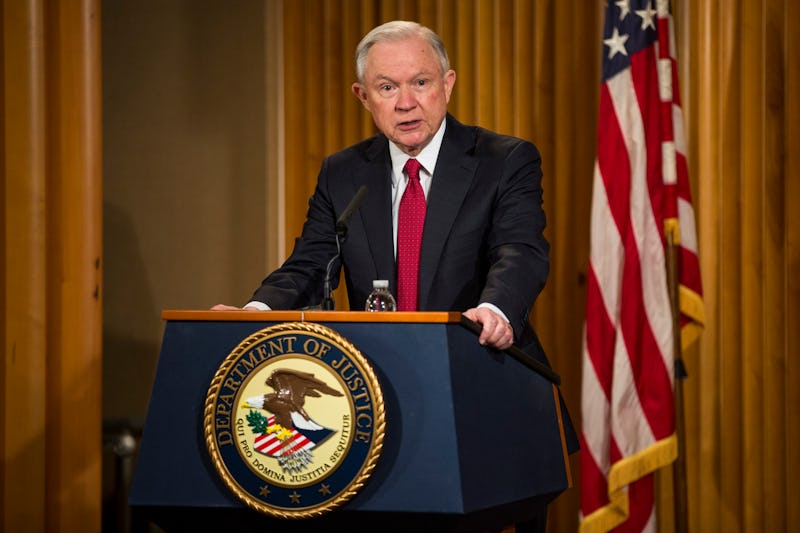 Zach Gibson/Getty Images News/Getty Images
Less than two months into President Donald Trump's administration, and several members have already come under pressure for their conduct with Russia. On Wednesday, it was revealed that Attorney General Jeff Sessions allegedly met with the same Russian representatives as former National Security Adviser Michael Flynn, who resigned because he failed to disclose the meeting to Vice President Mike Pence. Now there's a higher level of scrutiny placed on what Sessions has disclosed about his relationship to Russia. So, what did Sessions say about Russia meetings at his confirmation hearing?
Although the Washington Post reported that Sessions allegedly met with top Russian diplomats twice in 2016, during his confirmation hearing, he claimed that he knew of no contact between Russians and Trump's surrogates. An exchange with Sen. Al Franken went as follows:
Franken: CNN just published a story alleging that the intelligence community provided documents to the president-elect last week that included information that quote, 'Russian operatives claimed to have compromising personal and financial information about Mr. Trump.' These documents also allegedly say quote, 'There was a continuing exchange of information during the campaign between Trump's surrogates and intermediaries for the Russian government.'
Now, again, I'm telling you this as it's coming out, so you know. But if it's true, it's obviously extremely serious and if there is any evidence that anyone affiliated with the Trump campaign communicated with the Russian government in the course of this campaign, what will you do?
Sessions: I'm not aware of any of those activities. I have been called a surrogate at a time or two in that campaign and I did not have communications with the Russians, and I'm unable to comment on it.
According to a Justice Department official, Sessions allegedly met with the Russian ambassador to the U.S. twice in 2016. What he met with him about it unknown.
Also, in a letter from Sen. Patrick Leahy sent on Jan. 17, he asked Sessions if he talked to anyone from Russia about the election. He said,
Leahy: Several of the president-elect's nominees or senior advisers have Russian ties. Have you been in contact with anyone connected to any part of the Russian government about the 2016 election, either before or after Election Day?
Sessions: No.
Sessions denied the allegations to NBC on Thursday, saying, "I have not met with any Russians at any time to discuss any political campaign and those remarks are unbelievable to me and are false. And I don't have anything else to say about that." Many have noted that Sessions was a senior member of the Senate Armed Services Committee and could have met with the Russian ambassador in that capacity.
Since the revelation that Sessions allegedly did have contact with the Russian ambassador, Democrats and some Republicans have called for the attorney general to recuse himself from an investigation looking into the Trump administration and the Russian government, according to the New York Times.