Trump's Saudi Arabia Speech Showed A New Tone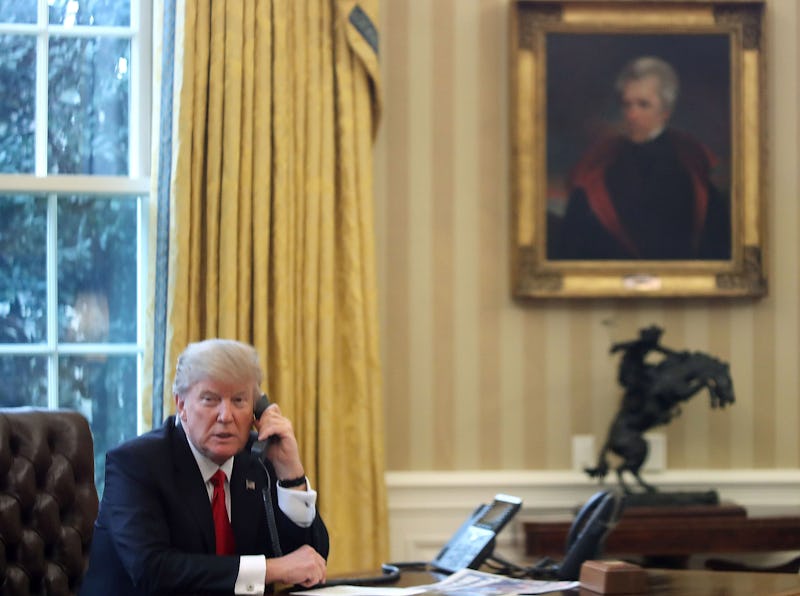 Mark Wilson/Getty Images News/Getty Images
During his campaign, now-President Trump became notorious for his proposal of a ban on all Muslim immigration to the U.S. As president, he tried to curb immigration from the Middle East with a series of controversial executive orders. But on Sunday, the transcript of Trump's speech in Saudi Arabia seemed to show a more subdued tone toward members of the Muslim community.
We are not here to lecture. We are not here to tell other people how to live, what to do, who to be, or how to worship. Instead, we are here to offer partnership — based on shared interests and values — to pursue a better future for us all.
The message Trump conveyed on Sunday was one of understanding — but there was also a clear call to action. "Some estimates hold that more than 95 percent of the victims of terrorism are themselves Muslim," Trump offered. He also called on the leaders in his presence to do their part.
Drive them out. Drive them out of your places of worship ... drive them out of your holy land. Drive them out of this earth.
Trump's remarks took place on Sunday in the Saudi Arabian city of Riyadh, where Trump attended an Arab-Islamic-American summit. According to CNN, the summit was attended by leaders of more than 50 Muslim countries. Trump posted the full remarks on Facebook later that day.
While the president left his inflammatory rhetoric, for the most part, behind, his address on Sunday did have some harsh words for one Muslim-majority country in particular: Iran. "For decades, Iran has fueled the fires of sectarian conflict and terror," the president said. He also criticized the Iranian regime as a "government that speaks openly about mass murder."
In terms of action, the president's speech focused on the need to eliminate "sanctuary" for terrorist groups. He called for a "joint effort" between the U.S. and Muslim-majority countries to end terrorism. At the same time, the U.S. Treasury Department on Sunday announced the creation of a Terrorist Financing Targeting Center (TFTC), chaired by the U.S. and Saudi Arabia. The TFTC currently consists of Kuwait, Qatar, Bahrain, Oman, the United Arab Emirates, and of course, the U.S. and Saudi Arabia. According to CNBC, the TFTC's mission will be to identify, track, and share information about terrorist financing, in order to disrupt the flow of money to such organizations.
The cool, calm, and collected rhetoric — even the subdued, slow-speaking voice — Trump used on Sunday seemed to starkly contrast the language he has become known for in the U.S. The president spoke diplomatically, promising action on behalf of the U.S. and requesting action from the leaders in his presence. Still, it's going to take more than words to end the extremist violence that Trump criticized on Sunday.