'Transparent' Will Say Goodbye In Season 5 With A Surprising Series Finale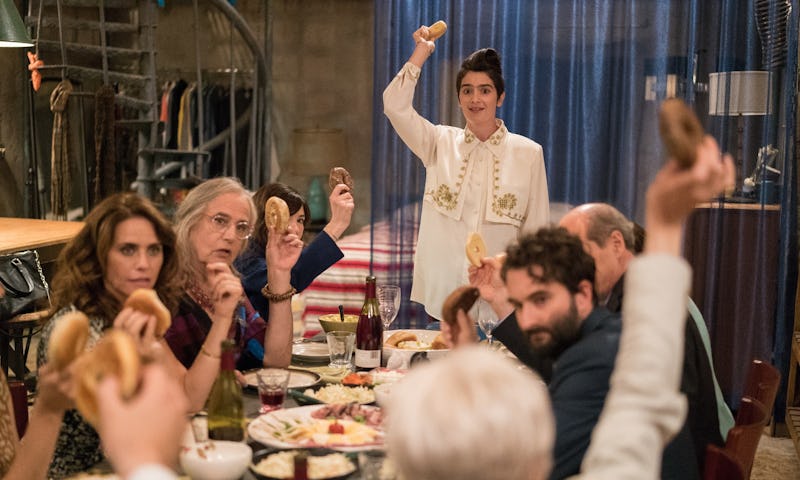 Amazon Studios
When it comes to crafting TV narratives that resonate, it's no secret that Transparent creator Jill Soloway's often stem from a pretty personal place. And, after reading through Soloway's new interview with the New York Times, it sounds like the Transparent series finale — which is reportedly slated to air in the fall of 2019, at the tail end of Season 5 — will be similarly inspired by the creator's real-life experiences, specifically those related to family.
It's official: Transparent is coming to an end with a fifth and final season set to premiere on Amazon next year. For those who've been hoping against hope that the show's cancellation wasn't really going to happen, Solloway's new comments on the series finale — unfortunately — do seem like pretty tangible confirmation that it is. However, before fans get too upset by the news, know this: Transparent is definitely planning on going out with a bang.
Per the NYT's report, Transparent will end its five-season run in what feels like the most appropriately celebratory way: With a two-hour mini musical, which will double as the series finale episode. Describing the finale episode's musical style, Soloway told the publication,
"It will hopefully feel like Jesus Christ Superstar mixed with La La Land mixed with Flight of the Conchords with something more Jewish thrown in. A little Yentl."
Even better? Soloway told the NYT that, when Transparent says goodbye to audiences for good next fall — or, uh, sings, perhaps? — it will do so with the help of a particularly meaningful score, one whose roots hold personal significance to its creator. As the NYT mentioned in its report, before Soloway had even drafted the Transparent script, they wrote a musical about their own Moppa's coming out journey with their older sister, Faith. "This idea of music rescuing our family was all there," Soloway explained to The New York Times. "So we're like, 'Let's just keep blowing on the flame.'"
Now, it looks Soloway's composing talents will do their part to rescue the Pfeffermans from their own fictional family drama, and hopefully raise the spirits of the series' cast and crew in the process. "The Pfeffermans will live on," Soloway said, adding that it was that knowledge that "kept us going" on the Transparent set, given the tumult of this past year.
Last October, the head of Amazon studios stepped down amid allegations of sexual harassment. Not long after, in February, Transparent's former leading actor, Jeffrey Tambor, was fired after similar accusations were made against him. Initially, production on the show's next season was stalled, and it has since been reported that Transparent Season 5 will air with no involvement from Tambor. Understandably, the year's hurdles have been difficult for the series, and its creator, to grapple with. But Soloway told the NYT that expanding the scattered musical interludes from Season 4 into a full-fledged musical episode felt like a means of healing, in some way. To that end, Soloway said,
"Jen Salke [the current head of Amazon studios] sat down with me and told me, 'It's going to be OK.' So we just kept singing."
Whether you're a musical theater fan or not, it sounds like Transparent's series finale certainly won't be one to miss. Even though it's still a ways off, it seems like the show's creator couldn't have come up with a better, or more acutely Transparent-esque, way to bid adieu.