Jeffrey Tambor Addressed His Sexual Harassment Allegations For "Possibly The Last Time"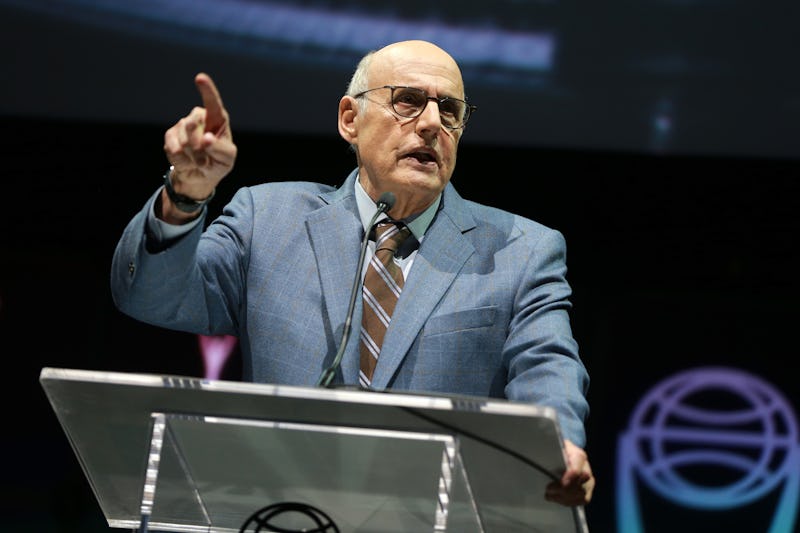 Rich Fury/Getty Images Entertainment/Getty Images
Last November, Transparent actor Jeffrey Tambor made headlines when announcing his departure from the lauded Amazon series — the result of a string of sexual harassment allegations by former colleagues, which led to his subsequent dismissal from the show. Now, more than five months later, Tambor addressed the sexual harassment allegations, in full, for the first time since his firing. In a new interview with The Hollywood Reporter, the 73-year-old actor spoke at length about the claims against him, as well as their aftermath. He told THR,
"This is the first time I've talked about this, ever. And possibly the last time. I used to teach acting, you know, and I'd always say, 'Announce where you are.' So this is me doing that."
In the interview published Monday, Tambor acknowledged culpability, albeit only to a certain extent. While he admitted to sometimes behaving "tactlessly" on set (which he claimed was a byproduct of stress over playing Maura Pfefferman, Transparent's leading character), he still maintains that the multiple claims of sexual harassment aren't true. "I drove myself and my cast mates crazy," Tambor said, citing an incident in which he "yelled at" Jill Soloway, the show's creator. Continuing, he said, "Lines got blurred. I was difficult. I was mean." To that end, Tambor told THR,
"I did raise my voice at times, I was moody at times, there were times when I was tactless. But as for the other stuff, absolutely not."
Though he'd publicly announced his departure from Transparent months earlier, Tambor was officially fired from his role about three months ago. Trailing a string of back-to-back sexual harassment allegations by Tambor's former assistant, Van Barnes, and former co-star, Trace Lysette (both of whom are transgender women), Soloway reportedly fired him via text message on Feb. 15, followed by a phone call, he recalled in the THR interview.
The firing came on the same day that Amazon's internal investigation into both Barnes' and Lysette's claims called for his removal from Transparent. "I don't remember the whole conversation [with Soloway]," Tambor told THR of the interaction. "But I do remember her last words were: 'Do you need help with a statement?'" (It's worth noting here that even though Tambor said "her," Soloway self-identifies as gender non-binary and uses "they/them" pronouns. In addition to being noted in THR's recent report, Soloway has spoken very openly and publicly about this in the past.)
Per THR, Tambor was "shocked" when Soloway fired him. He expected "a slap on the wrist" for what he called "temperamental outbursts" on set. However, Barnes' and Lysette's claims allege otherwise. According to a November report by Deadline, Barnes claimed via a private Facebook post that Tambor had allegedly "repeatedly propositioned her, made lewd comments, groped her and threatened to sue her if she spoke up," among other inappropriate behaviors. Per Deadline's report, Tambor's actual name did not appear in the post; rather, Barnes reportedly referred to him only as her "boss" in the initial claims. (When the news broke, Bustle reached out to a manager for Tambor for additional comment, but did not receive a response at the time of publication.)
Just over a week later, Lysette, who plays supporting character Shea on Transparent, accused Tambor of having behaved inappropriately toward her, too. Lysette took her claims public via a dense multi-paragraph tweet, posted Nov. 16, captioned, "My full statement #MeToo." Her statement alleged that "Jeffrey has made many sexual advances and comments at me, but one time it got physical." (These are claims Tambor has denied.)
Continuing the statement, Lysette proceeded to chronicle an alleged incident in which Tambor reportedly cornered her on set. "My back was against the wall in a corner as Jeffrey approached me," her statement alleged. "He came in close ... leaned his body against me, and began quick, discreet thrusts back and forth against my body."
Responding to Lysette's allegations, Tambor released a statement (initially to Us Weekly) that sounded similar to his recent comments to THR. "I find myself accused of behavior that any civilized person would condemn unreservedly," Tambor's statement read. Continuing, he wrote,
"I know I haven't always been the easiest person to work with. I can be volatile and ill-tempered, and too often I express my opinions harshly and without tact. But I have never been a predator — ever."
Transparent will continue on for a fifth season without Tambor. Unfortunately, per Soloway's comments to the publication, the fifth season of Transparent will also be its last. "Hopefully it sets the Pfeffermans up with some sort of beautiful reclaiming," Soloway told THR. "I think we're going to get there with some time."
If Transparent's rich history of reclamation is any indication of its future, it definitely seems like Soloway is right. With or without Tambor, they're still going to get there.
If you or someone you know has been sexually assaulted, call the National Sexual Assault Telephone Hotline at 800-656-HOPE (4673) or visit online.rainn.org.