Travis Scott Just Opened Up About How Nervous He Was During Stormi's Birth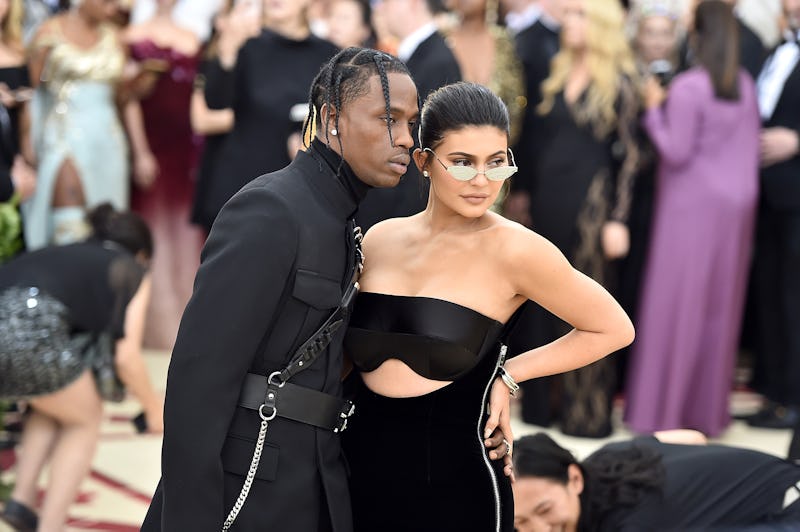 Theo Wargo/Getty Images Entertainment/Getty Images
Travis Scott and Kylie Jenner have been pretty low-key when it comes to their relationship and their daughter, Stormi Webster. But recently, as Entertainment Tonight noted, Travis Scott opened up about Kylie Jenner delivering Stormi and revealed that he was, understandably, feeling a bit "nervous" during the major event.
During his appearance on The Ellen DeGeneres Show on Nov. 12, Scott not only described how he was feeling in the delivery room, but he also opened up about his adorable relationship with his daughter. While the rapper said that he was tentative about the whole birthing process, he quickly got over those nerves once he met his little one. "Going into it, I was nervous and scared, because we're both young," he told host Ellen DeGeneres, "But, you know, when you first hold a baby in your arms, it's uncontrollable. I never thought I could just love something so hard, ya know? It's crazy."
As for who helped Scott out in the delivery room, it should come as no surprise that none other than Kris Jenner stepped up. When asked whether the momager was indeed the one to deliver Stormi, he said, "That is a fact, yeah. She held it down because it was so scary." Kris managed to walk the "Butterfly Effect" singer through the whole process, though. He also revealed:
"There's this thing called the placenta, that I've just been hearing about? Oh my god. So, I was fearful of all that. But I cut the umbilical cord. But, yeah, [Kris] held it down. Mama KJ, she's the best."
This just goes to show that you can always count on Kris to hold things down (as if the world didn't already know that).
While Scott was a little nervous during the delivery, it was a different story entirely for Kylie. As Refinery29 noted, Kris revealed on Keeping Up With the Kardashians, in an episode that aired in September, that the lip kit mogul was a total "trooper" as she gave birth. In a conversation with Kim and Kourtney Kardashian, the momager said:
"She just kept saying, 'I just don't feel any pain. You'd see these contractions like crazy. And she would go, 'I just am not feeling it.' I'm like, 'This is really weird.' She was such a trooper, she really was, she was so calm. It was really exciting."
Not only did she reveal just how unbelievably calm Kylie was, she also said, just as Scott did recently on The Ellen DeGeneres Show, that she was involved in the delivery in a pretty major way. Kris told Kim and Kourtney that she was the one to deliver baby Stormi, proving once again that there's really nothing she can't do.
As you'll likely recall, Kylie made a surprise announcement back in February that she had given birth to Stormi on Feb. 1. Ever since then, the reality star and her partner, Scott, have been known to share super cute photos and fun anecdotes relating to their little one. Seeing as though the couple stayed mum when it came to their baby news prior to Stormi's birth, it is so nice to see both Kylie and Scott opening up even more now about their family.