Why Trayvon Martin's Parents Want This Docuseries To Do More Than Honor Their Son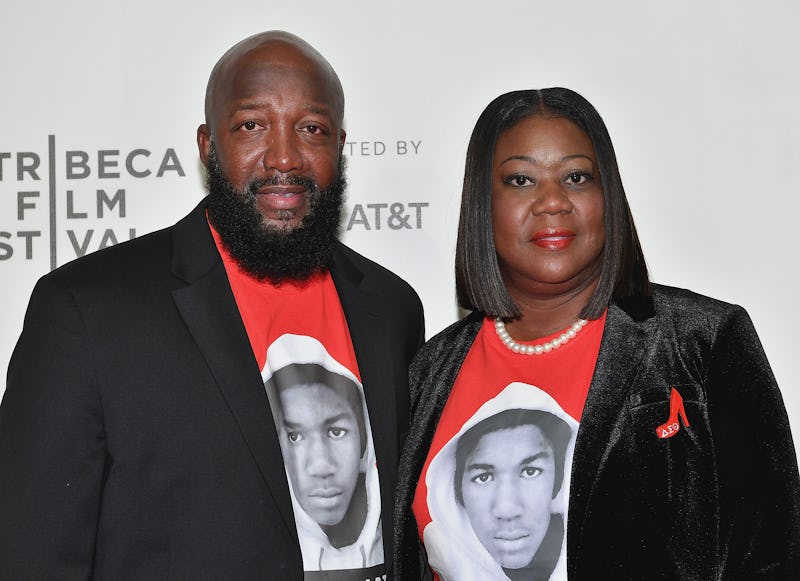 Dia Dipasupil/Getty Images Entertainment/Getty Images
Trayvon Martin's death sparked a movement in the United States — and it's far from over. And for his parents, there's no amount of time spent grieving that can bring their son back. Trayvon Martin's parents want to effect change, which is why Tracy Martin and Sybrina Fulton agreed to participate in the new Paramount Network docuseries Rest in Power: The Trayvon Martin Story. Fulton and Martin also co-authored the 2017 book Rest in Power: The Enduring Life of Trayvon Martin.
The six-episode series, which counts JAY-Z among its executive producers, explores the details surrounding Martin's death, as well as its aftermath. Martin was just 17 years old when he was shot by George Zimmerman in February 2012. As seen in the first episode of Rest in Power, Zimmerman claimed he killed Martin in self-defense. In July 2013, a six-woman jury found Zimmerman not guilty of second-degree murder and manslaughter. The first episode also includes audio from the 911 calls placed the night Trayvon Martin was killed, as well as interviews with his extended family members.
Rest in Power premiered at the Tribeca Film Festival on Friday, April 20. After the first episode's screening, Martin's parents, along with some of the executive producers of the show, participated in a panel discussion led by MSNBC's Joy Reid. During the conversation, Martin's parents talked about the pain they felt after their son's death and what they hope to see from Americans moving forward.
At the beginning of the discussion, Fulton cited Emmett Till, saying that she wants people to remember the other people who her son represents, the way Till and his tragic death came to represent a larger movement.
"It happened with Emmett Till, nobody was held accountable. And it continues to happen today," Fulton said during the panel. "So we want to make sure that people remember not only Trayvon, but all the Trayvon Martins and all the young men and women that he represents. All the senseless gun violence that continues to plague our nation today."
Fulton called Trayvon's story "a tragedy that's worth telling." His parents' words prove why the series is so relevant, six years after their son's death. "Even though this happened to Trayvon six years ago, it happened to Emmett Till over 50 years ago. We have to be mindful that things need to change," Fulton said.
Fulton and Martin, along with the show's executive producers, hope that the series will inspire people to effect change in their own lives. Jenner Furst, one of Rest in Power's executive producers, said during the panel that "white Americans need to forego their privilege and get out of their comfort zone and have a real conversation about racism."
When Reid asked what the crew hopes audience members will take away from the series, Rest in Power executive producer Chachi Senior said that he hopes it will compel viewers to start fighting for change, however incremental. "It starts at the smallest level, in terms of elections," Senior said. "Just get out and vote for people. Because the series will, essentially, be a mirror to where we are right now in America. The tragedy of Trayvon leads to the resurgence of the alt-right and Trump being elected. And it's just a reminder."
Trayvon's father, Tracy Martin, also said in the discussion that the fact that his family didn't receive justice made him "hungrier to go out and create change." Fulton, too, said that she hopes our country's young people will make a change — and that she'll be alive to see it happen.
Trayvon Martin's death was a devastating tragedy. But works like Rest in Power are a powerful reminder that change needs to happen, and that can start with small actions at the local level. Trayvon Martin may be gone, but he'll never be forgotten.