North Carolina Just Took A (Small) Step Forward In Its Treatment Of Pregnant Inmates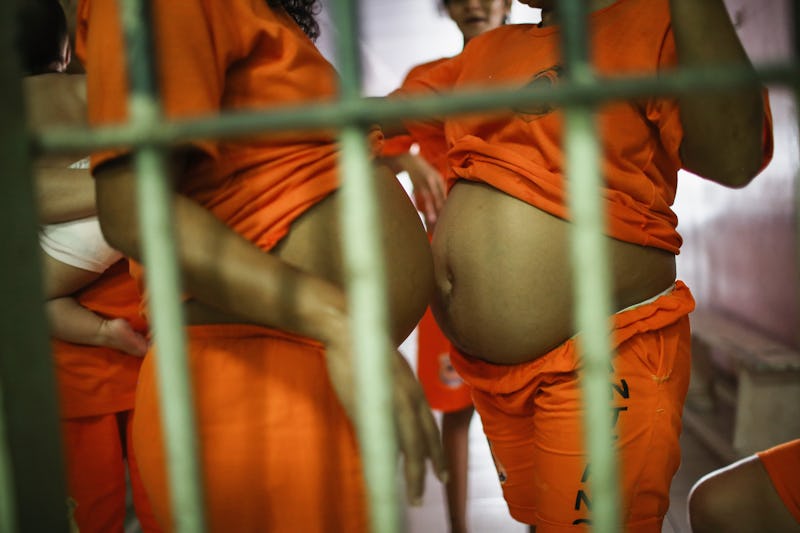 Mario Tama/Getty Images News/Getty Images
Less than half of states prohibit shackling pregnant inmates to a hospital bed while they give birth, but one more joined their ranks on Monday. Treatment of pregnant inmates just got a bit better in North Carolina, where a new policy outlaws shackling inmates during childbirth. Prison staff can still handcuff pregnant women while taking them to the hospital. The state said that change is an update to previously existing policies, but it acted on calls from reproductive rights organizations to officially outlaw the practice.
Signed by prisons director Kenneth Lassiter on Monday, North Carolina's new policy specifically prevents the use of leg or waist restraints on pregnant inmates, The News and Observer reports. Wrist restraints must also be removed once the inmate is in labor, "unless there are reasonable grounds to believe the offender presents an immediate, serious threat of hurting herself, staff or others" or if she presents "an immediate, credible risk of escape."
Shackling inmates to a hospital bed while giving birth is a common practice across the United States. There isn't comprehensive research on how many women give birth while in prison, but The News and Observer reports that 81 inmates gave birth in North Carolina alone in 2017. If the same number carried over to every state, the total number of inmate births across the country would be 4,050 in a single year.
Dr. Carolyn Sufrin, a medical anthropologist and an OB-GYN at Johns Hopkins School of Medicine, believes restraining women during birth isn't just immoral, but also dangerous. "There are very clear medical risks involved, which have to do with the need of women to move about freely, both for pain control but also if there's an emergency," she told Mother Jones last year.
North Carolina's new policy also addresses when inmates may be restrained after giving birth. Detainees "identified by medical staff as in post-partum recuperation" or in "initial bonding with the newborn child, including nursing and skin to skin contact" should not be placed in any restraints, Indy Week reports.
A spokeswoman for North Carolina's Department of Public Safety told The News and Observer that the new state policy clarifies guidelines that have been in place since 2015. Prison officials consulted with the Federal Bureau of Prisons, the National Commission on Correctional Health Care, and the American Correctional Association to develop an updated policy that would to "balance the well-being and safety of the pregnant inmate with the safety and security of our officers, medical staff and the public at large," the spokesperson said.
The change came after the Department of Public Safety received a letter from reproductive rights organizations about the treatment of two unnamed inmates. The groups, including SisterSong and the ACLU of North Carolina, also started an online petition calling for the state to stop shackling people who are incarcerated during childbirth.
The coalition of reproductive rights groups claimed in a statement that although the North Carolina Department of Public Safety already prohibited the shackling of inmates during delivery, at least two people from the North Carolina Correctional Institute for Women were recently restrained while in labor.
"Shackling people during and after childbirth is both inhumane and unsafe," the statement says. "Shackling interferes with the ability to properly treat and care for people and to respond to crisis situations. This is a matter of life and death for a laboring individual and their child in these situations."
Sens. Cory Booker (D-NJ) and Elizabeth Warren (D-MA) introduced a bill aimed at protecting incarcerated women last year that would outlaw the shackling of pregnant inmates nationwide. Although the bill has not made much progress in Congress, it drew attention to the unique challenges that women face behind bars. In an op-ed for CNN about The Dignity for Incarcerated Women Act, the senators wrote: "Because women are so often overlooked in the national discourse over prison reform, our existing system has failed to meet their needs."