Trevor Noah Spliced Ivanka's Email Comments With Hillary Clinton's — And Just, Whoa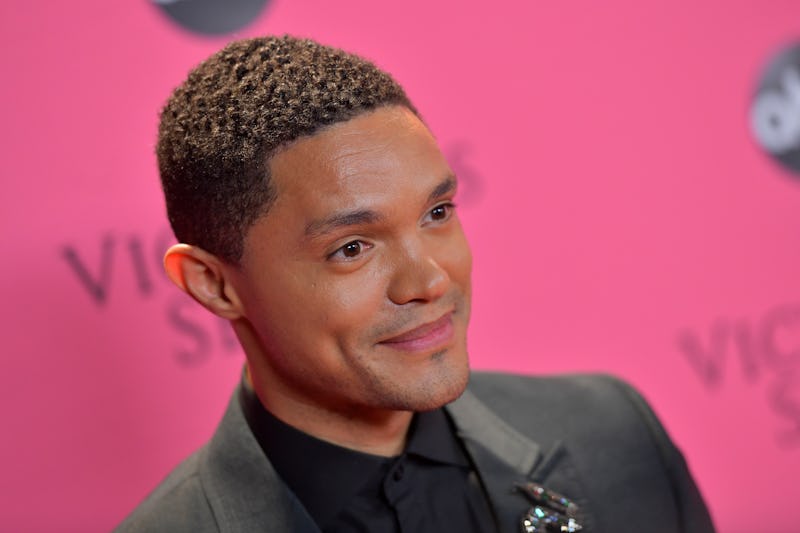 Roy Rochlin/Getty Images Entertainment/Getty Images
On Wednesday, The Daily Show's Trevor Noah compared Ivanka Trump's email remarks to those made by Hillary Clinton, proving just how similar their situations really are. Noah was addressing the comments Ivanka recently made during an interview with Good Morning America, in which she claimed there was "no equivalency" between her situation and Clinton's. By splicing together what Clinton and Trump have said to defend themselves, Noah suggested that, in reality, the "scandals" might be more similar than Trump leads on.
During her interview with ABC, the first daughter added, "My emails have not been deleted, nor was there anything of substance, nothing confidential that was within them."
Hours later that same day, Noah recapped the interview. And, to say the least, he didn't seem amused. "I actually believe her when she says she that wasn't using her private account for important emails, because in order to have important work emails, you have to do important work," Noah said. "She doesn't do anything. Her inbox is probably just Goop newsletters and thousands of unopened emails from Eric."
The late night host continued, "You know what's amazing here? Not only is Ivanka's email scandal similar to Hillary's, but the excuses sound the same, too."
Noah then played a series of clips, alternating between Clinton and Trump, in which the two women provided a series of near-identical reasons for why their particular email scandal was being overblown. The list of reasons included: that all of their emails were all preserved in an archive for the public to readily see, that it was a totally normal practice to occasionally send emails from personal email accounts, that "everyone had done it," and that they needed to use these emails to coordinate with their families, to name a few.
After the spliced clip montage ended, Noah punctuated the irony in the most fitting way. He chanted the same phrase POTUS has been encouraging at rallies since he ran for president, one he coined in response to Clinton's email scandal: "Lock them up! Lock them up!"
"Have them share a cell!" Noah added. "Make it a reality show!"
Clinton's email scandal was one of the central controversies of the 2016 election; pollster Nate Silver of FiveThirtyEight has even suggested that it cost her the presidency. But in spite of that, it's critical to note that the FBI eventually did clear Clinton of any wrongdoing — so Ivanka might want to rethink her comment on how her situation is nothing like Clinton's.
A former Clinton spokesman, Nick Merrill, captured the multitude of responses that many people are having over Trump's emails in a Twitter thread on Wednesday evening. He wrote, "I hate talking about emails. I don't want to talk about emails. We have so many other things to think about right now that are important to peoples' lives and need solving, but this [Trump interview with ABC] was nothing short of outrageous."
After a lengthy breakdown of each email scandal, Merrill concluded, "Both are stupid scandals, but this deserves scrutiny due to the sheer hypocrisy of it. Ivanka engaged in behavior when her father won an election in part by claiming such behavior should land a woman in jail."
In a statement last week, POTUS gave a similar argument for the illegitimacy of the email scandal as a news story, in a different direction. He said, "It's all in the presidential records. Everything is there. There was no deleting. There was no nothing. What it is is a false story."