The Deeply Personal Reason Why Troian Bellisario Made 'Feed'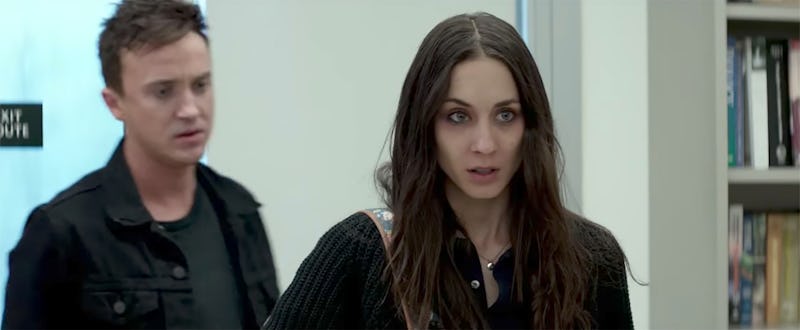 Sony
Troian Bellisario may be known best for her work on seven seasons of Pretty Little Liars as Spencer Hastings, but it's her latest project that is the most near and dear to her heart. Feed, which Bellisario wrote, produced, and stars in, is inspired by her own experiences struggling with an eating disorder. The movie (out now on VOD and all digital platforms) follows Olivia's (Bellisario) descent into darkness after losing her twin brother Matt (Tom Felton) in a car accident. When she starts hearing her brother's voice and seeing him, she thinks everything will be OK... until that voice turns malicious and causes her to become anorexic, unraveling every part of her life.
While Feed is not a biographical story for Bellisario, it is a deeply personal story for her as it helped her explain her own struggles with anorexia with her family. Bellisario opened up about her experience writing Feed during a panel discussion with a small audience of 125 fans after screening the movie (the first time she watched it with an audience) at Instagram LA on Tuesday night, hosted by Bustle, as part of Instagram's #KindComments campaign.
"I was incredibly fortunate as a young person going through this to be supported by [my family]," she says. "I found that oftentimes in my conversations with them, it was really, really difficult to communicate why it was so difficult to eat or what I was coming up against."
Because her family is "full of artists," she realized she could connect with them better through art.
"I thought that if I can't just explain it to them, maybe I can put them in my shoes," Bellisario says. "Maybe I can get them to understand a little bit better. So I started writing and this story came to me. I felt like it was a little bit easier to explain if there was a way to personify the voice. Sometimes it's a little bit difficult to tell people, 'I hear a voice in my head,' and they're like, 'Yeah, OK... ' So I thought, what if that voice was somebody that meant a lot to you, what if that voice actually sometimes helped you, what if that voice was sometimes confusing for you to hear? I felt like I could do that through a film and that's where Feed came from."
While the thought did occur to her to write a story based on her own life experiences (no, she did not lose a twin brother in a car accident and then start hallucinating him), that was never her intention.
"There were a lot of people who told me, 'Look, if you want to tell a story about your experience with an eating disorder, why not just tell that story? Just tell that story,'" Bellisario says. "I didn't really want to do that because I don't feel like that's going to change people's opinion. There's a lot of misrepresentation or miscommunication about this mental illness and eating disorders in general so I wanted to present a different narrative and hopefully challenge people's conceived notions about it."
And there was no way Bellisario was going to get through the experience of writing, producing, and starring in Feed without help from her community. Her family was her support system, and she saw her therapist once a week while the writing the script to help her stay on track with her health and not get pulled back into bad, unhealthy habits. And while it wasn't an easy experience, it was "therapeutic" getting to share her struggles with the world.
Bellisario ended the evening reading kind comments from fans who connected with the film (one even thanked her for "saving" him), and it's evident just how much making this movie means to the actor and her fans.
"The whole point of the film is that it's not something that just goes away," she says about overcoming eating disorders. "My continuing choice to be in recovery is still affecting me. I might not be struggling in a way that I was at one point, but it changes. It's very important for me to be open about how it's a continuing journey and that there's never any part of me that feels like, 'all done.' It's important to talk about that."
Bellisario implored everyone to remember that because you can never know what's going on in someone's head, you should just always be kind to anyone you meet. Now that's a resolution we can all get behind.
If you or someone you love is suffering from an eating disorder, the National Eating Disorders Association Helpline is available Monday-Thursday from 9 a.m. to 9 p.m. ET, and Friday from 9 a.m. to 5 p.m. ET. Contact the Helpline for support, resources and treatment options for yourself or a loved one.
Editor's note: A previous version of this article stated that Bellisario wrote, directed, and stars in Feed. It has been updated to show that Bellisario wrote, produced, and stars in the film.