Trump Outright Accused Hillary Clinton Of Russian Collusion At His Pennsylvania Rally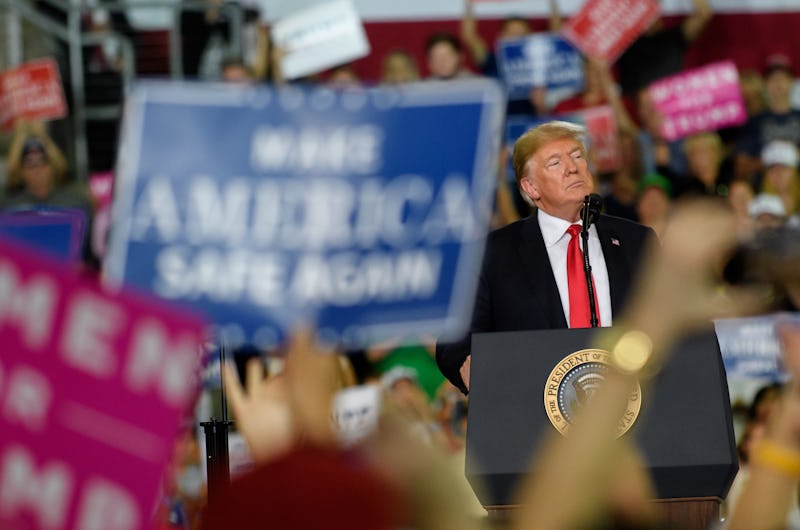 Jeff Swensen/Getty Images News/Getty Images
On Wednesday night at a Pennsylvania rally, Trump accused Hillary Clinton of Russian collusion during the 2016 election. Despite having no evidence for his claim, he directly accused Clinton of being involved in a Russian conspiracy to affect the presidential election almost two years ago.
Amid chants of "lock her up," Trump said, "There was collusion between Hillary, the Democrats, and Russia. There was a lot of collusion with them and Russia and lots of other people." In response to Trump's accusation, Clinton spokesperson Nick Merrill had a brief statement for NBC News: "Delusion, not collusion."
This isn't the first time that Trump has accused Clinton of Russian collusion. In October 2017, Trump tweeted, "It is now commonly agreed, after many months of COSTLY looking, that there was NO collusion between Russia and Trump. Was collusion with HC!"
Similarly, in August, Trump tweeted a quote by Fox News host Tucker Carlson, which read, "The irony in Trump's comments is apparent: his own administration is currently being investigated by special counsel Robert Mueller for Russian collusion."
Then, in September, Trump tweeted another quote, this time by Jesse Watters, another Fox News host: "No information was ever given by the Trump Team to Russia, yet the Hillary Clinton campaign paid for information from Kremlin sources and just washed it through an intermediary, Christopher Steele."
However, NBC News notes that Trump's comments on Wednesday evening amounted to a new level of aggression in terms of how directly he's accused Clinton of collusion, specifically, of involvement with Russians. Again, the irony is apparent given that Mueller's investigation into possible collusion between the Trump campaign and Russia is ongoing.
Trump's comments come a day after he spoke about Clinton in a separate situation, when he was responding to comments she made about how the Kavanaugh hearing was more "political event" than a "national event."
"She doesn't get it," Trump said. "She never did. I knew that a long time ago. Hillary never got it. That's why she lost."
During the rally in Pennsylvania, Trump also mocked the #MeToo movement, claiming that it limited what he was able to say on stage. He said, "I used an expression — you know, there's an expression, but under the rules of Me Too I'm not allowed to use that expression anymore. I can't do it."
He added,
See, in the old days, it was a little different. ... I would do it, except for these people up there. They would say, did you hear what President Trump said? So there is an expression, but we'll change the expression: Pennsylvania was always the person who got away. That's pretty good, right, the person that got away?
Earlier in the month, Trump made similar comments about the #MeToo movement. At a rally in Mississippi, he said, "I think that it's a very scary time for young men in America when you can be guilty of something that you may not be guilty of. This is a very difficult time."
In addition to attacking Clinton at the Pennsylvania rally, Trump also took time to congratulate himself, praising his presidential record as "the greatest revolution to ever take place in our country."