Trump Wants Hillary Clinton To Be Investigated For A New Reason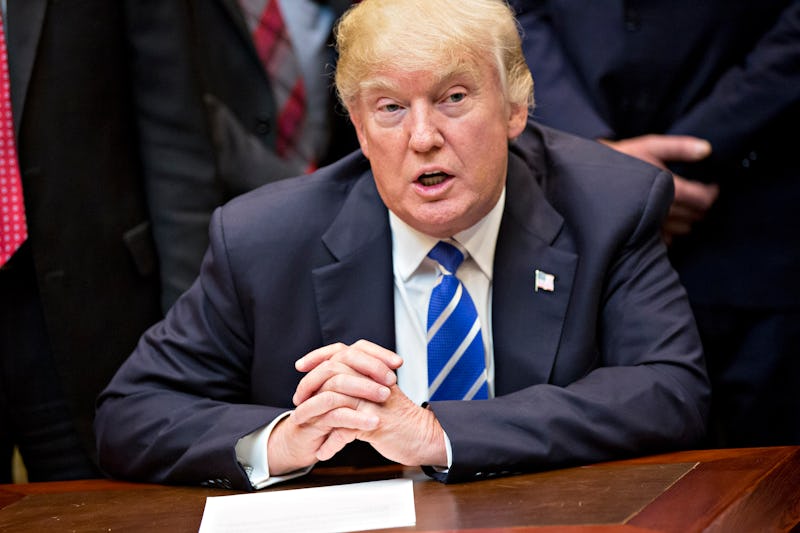 Pool/Getty Images News/Getty Images
In a series of tweets on Monday evening, President Donald Trump criticized the Clintons instead of confronting his administration's alleged ties to Russia. The tweets, which seemingly came across as an attempt to distract from the current House Intelligence Committee investigation into the Trump administration's alleged Russia ties, suggested that the committee should instead examine Bill and Hillary Clinton's supposed relationship with Russia.
As many know, the Trump administration is currently under investigation by both the House and Senate Intelligence Committees as well as the FBI in order to determine whether Trump's campaign was complicit in Russian interference in the U.S. presidential election and to assess whether or not the Trump administration or its associates have any unacceptable ties to Russia.
Trump has previously referred to investigations into his administration's alleged Russia ties as "fake news," and even blamed Democrats for the investigations, saying last week that " ... Democrats made up and pushed the Russian story as an excuse for running a terrible campaign." Furthermore, in his latest tweets on Monday evening, Trump wrote that the "Trump Russia story is a hoax." Beyond again decrying the investigation on Twitter on Monday, Trump also went on to suggest that the House Intelligence Committee should instead investigate Bill and Hillary Clinton's supposed ties with Russia, saying, "Why isn't the House Intelligence Committee looking into the Bill & Hillary deal that allowed big Uranium to go to Russia, Russian speech money to Bill, the Hillary Russian 'reset,' praise of Russia by Hillary, or Podesta Russian Company ... "
The "uranium deal" which Trump mentions in his tweet refers to a debunked claim that Trump made throughout his campaign that, while Secretary of State, Hillary Clinton was allegedly responsible for giving Russia 20% of America's uranium in exchange for a payout. In a fact-checking investigation last year, the Washington Post decried these claims as false, giving them their highest falsehood ranking of "four pinocchios." Instead, the Post asserted that Clinton's State Department was merely one of nine agencies involved in approving the Russia uranium deal and there exists no evidence that Clinton was personally involved in the deal, especially not for a payout.
Trump's tweet about the Clintons immediately attracted attention and critique, including from Nick Merrill, a former Clinton campaign spokesperson. Merrill responded to Trump via a tweet of his own explaining that the allegations are "not true" and provided a link to a fact-checking website.
Overall, Trump's tweets about the Clintons' debunked Russia ties seem to unnecessarily and unjustly draw attention to his former rival and come across as distracting from the matter at hand—that his campaign and administration officials are under multiple investigations to determine whether they have ties to Russia. It would serve Trump well to more thoughtfully acknowledge these investigations instead of merely passing them off as "fake news" or casting aspersions on others.