Trump Swears Blind That He's Actually Really Happy For Steve Bannon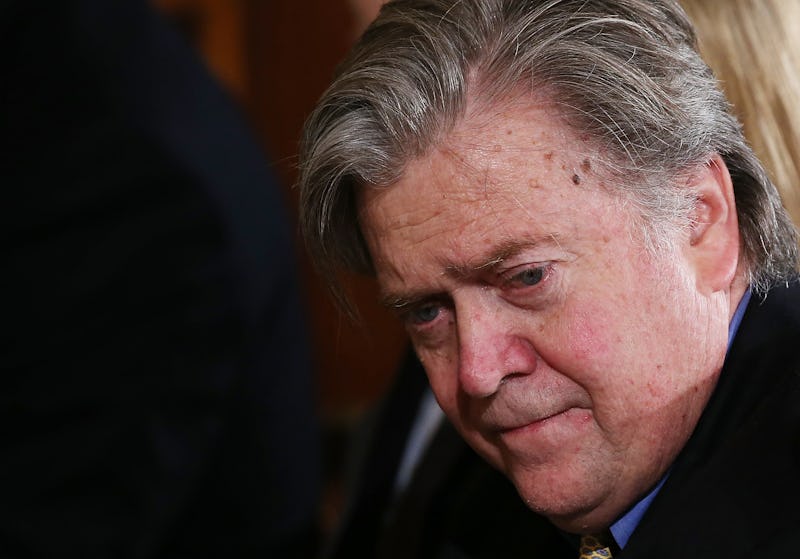 Mario Tama/Getty Images News/Getty Images
After nearly eight months serving as the senior strategist for President Donald Trump, Steve Bannon's tenure in Washington, D.C. has come to an end. On Friday, it was publicly announced that Bannon was leaving the administration amid one of the roughest news weeks Trump's had in the first year of his presidency, thanks in large part to Trump's own widely condemned response to the Charlottesville white supremacist rallies. But Bannon isn't departing from the government with the president badmouthing him ― to the contrary, Trump thanked Bannon on Twitter on Saturday afternoon, praising him as "a tough and smart new voice at Breitbart News."
If that sounds like a strange way to describe Bannon, it's probably because this won't be his first time working as the chief of Breitbart. He first took over as the company's executive chair in 2012, following the death of the site's founder and namesake, Andrew Breitbart. He held that job all the way until 2016, when he jumped ship to join the Trump campaign and ultimately the Trump administration.
In other words, he might be a tough voice, but he's not exactly a new one. Trump also thanked Bannon for his help in defeating "Crooked Hillary," dusting off his campaign-era attack on former Democratic presidential nominee Hillary Clinton.
Several Breitbart editors on Friday tweeted veiled references to the "war" that Breitbart, with the addition of Bannon, allegedly plans to wage against the president's administration. These reports don't seem to have deterred the president from praising his former chief strategist.