Trump Blames "Political Correctness" For The Kentucky Derby Outcome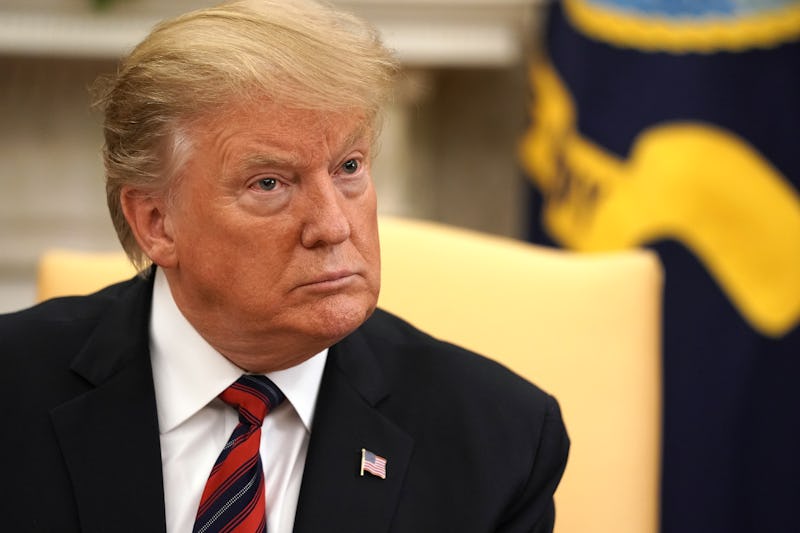 Chip Somodevilla/Getty Images News/Getty Images
The president weighed in on what is likely to be one of the most controversial decisions in horse racing history on Sunday. Donald Trump bemoaned the outcome of the Kentucky Derby, arguing on Twitter that the best horse hadn't won. In fact, he blamed political correctness for this year's historic win.
"The Kentuky (sic) Derby decision was not a good one," the president wrote in a tweet posted to Twitter on Sunday. "Only in these days of political correctness could such an overturn occur."
By everyone's eyes Maximum Security was the first horse to cross the finish line in Saturday's annual race. However, complaints lodged by two jockeys — followed by a lengthy review of race footage by officials — led to the horse's disqualification after it was unanimously ruled he'd strayed from his lane, thus impeding other horses' progress on the final turn. As a result, Country House, the second horse to cross the finish line, was named the winner.
"The best horse did NOT win the Kentucky Derby - not even close!" Trump argued on Twitter. He described the race, which has been nicknamed "The Most Exciting Two Minutes in Sports," as having been "a rough and tumble race on a wet and sloppy track, actually, a beautiful thing to watch."
According to USA Today, Saturday was the first time a winner had been disqualified shortly after the race due to foul in the Kentucky Derby's 145-year history. The Associated Press reported that the only other disqualification to have happened in the Kentucky Derby occurred in 1968, well after the actual race had been run. First-place finisher Dancer's Image tested positive for prohibited medication, spurring officials to order the race's purse money redistributed.
Of course, Trump isn't the only one to have expressed dissatisfaction with how this year's Kentucky Derby played out. Gary West, the co-owner of Maximum Security, told the Associated Press he found race officials decision to disqualify his horse "egregious" and may pursue an appeal. "I think this is the most egregious disqualification in the history of horse racing, and not just because it's our horse," the news outlet reported he'd said in a phone interview.
Even Country House's trainer, Hall of Famer Bill Mott, acknowledged the win was "bittersweet" for his team. "It's bittersweet. You always want to win with a clean trip and have everybody recognize the horse as the very good horse and great athlete that he is," the Associated Press reported he said. "Due to the disqualification, I think some of that is diminished."
It's not altogether surprising that Trump would blame the horse race's outcome on political correctness. He spent much of his 2016 presidential campaign railing against political correctness. "We have to straighten out our country, we have to make our country great again, and we need energy and enthusiasm," CNN reported Trump said during an August 2015 interview on Meet the Press. "And this political correctness is just absolutely killing us as a country."
According to the cable news outlet, Trump went on to claim "you can't say anything" because "anything you say today, they'll find a reason why it's not good."