Trump Called Maxine Waters "Crazy" & He's Stepping Up His Attacks On Her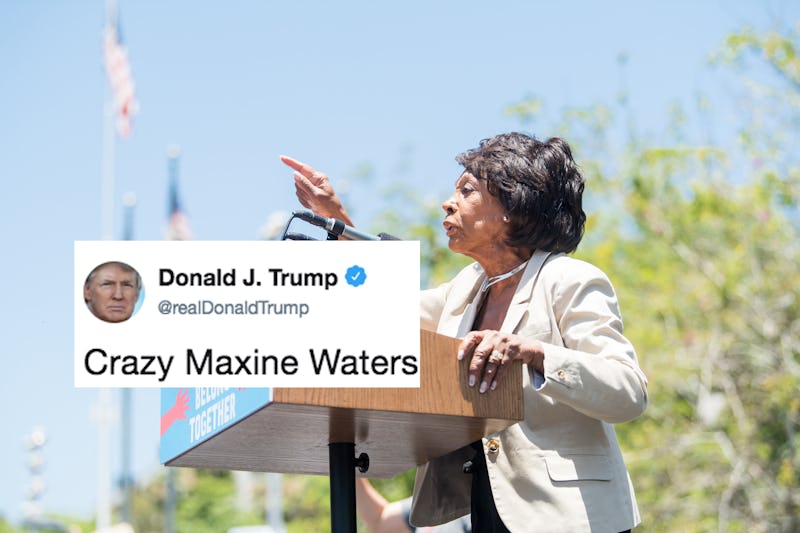 Emma McIntyre/Getty Images Entertainment/Getty Images
One of the loudest critics of President Trump in the House already faces death threats taken seriously enough to cancel events across the country. Now Trump called Rep. Maxine Waters "crazy" and corrupt, adding to the backlash that followed her call to protest Trump administration officials in public.
The president took to Twitter Tuesday morning to further his attacks. He had already made false statements about the representative at a campaign rally earlier in the week and on Twitter, too. Now, Trump wrote:
Crazy Maxine Waters, said by some to be one of the most corrupt people in politics, is rapidly becoming, together with Nancy Pelosi, the FACE of the Democrat Party. Her ranting and raving, even referring to herself as a wounded animal, will make people flee the Democrats!
The comment about a "wounded animal" was in itself a response to Waters' own response to the death threats. "I know that there are those who are talking about censuring me, talking about kicking me out of Congress, talking about shooting me, talking about hanging me," Waters told a crowd in Los Angeles on Saturday at an immigration rally. "All I have to say is this, if you shoot me you better shoot straight, there's nothing like a wounded animal."
Waters had entered the fight about "civility" in politics and sided with those who choose to protest public officials for their work with the administration, particularly having to do with the separation of immigrant children from their parents upon arrival to the country.
"They're not going to be able to go to a restaurant, they're not going to be able to stop at a gas station, they're not going to be able to shop at a department store," Waters said on MSNBC shortly after Press Secretary Sarah Huckabee Sanders was asked to leave a restaurant for her work with the president.
"The people are going to turn on them," Waters continued. "They're going to protest, and they're going to absolutely harass them until they decide that they're going to tell the president, 'No, I can't hang with you. This is wrong. This is unconscionable, and we can't keep doing this to children.'"
That was then twisted by many, including the president to mean she advocated physical violence against his supporters. The president tweeted an attack on her last week and included this erroneous detail. "Congresswoman Maxine Waters, an extraordinarily low IQ person, has become, together with Nancy Pelosi, the Face of the Democrat Party," Trump tweeted. "She has just called for harm to supporters, of which there are many, of the Make America Great Again movement. Be careful what you wish for Max!"
Walters has insisted she was just calling for peaceful protest and released a statement calling out the president for his "veiled" encouragement of the threats against her.
"As the President has continued to lie and falsely claim that I encouraged people to assault his supporters, while also offering a veiled threat that I should 'be careful', even more individuals are leaving (threatening) messages and sending hostile mail to my office," Waters said in a statement given to CNN. She said individuals have threatened to "shoot, lynch, or cause me serious bodily harm."
Although Waters and Trump have been at odds before — he notably keeps repeating the attack on her IQ, which some see as racist — the latest clashes stem from his "zero tolerance" policy that took more than 2000 kids away from their parents. Rallies across the country protested the policy on Saturday, including where Water responded to the death threats.
Given Trump's most recent attack, they may be unlikely to stop anytime soon.