Maxine Waters Has A Warning For The People Sending Her Death Threats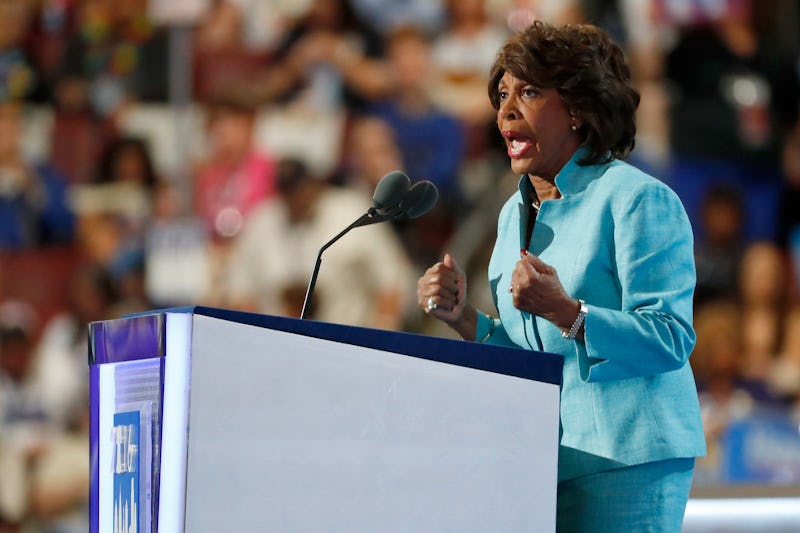 Aaron P. Bernstein/Getty Images News/Getty Images
A California congresswoman is publicly pushing back against those attempting to intimidate her. While speaking in Los Angeles on Saturday, Rep. Maxine Waters responded to the death threats she received earlier in the week, warning her harassers, "you better shoot straight" because "there's nothing like a wounded animal."
"I know that there are those who are talking about censuring me, talking about kicking me out of Congress, talking about shooting me, talking about hanging me," Waters said at a "Families Belong Together" protest rally in Los Angeles, California. "All I have to say is this, if you shoot me you better shoot straight, there's nothing like a wounded animal."
Waters said last week that she'd been forced to cancel upcoming appearances at events in Texas and Alabama due to a "very serious death threat" made against her. She blamed President Donald Trump, saying the hostile and threatening messages stemmed from the president's "veiled threat," and false claim that she'd encouraged violence against Trump supporters.
"This is just one in several very serious threats the United States Capitol Police are investigating in which individuals threatened to shoot, lynch, or cause me serious bodily harm," CNN reported the congresswoman had said in a statement issued Thursday.
On Monday, Trump had taken to Twitter to attack Waters after she'd encouraged continued public protests against Trump administration officials. "Congresswoman Maxine Waters, an extraordinarily low IQ person, has become, together with Nancy Pelosi, the Face of the Democrat Party," Trump tweeted. "She has just called for harm to supporters, of which there are many, of the Make America Great Again movement. Be careful what you wish for Max!"
Inspired by news of recent restaurant-related protests against Homeland Security Secretary Kirstjen Nielsen and White House Press Secretary Sarah Huckabee Sanders, Waters had encouraged people to keep pushing back on individual Trump administration officials through similar public protests and verbal confrontations while speaking at a different Los Angeles rally held late last month. In June, Nielsen found herself being heckled at a Mexican restaurant in Washington, D.C. while Sanders was asked to leave an eatery in Virginia due to her political affiliations.
Waters later sought to clarify that she'd meant people should peacefully protest amid mounting criticism and debate about civility from both Republican and Democratic Congressional colleagues. "I have not called for the harm of anybody," NBC reported Waters said last week." This president has lied again when he's saying I called for harm to anyone."
She went on to say that she supports people's "right to protest" but obviously hadn't come up with the idea of confronting Trump officials in restaurants. "I have nothing to do with the way people decide to protest," CNN reported she said. "I have no way of telling people how to protest, what they should protest. Again, it started with the restauranteur, it started with people in a restaurant. I did not create that, I did not design that, but I support their right to protest."
Amid debate over whether her encouragement of protests against individual members of the Trump administration was civil or not, Waters argued that "protest is civility."
"Protest is about peaceful resistance to the kind of actions that we are experiencing," she said early last week. "I stand by my speech in saying that the protests have already started, they're probably going to continue."
On Saturday, the congresswoman appeared even more unwilling to waver from her criticism of the president's policy of separating migrant families apprehended at the border. "I have no fear, I'm in this fight," she told the crowd in Los Angeles.
The rally Waters spoke at in Los Angeles on Saturday was one of more than 600 "Families Belong Together" events held in cities all across the country to protest the Trump administration's failure to reunite separated migrant families.