Trump Calls Himself "Your Favorite President" & Twitter Is Not Having It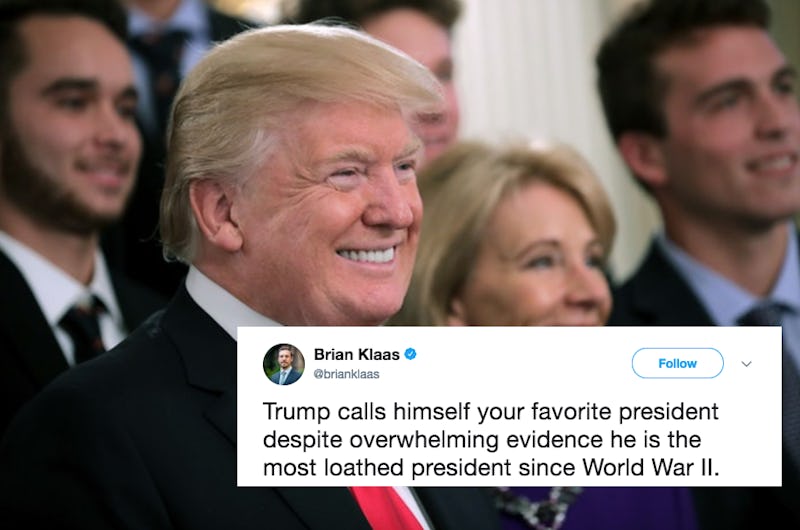 Chip Somodevilla/Getty Images News/Getty Images
President Donald Trump has had some of the lowest approval ratings of all time for a president this early in his first term. The Hill recently reported that, as of mid-November, his job approval ratings hovered between 38 and 41 percent. However, he is apparently undeterred, if a Sunday evening tweet in which Trump perplexingly described himself as "your favorite President" is any indication.
Referencing a recent mini-scandal in which Sen. Jeff Flake was caught on a hot mic on Friday, heard criticizing Trump and Alabama Republican Senate candidate Roy Moore, the president took a shot at Flake, tweeting:
Sen. Jeff Flake(y), who is unelectable in the Great State of Arizona (quit race, anemic polls) was caught (purposely) on "mike" saying bad things about your favorite President. He'll be a NO on tax cuts because his political career anyway is "toast."
Sen. Flake's office responded to the tweet firmly, saying that Trump would not affect how the senator voted on a tax reform bill. "Senator Flake is still reviewing the tax reform bill on its merits," a spokesperson said in a press statement. "How he votes on it will have nothing to do with the president."
Folks on Twitter, however, couldn't get over the fact that Trump claimed he's "your favorite president." Twitter users quickly responded to the bold assertion with a mixture of humor and sharp derision.
On Friday, Sen. Flake spoke at a town hall meeting for aerospace company workers in Arizona. After the event concluded, he had a conversation with John Giles, the Republican mayor of Mesa, a Phoenix suburb. Apparently unaware that his microphone was still on and feeding to news reporters, Sen. Flake was overheard saying, "[If we] become the party of Roy Moore and Donald Trump, we are toast."
The hot mic in question belonged to local ABC News affiliate KNXV. Photos of the senator's surprised face the moment he realized the mic was on quickly went viral. However, the senator stood by his comments, later tweeting out a link to a story about the incident and saying, "No news here. I've been saying this to anyone who will listen."
The mayor responded to Flake's assessment of the GOP's future by suggesting that he should consider a run for the presidency in 2020. "I am not throwing smoke at you, but you are the guy — just for fun, think about how much fun it would be — just to be the foil, you know, and point out what an idiot this guy is," Giles was heard saying to Flake in response, in what appeared to be a reference to President Trump. "Anyway, I hope you do it."
Sen. Flake has been a regular outspoken critic of President Trump. Last month, when he announced on the Senate floor that he would not run for reelection, he addressed Trump several times, explaining that he "will not be complicit or silent."
In the last two weeks, nine women have accused Alabama senatorial candidate Moore of sexual misconduct or unwanted romantic pursuit. Among the allegations are claims Moore initiated sexual encounters with 14 and 16-year-old girls when he was in his early 30s. Moore has vehemently denied all of the allegations against him.
In light of the allegations, many Republicans have called for Moore to step down from the race. In a tweet sent on Nov. 13, Sen. Flake went on record saying that if he was a voter in Alabama, he "would run to the polling place to vote for the Democrat." President Trump, meanwhile, has remained largely and uncharacteristically quiet on the issue.
Prompted by reporters, Press Secretary Sarah Huckabee Sanders said in a press briefing on Friday, Nov. 10:
Like most Americans, the president believes that we cannot allow a mere allegation — in this case, one from many years ago — to destroy a person's life.
She later went on to say that Moore would "do the right thing and step aside" if the allegations against him were true.