Trump Calls Impeachment Rumors "Totally Ridiculous"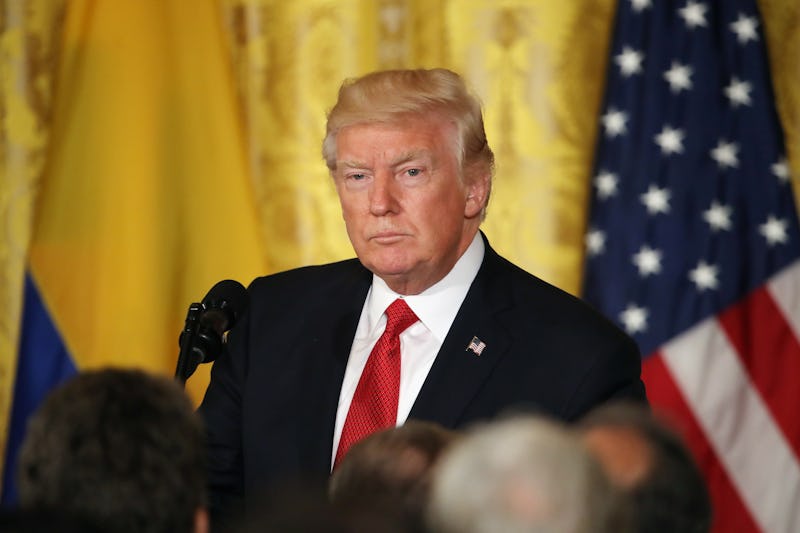 Mark Wilson/Getty Images News/Getty Images
In his first press conference after Robert Mueller was named as special counsel for the Russia investigation, Trump denied the allegations that have been lodged against him and called the speculation that he might be impeached "totally ridiculous." Alongside the president of Colombia, Trump answered questions that largely focused on the investigation into his team's possible ties to Russia, his firing of FBI Director James Comey, and the special counsel appointment.
Rumors that Trump could be impeached have been flying ever since information about the FBI investigation has trickled out. First, he fired Comey, which raised questions about the fact the president fired someone who was investigating him, à la Watergate. Then, it was alleged that Trump actually asked Comey to stop the FBI investigation into former National Security Adviser Michael Flynn's possible Russia connections, which Trump denied at the press conference Thursday. Now, he's calling the appointment of a special counsel a "witch hunt" that will divide the country.
The term "obstruction of justice" has been bandied about over the past week or so as both Democrats and Republicans have begun discussing the possibility of impeachment. Republican Rep. Justin Amash told The Hill that if the Comey memo — which claimed Trump asked the FBI director to let the Flynn investigation go — was true, it would warrant impeachment proceedings.
Trump doesn't think so.
In pointing out how ridiculous he thinks the impeachment rumors are, Trump tweeted, "With all of the illegal acts that took place in the Clinton campaign & Obama Administration, there was never a special counsel appointed!" A couple hours earlier, he had tweeted that the appointment of a special counsel was the "single greatest witch hunt of a politician in American history." He later said in an interview, that appointment of a special counsel "hurts our country terribly because it shows we're a divided, mixed-up, not-unified country."
It seemed like he was running scared, but in his press conference, he backtracked from his previous comments and said he was "fine with whatever people want to do," in regard to the special counsel investigation.
As Mueller investigates the possible connections between the Trump campaign and Russian involvement in the 2016 election, these rumors will likely continue to swirl. Trump will continue to call them ridiculous, but it seems like more and more Congress members are beginning to think they might have merit.