Trump Campaign Met With A Russian Lawyer Linked To The Kremlin — REPORT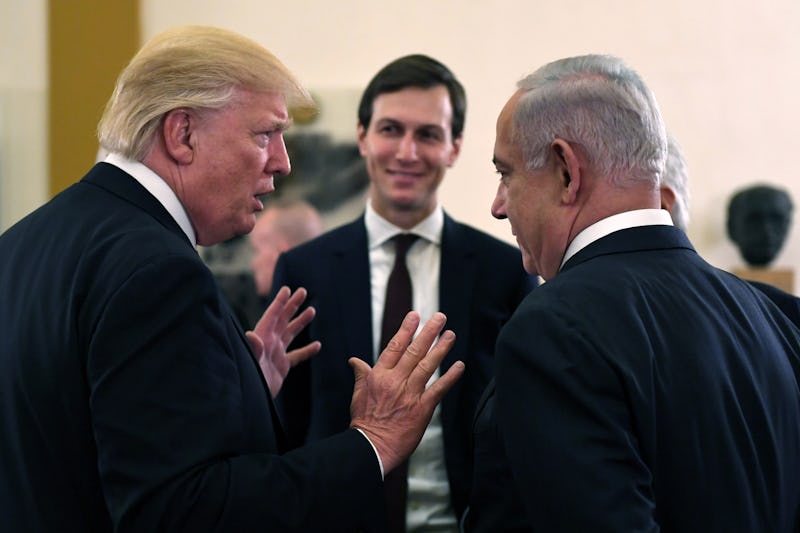 GPO/Getty Images News/Getty Images
According to a report in The New York Times on Saturday, then-presidential candidate Donald Trump's team met with a Kremlin-linked Russian lawyer two weeks after he seized the Republican nomination. According to "confidential government records" that were reportedly described to the paper, the Trump Tower meeting was attended by Trump's son-in-law and close adviser, Jared Kushner, then-Trump campaign manager Paul Manafort, and Trump's eldest biological son, Donald Trump Jr.
The lawyer who reportedly attended the meeting is Natalia Veselnitskaya, a Russian attorney who was centrally involved in the Kremlin's opposition to the Magnitsky Act. A U.S. law passed in 2012, the Magnitsky Act ― named for slain Russian lawyer Sergei Magnitsky, who was imprisoned and ultimately killed after investigation high-level Russian officials for corruption ― is intended to punish 18 prominent Russian officials believed to be involved in his death.
The act prohibits listed officials from entering the United States or accessing the U.S. banking system, and Veselnitskaya was an outspoken and ardent opponent of it. According to the Times, a "former senior law enforcement official" claimed her associations have in the past drawn scrutiny from the Federal Bureau of Investigations. Veselnitskaya reportedly did not respond to the Times' request for comment prior to this story breaking, nor did Manafort.
Trump Jr. reportedly organized the meeting, and he gave a statement to The New York Times claiming that it was mainly about a Russian adoption program, and that he "asked Jared and Paul to stop by." At the time, Kushner was widely reported in the press as one of Trump's closest and most influential advisers, while Manafort was the chairman of the presidential campaign.
It was a short introductory meeting. I asked Jared and Paul to stop by. We primarily discussed a program about the adoption of Russian children that was active and popular with American families years ago and was since ended by the Russian government, but it was not a campaign issue at the time and there was no follow up.
Kushner's personal attorney Jamie Gorelick also responded to the report, telling the Times in a statement that his client is "eager to cooperate and share what he knows."
He has since submitted this information, including that during the campaign and transition, he had over 100 calls or meetings with representatives of more than 20 countries, most of which were during transition. Mr. Kushner has submitted additional updates and included, out of an abundance of caution, this meeting with a Russian person, which he briefly attended at the request of his brother-in-law Donald Trump Jr. As Mr. Kushner has consistently stated, he is eager to cooperate and share what he knows.
While the report doesn't include any precise explanations or allegations about what was discussed at the meeting ― and again, Trump Jr. claims the conversations mostly regarded the ability of American parents to adopt Russian children ― it's noteworthy all the same.
According to the Times, it's the first publicly revealed instance of a meeting between senior Trump officials and a Russian national during the campaign. That's a significant milestone amid independent counsel Robert Mueller's ongoing investigation into potential collusion or coordination between the Trump campaign and the Russian government.