Trump Claimed Border Security Is A Women's Issue & You Won't Believe His Reasoning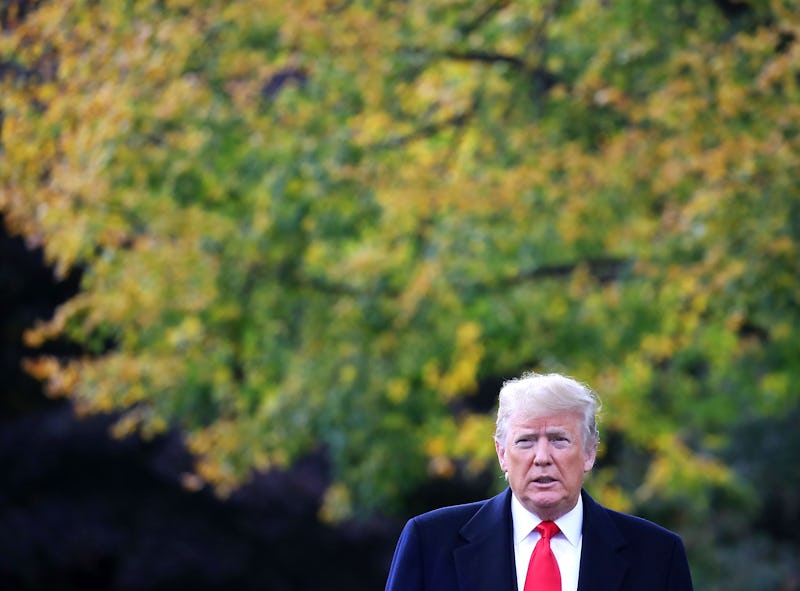 Mark Wilson/Getty Images News/Getty Images
Ahead of next week's midterm elections, President Donald Trump appears to have found a new target for what many have called his fearmongering tactics — women. While speaking at campaign rallies in West Virginia and Indiana on Friday, Trump claimed border security is a women's issue because women want to feel safe and secure.
"Border security is also a woman's issue," Trump said Friday while speaking in West Virginia. "Women all across the nation are going to show up and vote Republican on Tuesday. They want security. They want safety."
In recent weeks, Trump has repeatedly characterized a vote for Democrats as a vote for open borders and his speech in West Virginia was peppered with a similar message. But the president also suggested Friday that women were ardent supporters of his plans to send thousands of military troops to the U.S.-Mexico border to meet the migrant caravan currently making its way up from Central America in an effort to claim asylum.
"They don't want to have these people coming in," the president said of women. "Some of these people are just horrible people. You have to see the crimes they've committed."
What's more, the president claimed he'd done "great" with women in the 2016 presidential election. "Remember the last election?" Trump asked the crowd. "I did great with women, I did great."
Trump then appeared to suggest that his success with women was built on their desire for safety and security. "Women want safe neighborhoods for their families, they want great schools, healthcare for their children," he said. "They want to keep drug dealers and predators and traffickers ... they want them out of our country and we do that. The Democrats don't do that, they want the open borders."
Later in the day, the president repeated a similar message when campaigning on behalf of Republican Senate candidate Mike Braun in Indiana. "Women want safe neighborhoods, great schools and healthcare for their children, and they want criminals to be thrown in jail or thrown the hell out of our country," he said after declaring border security to be "a women's issue."
I love women, they're the greatest," he added. "I like them much more than I like the men."
In Indiana, Trump also claimed that Democrats wanted "to invite caravan after caravan" into the country but stopped short of supplying any actual evidence to back up his claim. "They want these caravans full of illegal aliens to flood into our country, overwhelming your schools, depleting your resources, and endangering your communities," he said, before driving his point home. "Republicans want strong borders, no drugs, no gangs, and we want no caravans, thank you. The choice in this election could not be more simple."
In both West Virginia and Indiana, the president claimed, rather inaccurately actually, that he'd done "so well" with women voters in the 2016 presidential election. "We did so well [with women] and we're going to do well with women again because they do want security," he said in Indiana. "They want security, they don't want these people coming into our country.
Although Trump claims to have done "so well" with female voters, data from the 2016 election shows women actually preferred Democratic nominee Hillary Clinton. According to the Pew Research Center, 54 percent of women voted for Clinton, compared to the 42 percent who voted for Trump. It remains unclear, however, if framing border security as a women's issue will help Trump spur more women to vote Republican in the upcoming midterms.